Location
Hudson Terrace
621 West 46th St.
New York, NY 10036
Description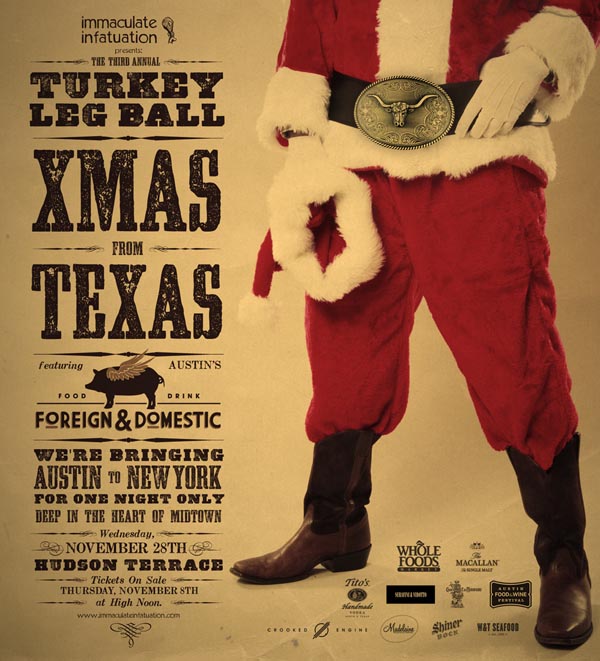 It's been a brutal couple of weeks here in NYC, and we could really use a party right about now. Care to join us?
On Wednesday November 28th, our annual Turkey Leg Ball returns for its third season at Hudson Terrace, and this year, it's better than ever. This time around, we're bringing one of our favorite Austin restaurants to NYC for one special night. We're calling it Turkey Leg Ball 2012 - XMAS from TEXAS.
Husband and wife team Ned and Jodi Elliott own and operate Foreign & Domestic, one of the best restaurants in the Lone Star State, and one that we fell in love with the first time we visited. So rather than simply tell you all about how great they are, and how you need to get your ass to Austin to eat their food, we decided to bring them to you. Ned and Jodi will be making a New York homecoming of sorts (between the two of them they've spent time in the kitchens of Per Se, Gramercy Tavern, and Bouley among others), and will be showcasing the food of Foreign and Domestic for you and your friends. If you want to get a taste of what's in store, check this gallery from our recent South By Southwest dinner that we hosted at their restaurant.
Along with Foreign & Domestic, we've got a handful of incredible sponsors along with us to ensure it's a special and spirited night. Whole Foods Market will be in the house, bringing with them a Whole Foods Market "Day After Thanksgiving" Panini and the Turkey Leg Ball MVP of years past - the photo booth. The Macallan will also return once again, so plan to be sipping on different flights of their legendary single malt scotch in The Macallan Lounge. We will also have an incredible selection of Italian wines from Domaine Select's portfolio on hand, including Serafini & Vidotto and Casa E. di Mirafiore. And being that this is XMAS from TEXAS, it seemed only appropriate that we have Austin's own Tito's Handmade Vodka at the bar and some Shiner Bock on ice. You'll also have a chance to win a trip to Texas to attend next year's Austin Food & Wine Festival. W&T Seafood has been kind enough to provide us with the highest quality oysters you can find for an insane raw bar, and Sullivan Street Bakery will be contributing their freshly baked breads. Madelaine will also be with us again for the third year in a row, making sure there are plenty of chocolate turkeys running around the joint.
As you'll probably notice, ticket prices have gone up since last year. We try incredibly hard to keep the cost down as much as possible, but it turns out that throwing a top notch food event ain't cheap. We know $85 is a lot of money to ask of you, but we're also confident that you'll find it to be money well spent. It's open bar all night, and there will be tons of incredible food. We promise you won't leave hungry, nor will you have to fight crazy lines just to get a drink. We are also going to be donating a portion of the proceeds to City Harvest, who is working hard to get food to those in need in the wake of Hurricane Sandy. So not only will you be buying a ticket for an excellent night of eating and drinking with like minded people, but you'll be helping those in need in the process. You're a good samaritan with really good taste. Hope to see you there.
Yours in #TurkeyLegBallin',
-Stang & Steinthal
Immaculate Infatuation