Tundra Connections Webcast #4

Thursday, November 1, 2012 at 12:30 PM (CDT)
Event Details
Are you interested in taking your students to the tundra to observe polar bears?  Is that slightly out of your field trip budget?  Well, no worries.  We have once again joined forces with our friends at Polar Bears International (PBI) to bring four incredible virtual field trips live to your desktop.
Through PBI's Tundra Connections® you're invited to meet and talk with some of the world's foremost authorities on polar bears and climate change during our free Tundra Connections® broadcasts. Big names. With big stories. And big bears just outside.
WEEK TWO: OCTOBER 29-November 2
The Climate Connection: Climate warming and its impact on the Arctic and other marine ecosystems
Panelists

Cecilia Bitz (University of Washington, Associate Professor Atmospheric Sciences)

Eric DeWeaver (National Science Foundation)

John Whiteman (University of Wyoming, Graduate Student)

Moderator: Kyle Schutt (Discovery Educator Network)
WEBINAR #4 - THURSDAY, NOVEMBER 1 at 12:30 CDT
Polar Bears in a Warming World
Target Audience: Grades 4 – 8
To view the webcast, visit:  http://www.polarbearsinternational.org/myplanetmypart
All you will need to participate in the webcast is your computer connected to the internet and speakers so you can hear the presenters' audio.  We recommend that you share this link with your technology support team to make sure the webcast is not blocked by your school/district filters.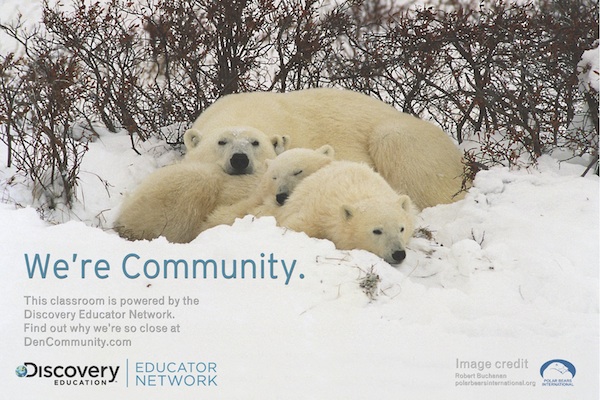 Organizer
As the global leader in standards-based digital content for K-12 classrooms worldwide, Discovery Education is transforming teaching and learning with award-winning digital textbooks, multimedia content, professional learning, and the largest professional learning community of its kind. Serving 4.5 million educators and over 50 million students, Discovery Education's services are available in approximately half of U.S. classrooms, 50 percent of all primary schools in the UK, and more than 50 countries around the globe. Inspired by the global media company Discovery Inc., Discovery Education partners with districts, states, and like-minded organizations to captivate students, empower teachers, and transform classrooms with customized solutions that increase academic achievement. Explore the future of education at DiscoveryEducation.com.