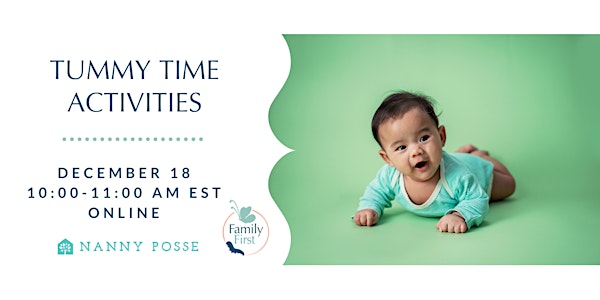 Tummy Time Activities
Learn about healthy activities for infants like Tummy Time from Dairian Roberts, MS, OTR/L, IBCLC.
Refund Policy
Contact the organizer to request a refund.
Eventbrite's fee is nonrefundable.
About this event
One of the number one things we hear about at Family First Household Staffing Agency and Nanny Posse is how important it is for caregivers to understand appropriate and egaging developmental actitvities to the children in their care. We are so excited to bring a workshop to you about Tummy Time and other activities you can do with infants.
Did you know that tummy time changes? Tummy time at 4 weeks looks different at 4 months. It's more than putting baby on their tummy and tracking minutes. Tummy time is the foundation of so many motor skills and should change as baby develops. This class covers practical tips and solutions to common problems while providing the foundation of practical expectations for babies. So if you're convinced that babies hate tummy time, this class is for you!
Meet the Speaker
Dairian Roberts, MS, OTR/L, IBCLC
Dairian is an occupational therapist and lactation consultant specializing in infant feeding and development. She is passionate about community care and has partnered with pediatrician and midwifery offices to provide holistic care to underserved and underrepresented families. Dairian resides in the Greater Los Angeles area with her husband, preschooler, and one year old.