Description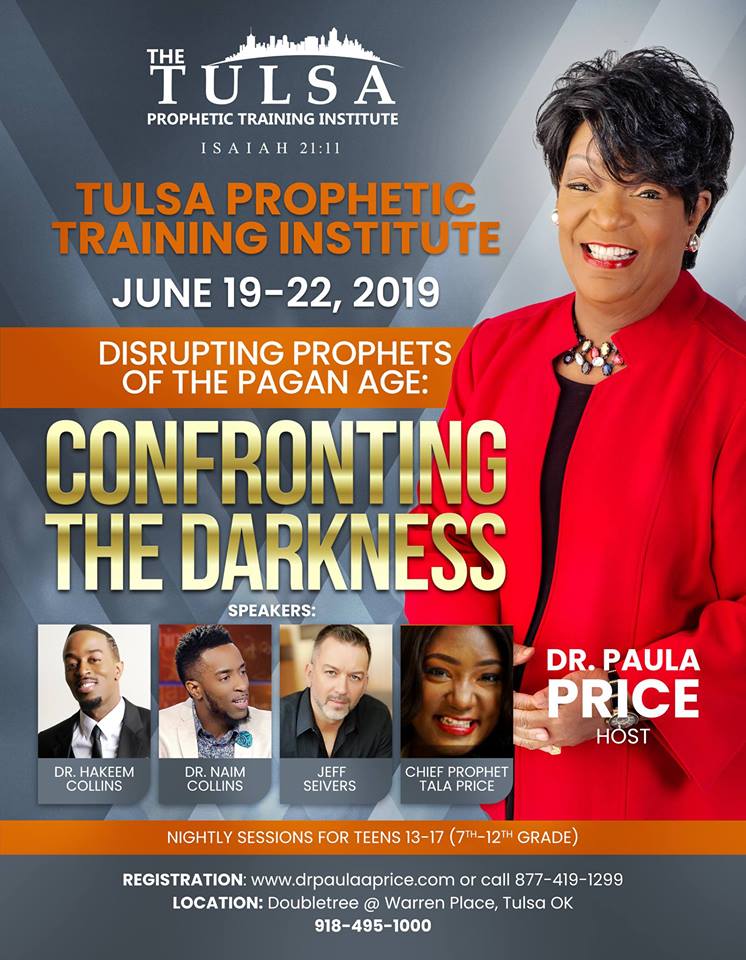 Join Dr. Paula Price and special guests this June 19-22 for the annual Tulsa Prophetic Training Institute! This year's theme, The Importance of Prophetic Education will address several key topics, like Prophetic Guardianship, The Dangers of an Untrained Prophet, Establishing a Viable and Relevant Prophetic Organization, Building a Prophetic Watch and Task Force and more.
TPTI Teen Sessions (13-17 years old)
There will be special evening workshops dedicated to the unique prophetic needs of today's youth. Prophetic teens, ages 13-17 (or 7th-12th Grade) are encouraged to attend! Parents, please note, younger children will not be permitted to attend the teen sessions this year and must remain with you if they are in attendance.
Event Registration Specials:
January-February 20th Buy One, Get One Free for $150

February 21st-March 25th-Buy One, Get One for 50% OFF

January-May 1st Early Bird Tickets for $115
*All Special Pricing (Except Group rates) End May 1st*
Standard Registration May 1st-June 14th $150 per person
Abbreviated Schedule:
Wednesday, June 19, 2019
6:00PM-10:00PM

Welcome and Opening Ceremonies, NEAR Global Prophetic Company Inductions
Thursday, June 20, 2019-Friday, June 21, 2019
8AM-5PM ALL-CONFERENCE Workshops

Breakout Evening Classes 6PM-9PM

TPTI Teen Sessions 6PM-9PM
Saturday, June 22, 2019
9AM-1PM Closing Ceremonies, Prophetic Prayer and Impartation