Description
Welcome, I saved you a seat!

If breastfeeding is the best and most natural way to nourish your baby, then why do you need to take a class to learn how to do it?
Let's look at it this way-- running is also healthy and natural. And the majority of us can run for a bit with no real issues. You don't need a class to be able to run! But it's when you add distance, that's when challenges arise. We run out of breath, get a stitch in our side, the conversation in our head starts about how hard this is, joints hurt...
Any new mother can put a baby to her breast and breastfeed. It's when the frequent nursing sessions get painful, nipples get cracked and sore, baby isn't gaining weight or worse is losing weight, baby isn't sleeping, the conversation in her head starts about how she doesn't know what she's doing/ her body isn't working/ she's just not cut out to breastfeed...
If you want your baby to thrive on your milk and you want to enjoy your nursing relationship you need to prepare.
In a relaxed, casual environment you and your partner/support person will learn: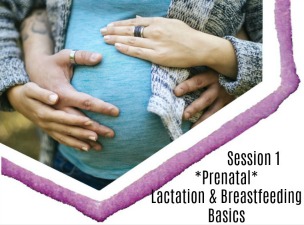 SESSION #1 *Prental- Lactation & Breastfeeding Basics*
-How hormones control the making and releasing of milk
-Newborn instincts, reflexes, and behaviors; including the 9 stages all babies go through in the first hour after birth
-How to achieve a "good latch" and why a proper latch is vital to breastfeeding success
-Common challenges will be addressed along with concrete solutions
-You will become familiar with what to expect from the 1st latch- the first hours, days, & weeks following birth
-The lost art of hand expression- how to do it and why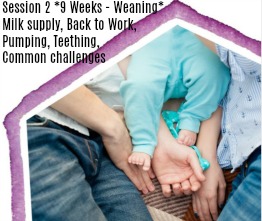 SESSION #2 *9 Weeks - Weaning*
-How hormones control the making and releasing of milk
-How to keep or increase your milk supply
-Developmental milestones and how they affect your breastfeeding journey
-Common challenges with concrete solutions
-BACK TO WORK pumping, when & how.
-Nursing strikes
-Teething
-Night time nursing/sleep


This isn't 'just' a breastfeeding class. You will also learn about newborn/infant instincts and behavior and how it all ties together. We will also cover how your partner can be an active participant in the breastfeeding journey and bond with baby.
The last 30 minutes of the session is devoted to questions.
---
FAQs


Who is this class for? Anyone who is planning/wanting to breastfeed their baby, anyone who is considering breastfeeding their baby but heard it's super difficult and painful, anyone who is currently breastfeeding in the early weeks postpartum who wants/needs information, and anyone who will be supporting a breastfeeding family.
When should you attend? PRENATAL: Anytime in pregnancy is fine but 3rd trimester is ideal so that the information is fresh in your mind. POSTPARTUM: Anytime in the early weeks after birth.
Do I have to bring a Partner/Support person?

Nope! It is recommended but if your Partner/Support person isn't available or you would prefer to come without them that's fine. You will get a second copy of all information and handouts for them.

DISCLAIMER: This is an interactive setting. I will not be talking AT you! Dialogue and questions are encouraged! And there may or may not be technicolor fabric boobs involved :)



Class taught by Amy L Walton, CLC
For Amy's personal & professional lactation experience and credentials scroll to the bottom of the page:
http://www.mindbodymamatulsa.com/services/education-classes/breastfeeding-classes-and-support/



A SuperBill will be provided upon request to submit to insurance for reimbursement.
HSA Cards Accepted!


Mind Body Mama is officed in the Impact Productions Building at 39th and Harvard.