About this Event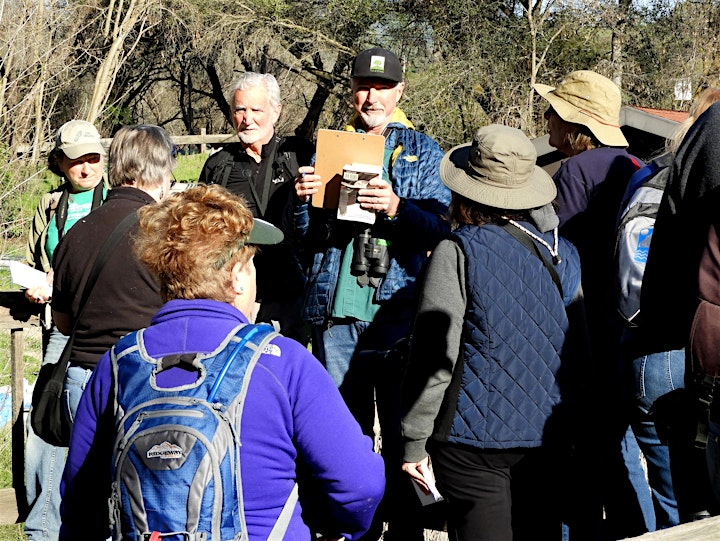 Do you love nature? Do you want to learn more about local plant, animal and insect species? Do you want to learn about volunteer opportunities related to the natural environment? Tuleyome is once again teaming up with the University of California's extension program and the Woodland Public Library to teach members of the public how to become Certified California Naturalists! No advanced degrees or previous naturalist experience is required.  We teach you everything you need to know and get you certified.  SIGN UP TODAY!
Winter Course: January -  March 2020
There will be 10 classes and 3 field trips.
Class Limit: 30 students (adults, age 21 and over)
Classes take place at:Woodland Public Library, Leake Center, 250 1st St, Woodland, CA 95695,12:00 noon to 4:00 pm
Friday, January 17, 2020
Friday, January 24, 2020
Friday, January 31, 2020
Friday, February 7, 2020
Friday, February 14, 2020
Friday, February 21, 2020
Friday, February 28, 2020
Friday, March 6, 2020
Friday, March 13, 2020
Friday, March 20, 2020
Field Trips will take place at various locations. All fitness levels are taken into consideration, so the field trips will all be low-impact. They will take place on:
Saturday, January 25, 2020
Saturday, February 22, 2020
Saturday, March 14, 2020
A detailed syllabus for the course will be made available as we get closer to the start date.
COSTS AND REGISTRATION DEADLINES
For the Winter Course, students will be expected to purchase the required textbook for the course. You can order the textbook directly from the University of California or through other book outlets.Once you register for the course, we'll send you a packet of forms to fill out. All of the forms need to be returned to Tuleyome PRIOR to the start of the first class. (Don't worry, we'll send you reminders.)
Standard Registration : $475.00 [If you buy the ticket online, Eventbrite will add service fees making the ticket cost about $505. To avoid the fees, you can send a check made out to "Tuleyome/CalNat" to Tuleyome, 607 North Street, Woodland, CA 95695. Your participation in the course will be verified once your check has cleared the bank.]
Scholarship Registration: $60.00 (Contact us for details)// Sorry, the scholarships for this class are now closed; the seats have been taken.
NOTE: Once the registration fee has been paid it will NOT be refunded in whole or in part for any reason (except in the unlikely event that the entire course is cancelled by Tuleyome).
For more information, see our website at: http://tuleyome.org/projects/calnat/