Come and join us for supper, conversation, and community!!
About this event
Are you feeling lonely, missing community, tired of wearing sweats everyday?
Well, I have some good news for you!
Chef Tirzah Love & Red Door Catering are hosting a weekly dinner series!!
Tuesday's with Tirzah
Where Community Connects
Come and join the conversation, at this weekly, family-style dining experience. Sit with people from your community, and enjoy a delicious meal, while connecting through meaningful curated discussion.
Each week,we wash our hands, and then large platters of food are passed around, so that you can serve yourself any portion you like. Chef Tirzah also comes up with interesting questions each week, so you will be engaging in a thought provoking discussion the entire time. The experience is not only elevating, its connecting, and we can all use a little more of that these days.
If you're tired of being cooped up in the house, and are wanting to reconnect safely with your community, then reserve your seat today!
We can't wait to dine with you, and share in the joy of simply being together!
*We follow all covid guidelines and take the health and safety of our patrons in high regard. Masks must be worn at all times, unless eating or drinking.
Message from Chef Tirzah Love:
Hey Ya'll,
This dinner series was created to bring people together for a chef made meal, in the comfort of a home setting. In the era of social media, more and more people are wanting to connect on a more personal level, so in an effort to fill the void I decided to open my home to friends and strangers alike. The turn out was more then I could have ever expected! We have shared laughs, stories, but most of all community.
Then covid hit, and the world shut down. It was difficult to pivot my community meal into something that would be safe for all. During that year, I decided to move my family to Nashville, Tennessee to seek new opportunities. It wasnt until I got there that I realized, I am a California girl through and through, and there is no place like the Bay Area. So, I am back, and I am so happy to be home!! Now that things are slowly re-opening, I would like to continue my hearts work by offering this donation based, community supper. I hope that you will all join me at The Red Door, to experience delectable food, meaningful conversation, but most of all, connection.
Warmly,
Chef Tirzah Love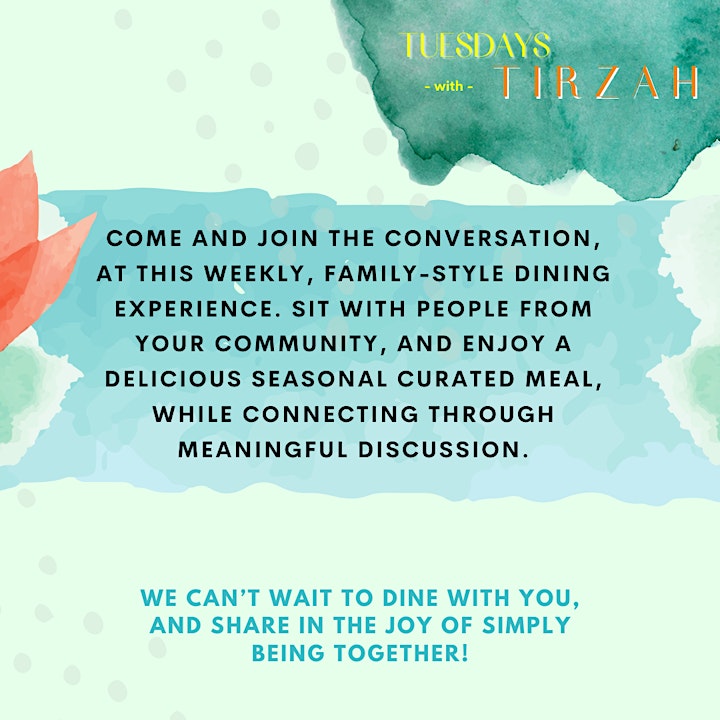 Organizer of TUESDAY'S with TIRZAH
Chef Tirzah is a Private Chef and Caterer. Her love of cooking began at the age of nine, but her path to becoming a chef was far from straight forward. After working in private industry for over 6 years, Tirzah realized that "If you do what you love, you will never work a day in your life"- Thus beginning her transition into becoming a chef and the birth of Tirzah Catering LLC. Chef Tirzah started her career by creating a simple blog which soon grew into catering requests for wedding receptions, baby showers, and upscale adult birthday celebrations. Through the powers of social media, she was able to market her business effectively by expressing her passion for healthy, organic and GMO free cuisine. In 2013 Tirzah's culinary career reached new heights when she was asked to be a Private Chef for select players on the Sacramento Kings. She is currently working with the players and enjoys educating them on "conscious eating."
Along with being a full time private chef, Tirzah also prepares healthy meals for individuals on the go. Additionally she teaches cooking classes called "Cooking with Tirzah" where she is focusing on conscious eating, raw foods, and meatless options. One of the highlights of Tirzah's career is when she was a featured chef on Guy's Grocery Games (Family Edition). Although she was not the final winner of the challenge, the experience only fueled her to continue on her mission as a healthy lifestyle chef.
She is also a featured chef on an upcoming show entitled Bringing it to the Table. Where she went head to head with other chefs, and was crowned the champion overall.
Forever a student, Tirzah tirelessly works towards expanding her knowledge base by researching healing foods, reading cookbooks, and creating fresh new recipes for her clients. She is determined to educate those around her on GMO's, the benefits of eating organic and the simple yet profound truth that "You are what you eat. So don't be fast, cheap, easy or fake."