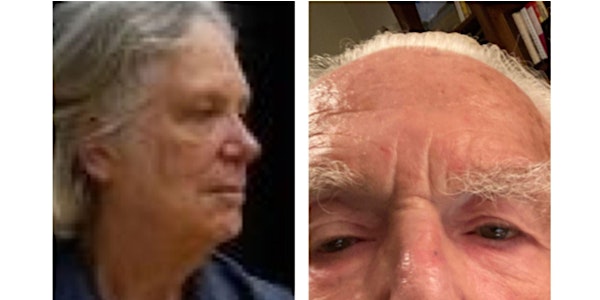 Tuesday Talks: Life After Covid or How Does Reality Look?
Tuesday Talks: Life After Covid or How Does Reality Look?
About this event
SOF Gatherings: Tuesday Talks
A public online series curated by the Society of Fellows of the American Academy in Rome featuring prominent leaders in the Arts + Humanities.
Tuesday October 11, 6pm ET
Tuesday Talks: Life After Covid or How Does Reality Look?
Anne Bogart (2008 Visiting Artist) and John Guare (2013 Resident)
A Conversation between John and Anne
Anne Bogart is one of the three Co-Artistic Directors of the SITI Company, which she founded with Japanese director Tadashi Suzuki in 1992. She is a Professor at Columbia University where she runs the Graduate Directing Program. Works with SITI include Falling & Loving; The Bacchae, Chess Match No. 5; Lost in the Stars; The Theater is a Blank Page; Persians; Steel Hammer; A Rite; Café Variations; Trojan Women (After Euripides); American Document; Antigone; Under Construction; Freshwater; Who Do You Think You Are; Radio Macbeth; Hotel Cassiopeia; Death and the Ploughman; La Dispute; Score; bobrauschenbergamerica; Room; War of the Worlds–the Radio Play; Cabin Pressure; Alice's Adventures; Culture of Desire; Bob; Going, Going, Gone; Small Lives/Big Dreams; The Medium; Noel Coward's Hay Fever and Private Lives; August Strindberg's Miss Julie; and Charles Mee's Orestes. Recent operas include: Wagner's Tristan and Isolde, The Handmaid's Tale, Handel's Alcina, Dvorak's Dimitrij Verdi's Macbeth, Bellini's Norma and Bizet's Carmen. She is the author of six books: A Director Prepares; The Viewpoints Book; And Then, You Act; Conversations with Anne, What's the Story and The Art of Resonance.
John Guare is a playwright.   A Free Man of Color.   Six Degrees of Separation. Guare's plays also include: Three Kinds of Exile; Lydie Breeze; The House of Blue Leaves (NY Drama Critics Circle Award); Six Degrees of Separation (NY Drama Critics Circle Award: Olivier Award, Best Play); Landscape of the Body and Two Gentlemen of Verona (Tony Award). He wrote the screenplay for Atlantic City (Oscar Nomination, Venice Film Festival Best Film). He was awarded the 2003 PEN Master Dramatist Award; 2004 Gold Medal in Drama, American Academy of Arts and Letters and the 2005 Obie Sustained Excellence. He has taught playwriting at Yale, Harvard, Princeton, NYU and Juilliard, and is a Council member of the Dramatists Guild and co-editor of the Lincoln Center Theater Review.