Tuesday Night Dinner Series: Benefitting The Voice Project

Tuesday, March 6, 2012 from 6:00 PM to 8:00 PM (EST)
Event Details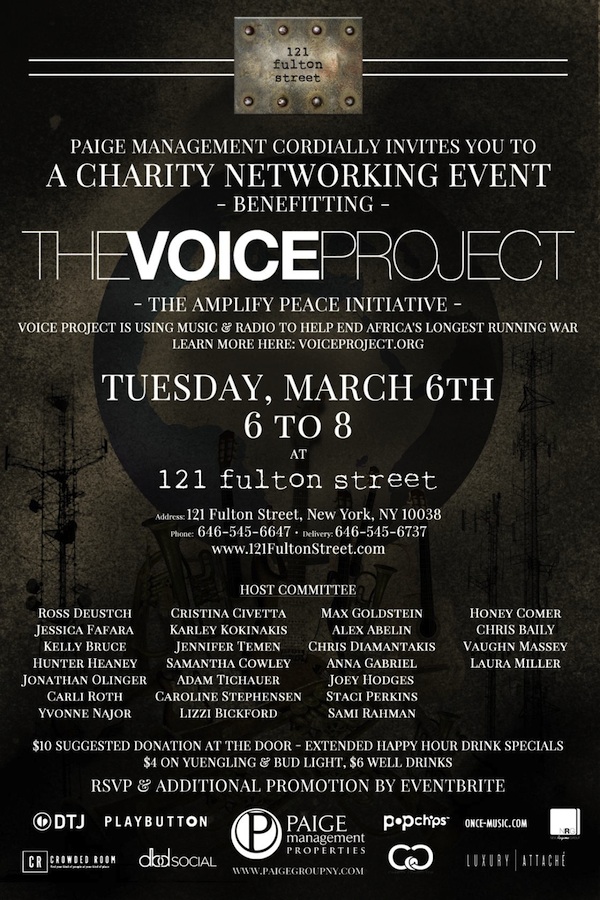 On March 6th 2012, Paige Management and Charity Connector present a Charity Networking Event, from 6-8PM at 121 Fulton Street benefitting The Voice Project. Come enjoy cocktails, meet new people, chat with old friends and listen to the sounds of a top NYC guest DJ spinning the night away. A $10 suggestion donation, sold online or at the door, will entitle guests to $4 selected beers, $7 well cocktails. 100% of the ticket sales will benefit The Voice Project
About The Voice Project:

 
A peace movement is an incredible thing, people coming together, mobilizing like an army, and in this case armed not with guns but with songs and something more powerful than than any bullet; compassion, the strength of human will, and determination.

For over two decades war ravaged Northern Uganda. It is Africa's longest running conflict and it has since spread to the Democratic Republic of Congo, South Sudan and Central African Republic. Joseph Kony's LRA has made abducting children and forcing them to fight his chief weapon of war, even making them kill their friends and family members. Many abductees and former soldiers escape but hide in the bush, afraid to return home because of reprisals for the atrocities they were forced to commit.

The women of Northern Uganda - widows, rape survivors, and former abductees have been banding together in groups to support each other and those orphaned by the war and diseases so prevalent in the IDP (Internally Displaced Persons) camps. And they are singing songs. The lyrics let the former soldiers know that they are forgiven, that they should come home. The songs are passed by radio and word of mouth out into the bush, as far as the Sudan and DR Congo. Former LRA are returning as the region has it's first real chance at peace in more than 25 years.

The Voice Project is an attempt to support these incredible women and the peace movement in Uganda, and an effort to see how far a voice can carry.
www.voiceproject.org | @thevoiceproject
About Charity Connector: 

Charity Connector is an interactive community that helps non-profits forge relationships, raise sponsorship, and build campaigns to increase social awareness, funds and partnerships. Through our network, individuals discover those charities most important to them and connect with each other for a mutually beneficial relationship. Charity Connector empower others to create change within themselves and in the world, helping to facilitate this process and providing 

all the tools necessary to succeed.
www.charityconnector.com | @charitycnnctr
PARTNERS
 Eventbrite.com | @briteNYC
DBD Social | @dbdsocial
Luxury Attache | @LuxuryAttache
Pop Chips | @PopChipsNY
Crowded Room | @crwdrm
When & Where
121 Fulton St
New York, NY 10038


Tuesday, March 6, 2012 from 6:00 PM to 8:00 PM (EST)
Add to my calendar
Tuesday Night Dinner Series: Benefitting The Voice Project