Tuesday Night Dinner Series: Benefitting Back on My Feet

Tuesday, April 24, 2012 from 7:00 PM to 10:00 PM (EDT)
Event Details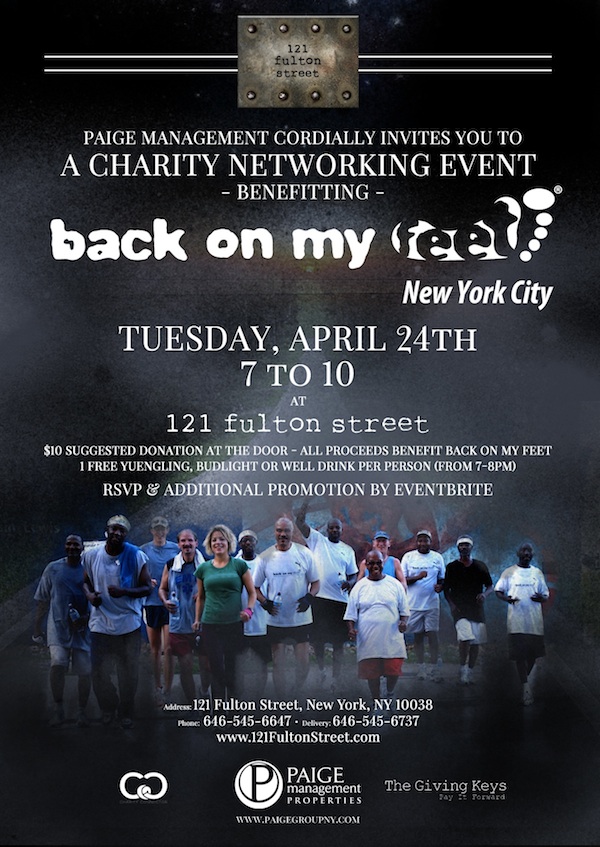 On April 24th 2012, Charity Connector presents a Charity Networking Event, from 7-10PM at 121 Fulton Street benefitting Back on My Feet. Come enjoy cocktails, meet new people, chat with old friends and listen to the sounds of a top NYC guest DJ spinning the night away. A $10 suggestion donation, sold online or at the door, will entitle guests to 1 free Yeungling, Bud Light, or well drink per person.  Additional drink specials available until 10pm. 100% of the ticket sales will benefit the Back on My Feet organization.  In addition, we will be selling The Giving Keys at the event.  50% of the proceeds will benefit Back on My Feet and 50% will benefit The Giving Keys.
About Back on My Feet:

Founded by AnneMahlum in 2007, Back on My Feet is a national nonprofit organization that is dedicated to creating independence and self-sufficiency within the homeless and other underserved populations by first engaging them in running as a means to build confidence, strength and self-esteem.  The organization does not provide food nor shelter, but instead provides a community that embraces equality, respect, discipline, teamwork and leadership.  Back on My Feet's approach focuses on the very profound and innate desire for all of us - regardless of age, race, socio-economic status - to feel recognized, appreciated, valued and important.  Through dedication and hard work, Members earn the opportunity to create a new road for themselves by advancing to the "Next Steps" phase of the program where they gain access to educational, job training, and employment opportunities, as well as financial aid.  In short Back on My Feet focuses on changing people's lives by changing the way they see themselves.

 
www.backonmyfeet.org | @backonmyfeet
About The Giving Keys:

 
Caitlin Crosby, the founder
 m
et this sweet homeless couple (Cera and Rob) on Hollywood Blvd who have had a really tough life. After falling in love with their hearts, and how hard they're working to try and change their lives, I had an "Ah-Ha moment." I realized they were the missing link to The Giving Keys. So I asked them to be my business partners. After all, the whole concept is PAYING IT FORWARD.  
Proceeds go to keeping Cera & Rob off the streets and in transitional homes/counceling/school/shelter & once we complete that goal, we will use the extra money to donate to the shelters & transitional homes that were most effective in supporting Cera & Rob.
www.thegivingkeys.com | @thegivingkeys
About Charity Connector: 

Charity Connector is an interactive community that helps non-profits forge relationships, raise sponsorship, and build campaigns to increase social awareness, funds and partnerships. Through our network, individuals discover those charities most important to them and connect with each other for a mutually beneficial relationship. Charity Connector empower others to create change within themselves and in the world, helping to facilitate this process and providing 

all the tools necessary to succeed.
www.charityconnector.com | @charitycnnctr
PARTNERS
 Eventbrite.com | @briteNYC
When & Where
121 Fulton St
New York, NY 10038


Tuesday, April 24, 2012 from 7:00 PM to 10:00 PM (EDT)
Add to my calendar
Tuesday Night Dinner Series: Benefitting Back on My Feet