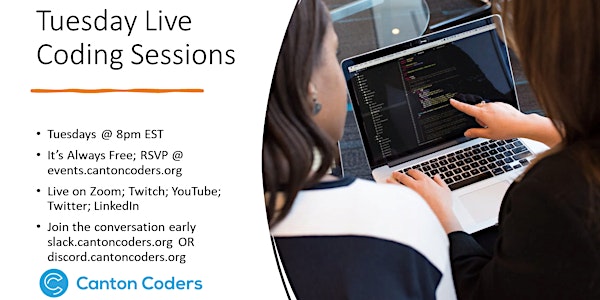 Tuesday Live Coding Sessions
Come code with the community; community sourced leaders; community sourced coding problems.
About this event
We're all about the individual developer, not our employers.
It started as a meetup, but since then has gone global. Our mission is to help all humans find happiness in coding regardless of methodology, language, or paradigm.. Our goal is to provide community and professional development of our area of developers - and we're FREE! We're always doing something, so the best way to find out what is going on is to join our incredibly active slack community. - it's free! (link below)
Canton Coders is about the individual coder and not our employers. The views and opinions expressed in this livestream are our own personal opinions subject to evolution and being wrong and do not necessarily reflect the opinions or values of our employers, peers, friends, and family. To protected the integrity of Canton Coders and maintain the highest professional decorum, please refrain from sharing any employer or client information.
More Info: www.cantoncoders.org
Follow Us on Twitter: https://twitter.com/CantonCoders
Checkout our Events: https://events.cantoncoders.org
Join Our Slack: https://slack.cantoncoders.org