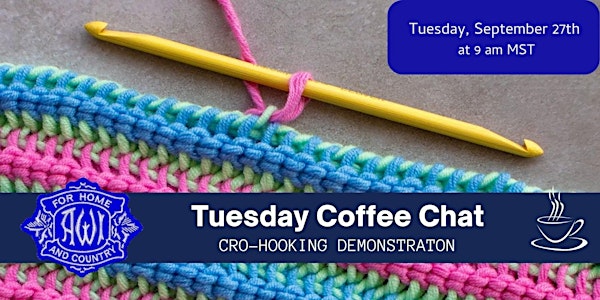 Tuesday Coffee Chat - Cro-Hooking Demonstration
Our September Tuesday Coffee Chat with AWI Ladies will include a cro-hooking demonstration by Former Executive Director Fern Killeen.
About this event
In August, we hosted the first monthly, Tuesday Coffee Chat with AWI Ladies. The first session was a get-to know you and idea sharing. Fern Killeen, former Executive Director of Alberta Women's Institutes shared her latest crafty passion - cro-hooking or cro-knitting.
The cro-hook is a special double-ended crochet hook that has a crochet hook on each side. Cro-hooking creates a beautiful reversible item that looks as if it was knitted.
And that was all it took for the rest on the call to suggest that September's topic include a demonstration by Fern! Join us at 9 am MST on Zoom for a cro-hooking demonstration, conversation and of course coffee!
Tuesday Coffee Chat with the AWI Ladies was started from a conversation of Associate WI members at the 2022 Provincial Convention and a desire to be more connected with AWI. These monthly coffee chats are open to any and all WI members.