Description
!!!$500 IN PRIZES!!!
Come join us at the U of A campus for the first Tucson Pi-Bot wars! This is a free, all ages event to raise awareness in STEM while having fun at the same time. The event will kick off at 10AM with a workshop to build a remote controlled Raspberry Pi Robot - no experience needed.
At the end of the day, from 4-6 we will have a Pi-Bot war where attendees can drive around and attempt to pop balloons mounted on other Pi-Bots. There will also be additional challenges, such as an egg carry race. This event is appropriate for total newbies as well as experienced users. Thanks to the University of Arizona and Kroll Cyber Security, we will have prizes for the events totaling $500.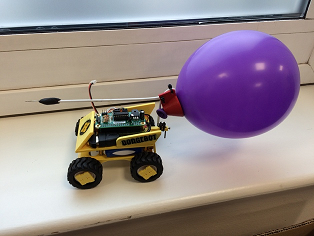 We will have volunteers that will assist with the follow tasks:
1) Assembly of the robot chassis, which includes the motors and wheels

2) Connecting the motorhat that controls the motors

3) Setup and configuration of the Raspberry Pi to control the robot

We are suggesting the following low cost kits for those that wish to have help, as our volunteers will be familiar with them. Note - we will have serveral kits available for use during the event, however, we recommend buying your own materials if possible to guarantee availability.

KIT1
2 Wheel Chassis Kit from Amazon ($12.95)
Pololu DRV8835 Dual Motor Driver Kit ($7.49)

Raspberry Pi 3 ($38) or Raspberry Pi Zero W ($10)
KIT2
4 Wheel Chassis Kit from Amazon ($23.99)
Adafruit Motor HAT ($22.50)
Raspberry Pi 3 ($38) or Raspberry Pi Zero W ($10)
Custom Kit (unsupported by volunteers)
Attendees may build their own kit, however, volunteers will not be familiar with these, and all the needed parts are not known. At a minimum, it should include the following:
40 pin Raspberry Pi, Chassis, Wheels, Motor, Battery Pack and Motorhat. We will have the code and knowledge to support the following motorhats:
Motor Pololu DRV8835 Dual Motor Driver Kit (2 Wheels)
Moto Zero (2-4 Wheels)
Adafruit Motor HAT (2-4 Wheels)
Some links to some possible chassis kits for ideas, or just google "Robot Chassis"
Additional Supplies Required
In addition to the above kits, the following will be needed to complete the Pi-Bot. Hopefully you will already have some of these items at home, or can borrow them for the event.
The Raspberry Pi requires the following peripherals: SD Card, Power Adapter, Ethernet or Wireless and Bluetooth. The Raspberry Pi 3 and Pi Zero W comes with Bluetooth, all other models will need a Bluetooth adapter. The Bluetooth will be used for the Wii Remote to control the car.
Official Nintendo Wii Remote ($11) (NOT THE PLUS VERSION OR THIRDPARTY REMOTES)
USB Portable Charger (to power the Raspberry Pi) ($12.99)
4 AA Batteries (to power the motors)
Misc. Materials such as duct tape, mini screwdrivers, 2.5mm screws, standoffs etc.
Wire hanger for the Balloon popping event. We will supply the balloons, balloon holder, and needle.
Preparation
Please try to solder your parts before coming. However, if you don't know how or can't find someone to do it for you, we will be able to do it for you at the workshop.

Additional Details
Minors need to be accompanied by an adult

Drop in anytime between 10 and 6 to participate
We will practice balloon popping all day, so if you can't stay for the competition or want to goof around earlier, that's ok
Contact Mari DeGrazia, @maridegrazia for more details or questions

Thanks to our Sponsors, University of Arizona Eller MIS and Kroll Cyber Security


Date and Time
Location
The University of Arizona
McClelland Hall, Room 218
1130 East Helen Street
Tucson, AZ 85721