Description
Bachata is a genre of Latin dance and music that originated in the Dominican Republic, which has now gained tremendous popularity around the world. This fun Bachata Dance workshop will give participants a solid foundation in which to dance bachata and a deeper understanding of the music, culture and essence of Bachata. Open to ALL LEVELS, with something for everyone, from first time dancer to instructor level. The workshop will incorporate dancing in partners and in lines along with a multi media aspect that will show videos and photos of musicians and dancers from the DR. No partner needed as we will rotate throughout the class. We will begin, giving the students a solid foundation in bachata and quickly move to cover many advanced topics. This workshop aims to provide participants with solid dance and cultural roots while also encouraging them to develop and nurture their own personal style. Pre register online and secure your space and receive a discount! Cost of workshop is $35 at the door.

The instructor Adam has researched bachata extensively in the DR for many years and has taught and presented around the world at events such as The LA Salsa Festival, The ABQ Latin Dance Fest, The Dallas, DC, LA, San Fran, San Diego and Reno Bachata Fests, DR6 in the Dominican Republic and many more. He has also instructed at a variety of universities including Tufts and CUNY in NYC.

The workshop in addition to incorporating dance practice and instruction will include the presentation and analysis of video clips that Adam has filmed of dancers and musicians in the Dominican Republic.

– Bachata Foundations (connection, essential steps, frame)
–Foundations 2 (rotation and footwork)
-Advanced dance concepts and musicality
–Going deeper and making in personal (connecting to the culture, music, self, and partner)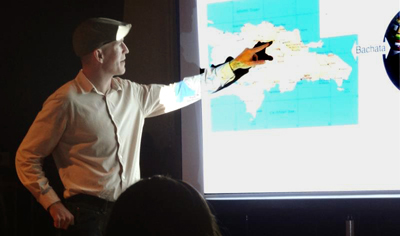 Please bring water and snacks to keep your energy up!

Please bring your dance shoes or shoes that will not mark a wooden floor. Plan on showing at least 15 minutes early so we can start on time.

For questions contact adam_taub@hotmail.com
Adam Taub is a documentary filmmaker, bachata researcher and dance teacher. Adam has, for over a decade, had broad experience in the world of Bachata. He has lived in the Dominican Republic and conducted extensive research, in-depth video projects, and recorded interviews with bachata legends. Adam is widely recognized for his innovative presentations and the unique pedagogy he has developed for teaching bachata dance and musicology. Adam has been invited to teach and present his work at dozens of...