Tucker Back to School Celebration, Saturday, July 24th, from 11 am-3 pm. Free Book Bags,School Supplies, Food, Uniforms, Music & Giveaways.
About this event
TUCKER STUDENTS ONLY : Come join us on Saturday, July 24th, from 11AM-3PM as Omega Support Center will distribute 500 FREE Back Packs , School Supplies, and other giveaways. The celebration will include a free cookout,( hot dogs), drinks, snow cones, cotton candy, prizes and other resources.
Students must register for bookbags and supplies. Only students of the following schools are eligible for this event: Livsey, Brockett, Smokerise, Idlewood and Midvale Elementary, Tucker Middle and Tucker High School.
Parents who live outside the district, please contact the office as additional supplies may be available prior to the Dekalb County School Year 2021-2022.
THIS IS A FREE COMMUNITY EVENT: NO COST TO THE STUDENTS OR THE PARENTS.
YOU MUST ATTEND ONE OF THE SEVEN SCHOOLS ABOVE AND BE REGISTERED TUCKER STUDENT FOR THIS EVENT. PLEASE REGISTER AND BRING PROOF OF RESIDENCE TO RECEIVE FREE SUPPLIES. UTILITY BILL OR INSURANCE STATEMENT.
THANK YOU
Sponsors and volunteers needs, for more information please contact 678-615-2390.
Omega Support Center
Tucker Back to Scool Celebration : Saturday, July 24th, 11am-3pm EST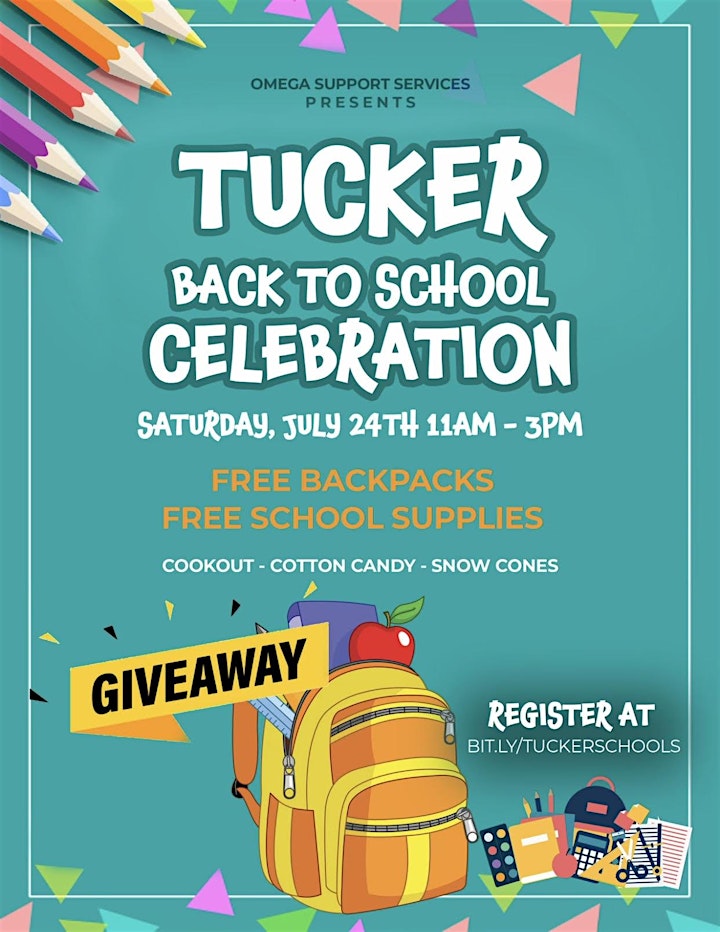 Organizer of Tucker Back to School Celebration
Omega Support Services (a non profit organization) located in Tucker, GA  since April 2016.   We strive to help build a strong community of business leaders by providing education and resources for our clients.  Community outreach, activities and organizing is our sole purpose to bring businesses and clients together to help meet their needs. Networking and education are key for a strong and healthy community. We invite you to come and particpate in the 2nd Annual Women's Business Expo.