Close out your Summer in a blaze of glory with a 2 night fashion show extravaganza as only TUC Fashionweek could bring to you
About this event
Close out your Summer in a blaze of glory with a 2 night fashion show extravaganza as only TUC Fashion Week could bring to you on August 27th - 28th featuring designers Benji Vanderpump, Duke Denim, Myke Sims Ivelina Dimitrova, and Yasmeen Sa'eedah for our "Alice in Wonderland X Mixed Feelings" themed two-night event.
Day 1 Designer Lineup
C.DENIM
Benji Vanderpump
Myke Sims
Day 2 Designer Lineup
Yasmeen Sa'eedah
Ivelina Dimitrova
Myke Sims
Enjoy an evening of great fashion, music performances, food, and vibes that only True Urban Culture can provide to you.
Sponsored by: JeTommesWay, True Urban Culture, Boxed Water, Mae Mae's Kitchen, Don P's Supreme Wings N Things, Armageddon Sound, BTS Night Life, Satellite Vision,Bomade Vodka, Iron Palm Tattoos, and Cinnaholic.
General Admission tickets start at $15.00
VIP tickets start at $25.00 and it comes with free food, drinks, and a guaranteed seat in our fashion show VIP section
Number of Tickets for Night 1: 110 General Admission and 40 VIP
Night 1: Friday August 27th, 2021
Venue: Atlantucky Brewing
Address: 170 Northside Dr SW suite 96. Atlanta, GA 30313
Time: 7pm - 11pm
Number of Tickets for Night 2: 70 General Admission and 30 VIP
Night 2: Saturday August 28th, 2021
Location: Galleria 314
Address: 810 Huff Rd NW Atlanta, GA 30318
Time: 6pm - 10pm
Dress Code: Casual Fashionable
*All ticket proceeds will go to the Antonio L Godfrey Trust
* Please wear your mask and practice social distancing from the rest of the crowd.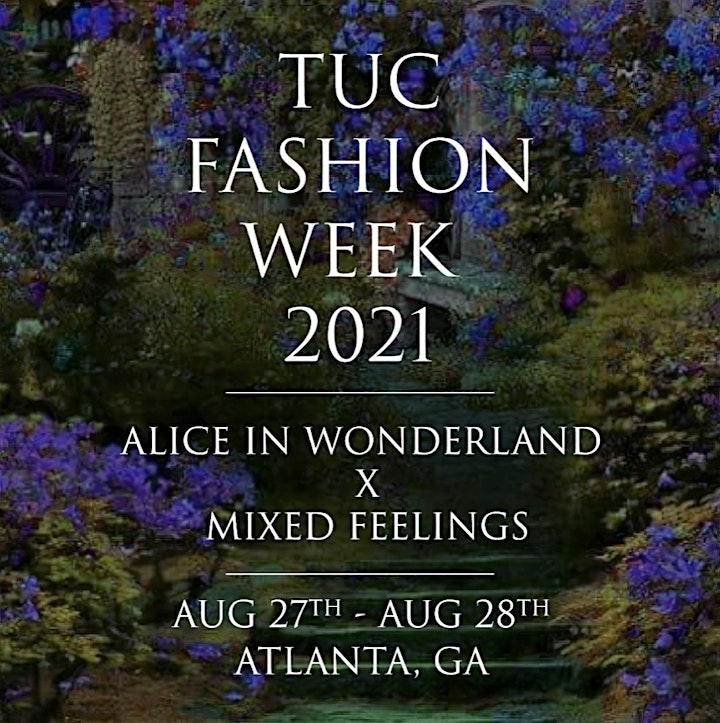 Organizer of TUC Fashion Week Presents: Alice in Wonderland x Mixed Feelings