Description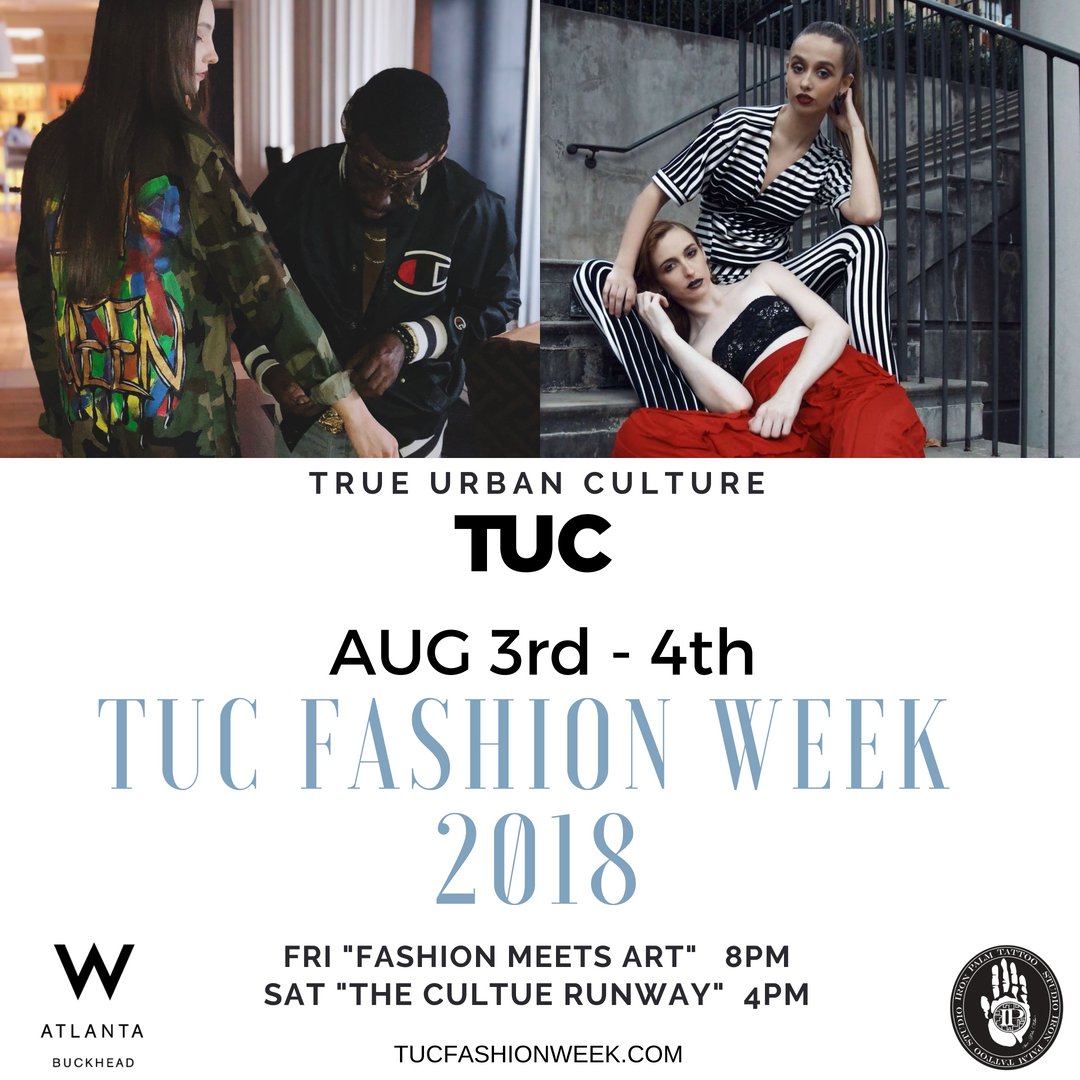 FROM ATLANTA TO THE BEYOND Revamping Fashion one runway at a time!
August 3rd – 4th 2018
TUC Fashion Week is a week of fashion like no other! With a mixture of emerging fashion from around the globe with high profile designers from New York and Atlanta comes alive once for the first time here in Atlanta, GA with a series of runway shows, exhibitions, designer talks, networking events, fashion galleries, shopping experiences, and more.
Launched in 2018 by a group of dedicated fashion fanatics and fashion experts to celebrate True Urban Culture distinctive style, TUC Fashion Week began as a Fashion Meets Art runway show back in 2017 since then our passion to pursue our own fashion week as a publication has grown to become a way of life! With a week of fashion events built around our premiere shows and pop-up shops, True Urban Culture is bringing the culture that is making a statement in today's fashion.
TUC FASHION WEEK SCHEDULE

FRIDAY August 3rd "FASHION MEETS ART" Showcase
Time: 8 PM - 11 PM FREE ENTRY
Location: W Hotel Buckhead
3377 Peachtree Rd NE
Atlanta, GA 30326


SATURDAY August 4th " THE RUNWAY CULTURE: UNIQUE & FABULOUS
4 PM ( PLEASE BE ON TIME RUNWAY START 4:30 PM SHARP )
Location: Private Venue
256 Walker St Sw
Atlanta, Ga 30313

RUNWAY EVENT IS A RSVP EVENT ONLY MUST BE ON GUEST LIST OR HAVE A TICKET!



Tickets
---
Ticket Price
Quantity TUC Fashion Fanatic
$20




TUC Fashionable VIP
$40



DRESS CODE SMART CASUAL
PLEASE DRESS LIGHT ON SATURDAY RUNWAY EVENT IT WILL BE HELD AT A OUTDOOR VENUE.