TU B'AV CELEBRATION OF LOVE & LAUGH - ערב הומור ושירי אהבה עבריים

Saturday, August 17, 2019 from 7:00 PM to 10:00 PM (MDT)
Event Details
מוזמנים לערב של הומור ושירי אהבה עבריים
יאיר ניצני במפגש מוסיקלי והומוריסטי
ואחריו נשיר יחד שירי אהבה עבריים עם אייל ריבלין וחברים
 21+ הערב לגילאי 
AUGUST 17
7PM, BOULDER
האירוע יתקיים בבולדר, כתובת מדוייקת תשלח לאחר הרשמה* 
(בעברית)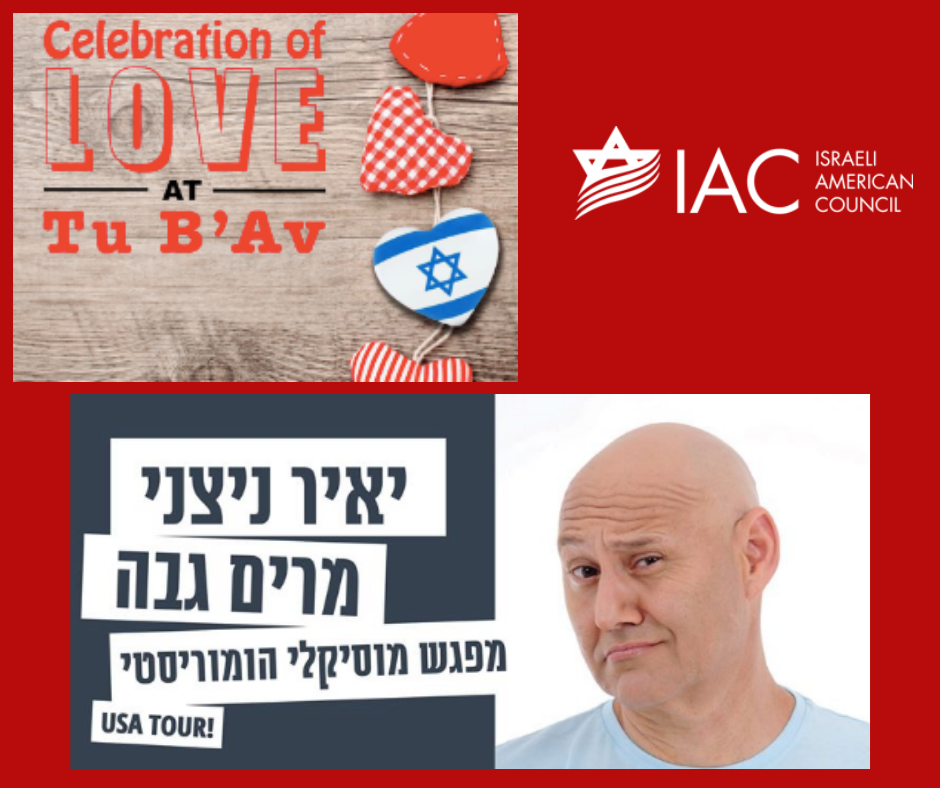 יאיר ניצני — מרים גבה 
 בדרכו המשעשעת ובהומור המיוחד לו מציב ניצני מראה בפני הישראליות הכל כך מוכרת, ומציע לנו להסתכל עליה בחיוך של השלמה. ניצני, המוכר לנו מטורו הפופולרי ב"ישראל היום", מחברותו בלהקת "תיסלם", מהשתתפותו ב-"תוכנית הבוקר" בגלי צה"ל, "אחורי החדשות" בערוץ עשר, "כוכב נולד" ועוד, מגיע למפגש משעשע ומעורר השראה בו יספר איך הגיע מתלמיד עם הפרעות קשב למרכז הפריימ-טיים הטלויזיוני ולניהול חברת תקליטים. 
הוא מדבר על משפחה, זוגיות, אבהות, קריירה וטכנולוגיה. הוא מדבר על "תיסלם", על הברז שלו, תוכניות רדיו וטלויזיה, "שירו של שפשפ", "האשם תמיד", "שיר המנגל" ועל השיר "פרצופה של המדינה" שכתב לפני שלושים שנה ועדיין נשאר רלוונטי.
 יאיר ניצני נולד בבאר שבע, התחנך בחיפה, התחתן בתל אביב ואכל שיפודים באור יהודה. חלומו הגדול הוא להיות נהג אוטובוס ולהוביל תיירים במסלול חייו. הוא חבר בלהקת "תיסלם", וחתום על שירים מצחיקים שנכנסו לפנתאון הבידור הישראלי כמו "שיר המנגל", ודמויות כמו שגריר עיראק בישראל באסם עזיז, וכמובן, האשם תמיד, דמות עליה קיבל את אות הכבוד מהליגה הערבית ומרצדס שחורה במתנה ממלך סעודיה. בדרכו המצחיקה מספק ניצני הזדמנות לשומעים להיחשף לזווית הראיה שלו את החיים: ציניות לצד אופטימיות אין סופית, הליכה קדימה אל מול הגעגועים לפעם, ואיזון בין החיים כגבר יחיד בבית עם אישה ושלוש בנות אל מול הפורענות של כוכב רוק בדימוס.
When & Where

Boulder
TBD
Boulder, CO 80301


Saturday, August 17, 2019 from 7:00 PM to 10:00 PM (MDT)
Add to my calendar
Organizer
The mission of the Israeli-American Council (IAC) Colorado is to build an engaged and united Israeli-American community that strengthens the Israeli and Jewish identity of our next generations, and the bond between the peoples of the United States and the State of Israel.