TTC Facilitator Training: LISTENING IS EVERYTHING

Thursday, September 22, 2016 at 4:00 PM

-

Sunday, September 25, 2016 at 3:00 PM (PDT)
Event Details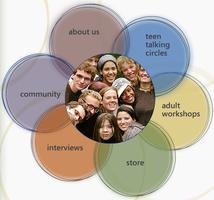 The  awakening  begins  with  listening
When young people are listened to, they feel heard...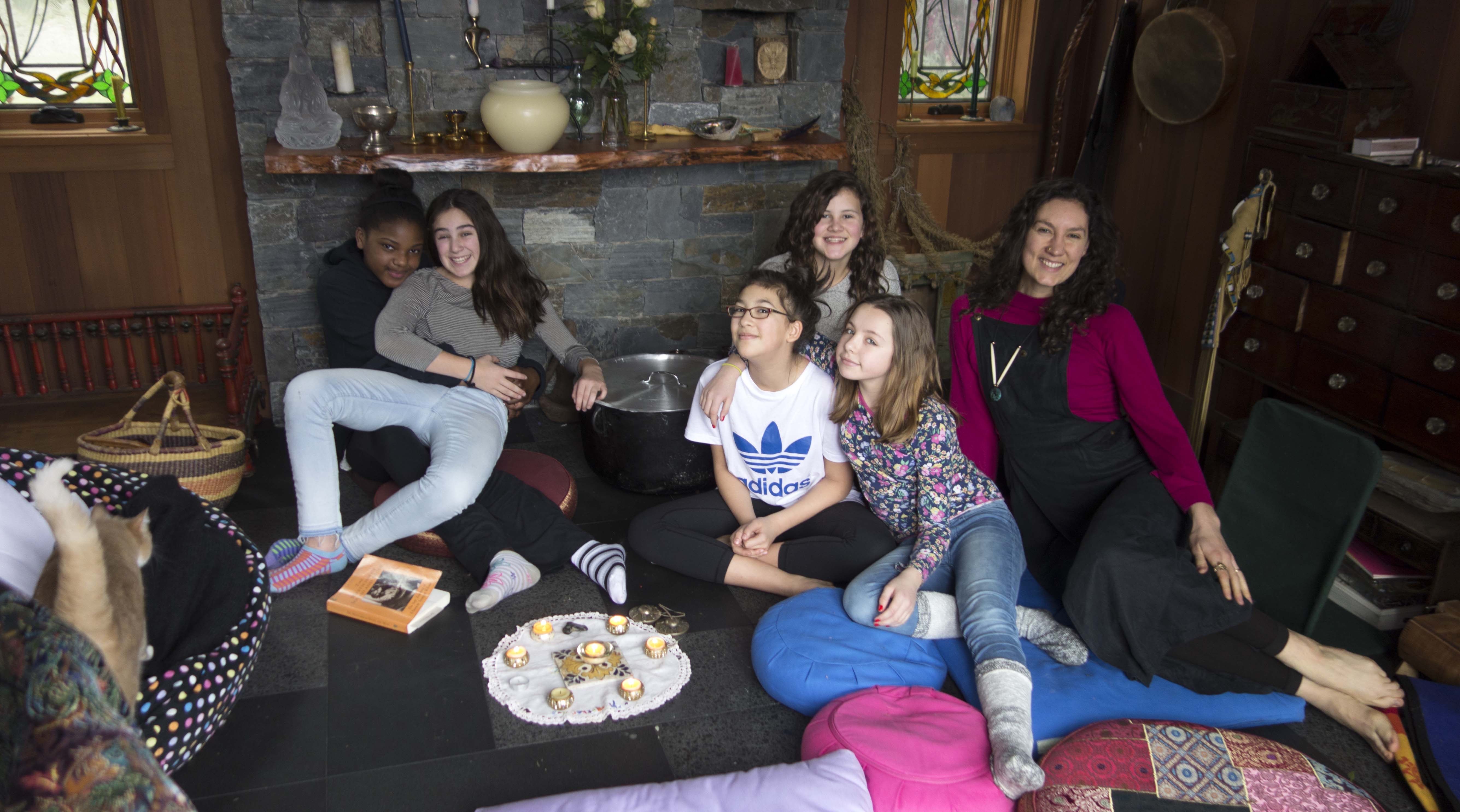 When a young woman feels heard, she can hear herself;
When she hears herself, she accesses her inner wisdom;
When she accesses her inner wisdom, she accepts her authentic self...

" It is no exaggeration to say that my time at the TTC workshop changed the course of my life.
It helped me to get back to my center and begin living life with my eyes open. "  
--Keith Berglund, Co-Director, Aspen Youth Center
The TTC Facilitator's Training is an experiential training that gives participants a rare opportunity to reexperience what it feels like to be a teenager, but now from the point of view of a self-loving adult. Remembering what it felt like to be a teen is the best way to understand what teens are going through, and how to help them feel safe enough to open up and be honest about what they're grappling with. When young people are asked what they want, they say they just want to be heard and understood.

In the training we will go over the fundamentals of how to organize a circle, encourage participation by teens, grow as a co-facilitator, avoid the classic pit-falls and be up to date on best practices in the field. During the TTC Training you will be invited to bring your knowledge and experience to co-create a strong, courage-inspiring and robust training circle.  We'll practice the arts of taking "radical responsibility," compassionate listening and non-violent communication. These skills, which have been developed over 20 years by numerous organizations and communication models as well as TTC are tried and true. Knowing how to practice these skills will prepare you and guide you to create greater safety, intimacy and connection in your circles as well as your life.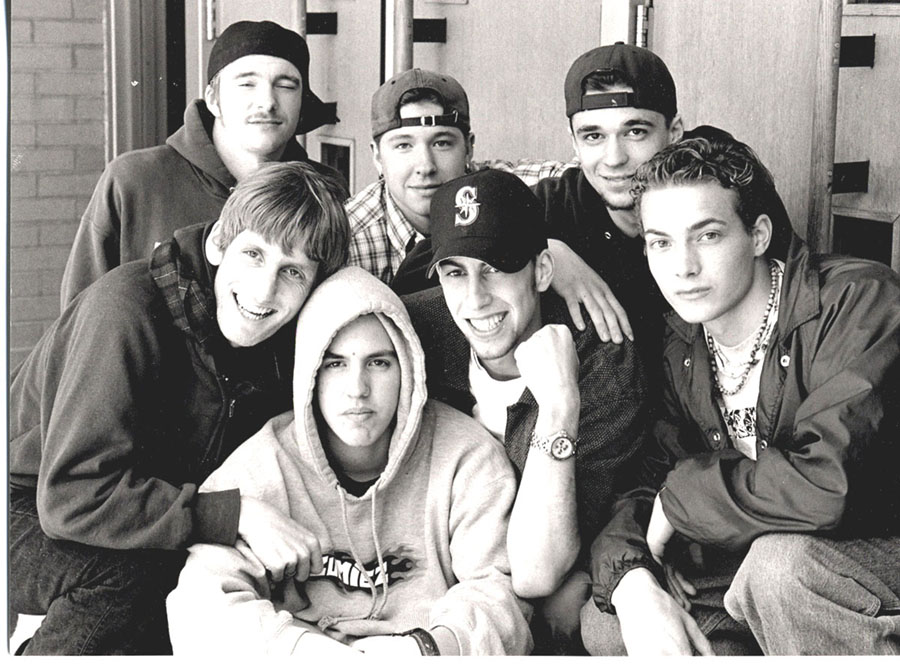 When a young man accepts his authentic self, he develops compassion;
When he develops compassion, he can be present for others;
When he is present for others, he can connect authentically....

"We have learned so much about facilitating healthy and significant dialogue with teens from the work of Teen Talking Circles that it has become ingrained in our structure. Students now insist on there being time each week for "circle," both for girls and boys." Andy Smallman, Director, Puget Sound Community School, Seattle
What does it mean "to co-create safe space," "hold space," do "check-ins," "heart to hearts" and "inappropriate rants?" How does a facilitator share their own life experience, intuition, and insights without "fixing the problem" or getting triggered? How do we help each other reframe "negative" experiences and see them as gifts to help us grow? How do we avoid the "ladder of assumptions," resolve personal conflicts, honor ourselves, know that we truly matter in an interconnected, living world? How do we contribute what we uniquely have to offer? The TTC Training addresses this and more, especially how we can successfully create the space for youth to ruminate on these questions and find their own answers?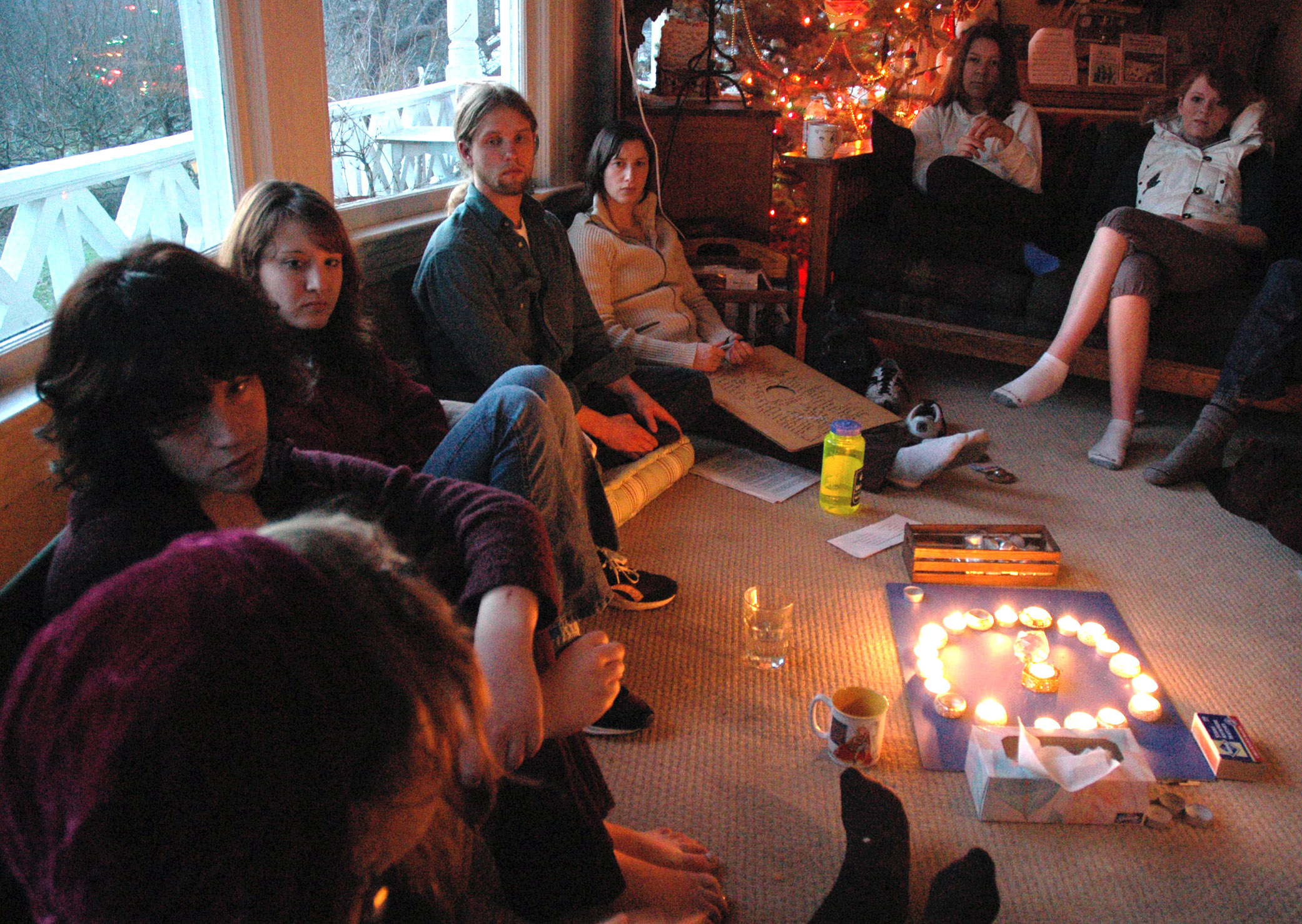 When young people connect authentically,
they become caring and responsible;
When they become caring and responsible, they feel inspired;

The TTC Facilitator's Training Circle is transformative and healing in and of itself --whether or not one decides to become a facilitator. As each person in the training circle takes radical responsibility for his or her thoughts, feelings, assessments, judgments, and experience, a powerful vibe or resonant field is co-created. Out of this comes deep trust, necessary for truth, connection and clarity to flow. We invite you to join us for an educational,  fulfilling and vibrant experience in the art of facilitation.
TTC was birthed from the Daughters Sisters Project, founded by Wind Hughes and Linda Wolf in 1993 with a 10-week girl's group that evolved into a two-year weekly talking circle, and included several day-long mixed GenderTalks, and a weekly teen Guy's Talking Circle.
TTC has produced three highly acclaimed books, dozens of inspiring blog interviews with world leaders and consciousness shapers (see our blog: www.teentalkingcircles.com), and decades of workshops, trainings, women's retreats and talking circles for all ages around the world. TTC  is recognized worldwide as a pioneer in the field of teen talking circles and a paradigm shifter. We foster the paradigm of partnership and cooperation, compassion and wholistic consciousness.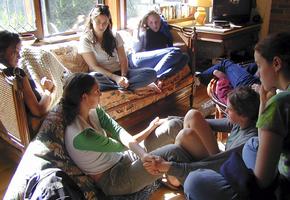 When people feel inspired, they feel empowered;
When they feel empowered, they take action;
When they take action, they can change the world..
Linda Wolf, founder/executive director of TTC is the lead trainer for this training. Guest facilitators may include other current leaders and/or youth from local circles. Linda is a certified facilitator of Compassionate Listening(sm), and an internationally recognized artist/photographer (see: lindawolf.net)

Fees covers 3 delicious, organic, locally grown, homemade wholesome meals per day, prepared in our home by loving hands. (vegan, dairy free, gluten free, and vegetarian options are available)
The above fees do not cover lodging. We recommend lodging on Bainbridge Island with friends; at local bed & breakfasts or hotels. In some special circumstances we may be able to help you lodge close by with friendly neighbors, and occasionally have a room in our home for someone in need of a place to stay. There is a small cabin with a loft (bathroom in the house) in our garden for a single person if so desired. The fee is $150 to rent. Email for more information.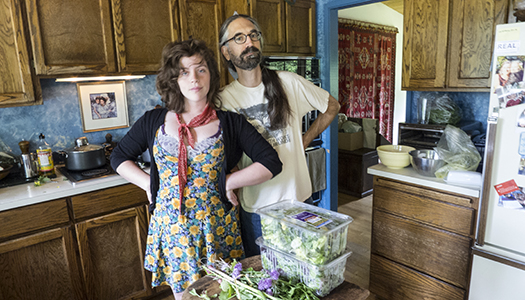 Teen Talking Circles is a 501C-3 nonprofit organization. For more info go to www.teentalkingcircles.org or phone 206.842.3000. We are deeply grateful to the many indigenous cultures and women's sacred traditions for their legacies in the birthing of circles as a healing process. To order TTC books, Daughters of the Moon, Sisters of the Sun or our book on youth activism, Global Uprising: Stories from a New Generation of Activists, go to amazon.com     For more information about Linda Wolf, see her bio: Linda Wolf
Far more important than what you are listening to is the act of listening itself, the space of conscious presence that arises as you listen. That space is a unifying field of awareness in which you meet the other person without the separate barriers created by conceptual thinking. And now the other person is no longer "other." In that space, you are joined together as one awareness,one consciousness." Eckhart Tolle, Power of Now
Give Listening a Chance...

Attendee List
Sort by:

Date

|

First Name

|

Last Name
No one has registered for this event yet.
When & Where

Gaia House

Bainbridge Island , WA 98110


Thursday, September 22, 2016 at 4:00 PM

-

Sunday, September 25, 2016 at 3:00 PM (PDT)
Add to my calendar
Organizer
Our Mission is to educate, inspire and empower teens through Teen Talking Circles. We train adults to facilitate Teen Talking Circles in their communities