Please mark your calendars for October 25-29, 2021. The TTC will be conducting their 4th Annual ABS at the LA Tech IFM & the BERT Facility.
About this event
Objective:
The Trenchless Technology Center (TTC) at Louisiana Tech University has teamed up with the Division of the Construction Engineering & Management at College of Engineering Purdue University to hold the 4th TTC ABS School in 2021. This 5-day school has been developed to provide students with the knowledge and background needed to understand the important components of Auger Boring (AB) operations required to produce successful projects. In addition to the classroom lectures, practical sessions will be held where participants will be offered hands-on experience with the AB equipment. The school will be instructed by the foremost experts in the country. The course covers all aspects of a project from design to construction, with special focus on safety.
This 5-day school has been designed for
• Contractors,
• Engineers,
• Project Superintendents,
• Foremen, Crew Members,
• Estimators,
• Public Officials,
• Educators,
• State Highway Department Representatives,
• Regulatory Agency Representatives.
Refund Policy:
100% refund for cancellations up to 14 calendar days before the forum.
50% refund for cancellations up to 7 calendar days before the forum.
No refund for cancellations up to 6 calendar days before the forum.
Please Note:
*If you should request a refund, the Eventbrite payment processing fee, service fee, and taxes will not be refunded (Should the TTC have to cancel the event or the buyer has unintentionally purchased duplicate tickets and you request a refund within 7 days of the purchase, the Eventbrite fee will be refunded).
Changes in Registration Policy:
No fee for name change on registration.
*For registration questions, please contact Fredda Wagner, fredda@latech.edu
*For ABS question or concerns, please contact Saleh Behbahani, sbe013@latech.edu
The TTC has a block of hotel rooms that are being held for UIS participants.
*Please note the cutoff dates for the hotel rooms. It is your responsibility to book and pay for your hotel room. Please adhere to the hotel's guidelines and policies.
Hotel Info:
Sleep Inn & Suites (Cut Off Date: Sunday, October 17, 2021)
https://www.choicehotels.com/reservations/groups/UP93O9
Courtyard Marriott (Cut Off Date: (Tuesday, October 5, 2021)
https://www.marriott.com/events/start.mi?id=1628612938852&key=GRP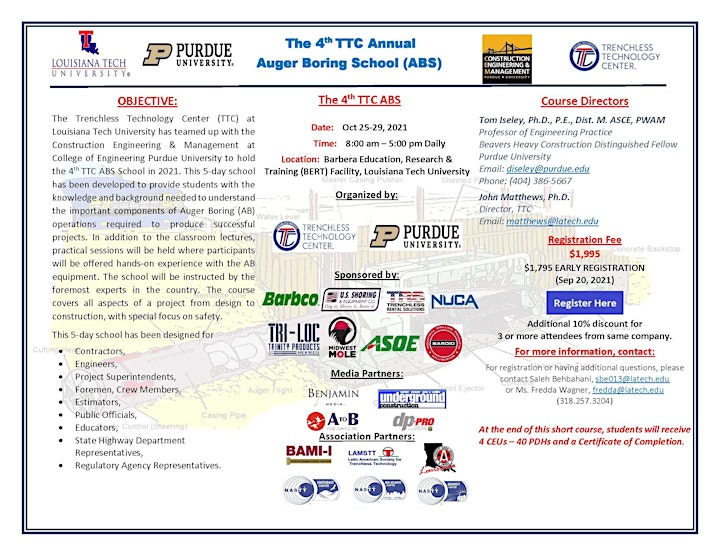 Organizer of TTC Auger Boring School (ABS) 2021
The Trenchless Technology Center (TTC) is a University/Industry/Government cooperative research center located on the campus of Louisiana Tech University  in northeast Louisiana.  TTC was established in 1991 to promote research, development, and technology transfer, focusing on education about the availability and capability of trenchless methods for underground infrastructure problems. Our mission is to advance trenchless technology by serving as an independent source of knowledge, research and education.
The Municipal Users' Forum Program for trenchless technology was in initiated in 1996 as an effort to link municipalities and public works agencies together to share information on the application of trenchless technologies to underground utility installation and repair.
Visit our website at http://ttc.latech.edu or send us an email at ttc@coes.latech.edu.