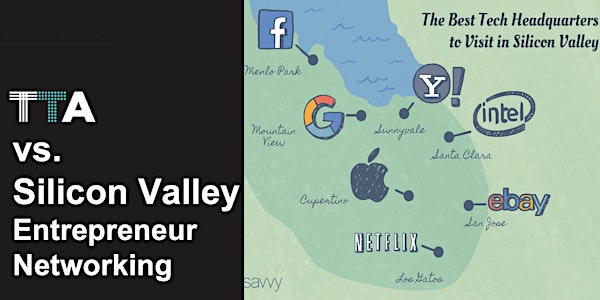 TTA vs. Silicon Valley Entrepreneur Networking
When and where
Location
StartX 2627 Hanover St Palo Alto, CA 94304
Description
Event:
Led by Taiwan Tech Arena (TTA) , 30 best startups from Taiwan, ranging from AI and IoT to biotech and block-chain, come to visit silicon valley before they head to CES.

Diffbot founder, Mike Tung, will also share his views of "How AI will impact our future" through fireside chat with 500 Startups Venture Partner, Jackey Wang.
Welcome to meet these selected startups, to enjoy the inspiring fireside chat and to network with top tech people from TW and SV.
The event is free and open to the public. Registration is required.

由台灣Taiwan Tech Arena (TTA)領軍,邀請矽谷的菁英企業家與30個最優秀的台灣新創代表進行深度交流,看看能碰撞出如何精彩的火花。
同時榮幸能邀請Diffbot 創辦人 Mike Tung來與我們談談 AI技術將如何影響我們的未來
此次團隊中涵蓋AI、IoT、BioTech、Blockchain等項目,不論您有相關領域的經驗想與這些團隊交流,或是單純想了解台灣科技新創的最新發展,都非常歡迎前來與我們共進早午餐,一同聊聊。
此次活動免費,但為控制人數仍需報名。還請盡早報名以免向隅。
Agenda:
10:30 am - 10:50 am Registration
10:50 am - 11:00 am Opening / Group photo
11:00 am - 11:30 - Diffbot founder Mike Tung : How AI can impact our future. Fireside chat with 500 Startups Venture Partner - Jackey Wang
11:30 am - 13:30 pm Lunch networking with all SV tech people
(free food and drink will be provided)
About Diffbot:
Diffbot chief executive Mike Tung has come a long way from his days of eating beans and rice in the dark and solving the math problems that would form the core of his groundbreaking artificial intelligence software.
Once the initial product was baked, Diffbot had the singular honor of being the first company to be accelerated in the program that would become Stanford's premiere source for getting graduates to exit velocity with their business — StartX (where Tung is still a mentor).
Taiwan Tech Arena (TTA):
TTA is the flagship startups program funded by the Taiwan Government. The main mission of the program is to foster entrepreneurship, innovation, and ultimately build a vibrant international tech startup ecosystem in Taiwan.TTA hopes to attract global and domestic talents that focus on AI, software, semiconductor and actively supports the growth of technology industries by bringing in startups, accelerators, venture capital, and corporate partners under one roof; providing access to disruptive technologies and expertise from across the globe to create value for new innovation ventures.
Taiwan Tech Arena (TTA)為科技部匯集市場、人才、技術、資金各項創新創業生態圈資源之重要計畫,其主要任務是促進科技創業與創新,在台灣建立一個充滿活力的國際科技創業生態系統。 TTA希望吸引全球和國內人才,為創業公司、加速器、投資人和企業合作夥伴建立共同創造平台,以積極促進科技產業的創新。