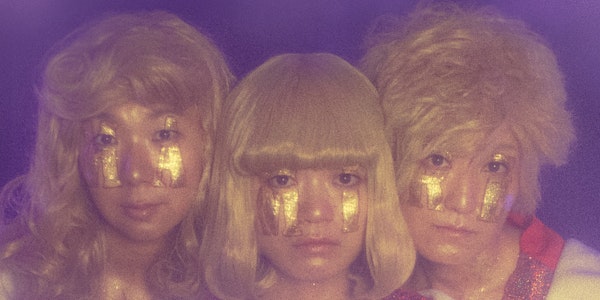 TsuShiMaMiRe At Songbyrd Vinyl Lounge
Event Information
Performers
Location
Vinyl Lounge at Songbyrd
2477 18th st NW
Washington , DC 20009
About this event
TsuShiMaMiRe is Japanese Girls Art Punk Rock Trio since 1999.
Their style is electric, punk rock, free jazz, ska, surf and funk, mixing noisy and pop instrumental sounds with idiosyncratic, quirky, often funny or disturbing lyrics.
They are one of the many bands to have become famous in the United States
through the Austin, Texas South by Southwest music festival, and also through their performances at anime conventions, with the Suicide Girls, and at Benten Label's "Japan Girls Nite" U.S. tours.
In 2007 they were voted "Best All-Girl Group" by Shojo Beat magazine USA.
In Japan they made a major debut in 2009 from Victor Entertainment.
And then they have started their own label, Mojor Records in 2010.
Their live performance is absolutely great.
They are definitely one of the best live bands and also the most powerful all girl bands in Japan.
They performed a lot of big rock festivals in Japan.
(Rock in Japan Festival, ARABAKI Rock Festival, SUMMER SONIC , and more!)
They collaborated many Japanese famous musicians.
(Shigeru Izumiya , ROLLY , ULFUL Keiske from ULFULS , Yohito Teraoka,Sachiko Kobayashi and more!)
And Wim Wenders recorded their show in Tokyo.
Also They made a theme song of "POWERPUFF GIRLS" (cartoon network) for Japan.
Their 11th Album [ABANDON HUMAN] was released in Oct 2015.
They had tours in U.S in March to April and October 2016. (23 shows & 18 shows)
They had a tour in South Korea in June 2016. (4 shows)
And They had a first tour in Europe in December 2016. (16 shows)
It included two big festivals in France. It was great.
And Their next Europe tour will be on May to June.
In 2017, Drums Mizue leave the band on February 10.
Mari & Yayoi started new "TsuShiMaMiRe" with a new drummer Maiko!
They never stop!
--
From the opening notes of Well Wisher's debut full length, This is Fine, it's clear the band are not afraid to brandish mighty guitar riffage front and center. In fact, they tiptoe perfectly between sounds that, on hasty assessment, could be classified singularly as punk, alternative, or even pop rock; yet, they seem to draw only the best elements of each, avoiding the less desirable pitfalls associated with these genres. The resulting sound is ambitious and raw, dynamic and powerful.
Some of that power is owed to the deep current of lyrical content flowing just below the surface of seemingly happy, hook-laden tunes. Singer/guitarist Natalie Newbold mined her own past in a tumultuous, long-term relationship for the bulk of the inspiration throughout This is Fine, resulting in a level of candor and self-reflection not often embedded in such catchy rock songs. This potent recipe has earned Well Wisher a reputation as one of the most promising new bands to arise from the New Jersey DIY scene.
Originally started as a solo project for Newbold, Well Wisher has taken shape as a full band, touring frequently despite their relative newness. They have shared the stage with Manchester Orchestra, The Front Bottoms, New Found Glory, The Movielife, Remo Drive, Thin Lips, Kississippi, and many more.
Performers
Date and time
Location
Vinyl Lounge at Songbyrd
2477 18th st NW
Washington , DC 20009