Conversation with Dr. Donna Nagata, psychologist & scholar, and Dr. Satuski Ina, Co-chair, Tsuru for Solidarity, moderated by Brian Niiya
About this event
The series will provide an opportunity for deeper community conversation around identity and intergenerational trauma, anti-Black racism in our own community, and an exploration of what it means to be in solidarity with other communities historically targeted by racism and state violence.
Our first session is: Japanese American Identity & Intergenerational Trauma
July 25th | 10am-12pm PDT | 1pm-3pm EDT
Conversation with Dr. Donna Nagata, psychologist and scholar, and Dr. Satuski Ina, Co-organizer, Tsuru for Solidarity, moderated by Brian Niiya, Content Director, Densho.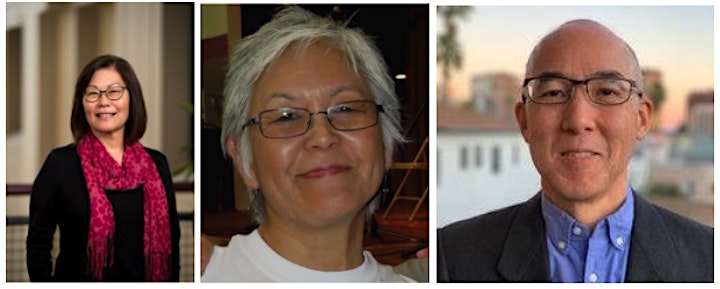 Dr. Nagata, Professor at the University of Michigan, psychologist is the author of the landmark study, Legacy of Injustice: Exploring the Cross-Generational Impact of the Japanese American Internment. Dr. Ina, activist and practicing psychotherapist has specialized in the field of collective historical trauma. She produced the documentary film, Children of the Camps: An exploration of the impact of the WWII incarceration on Japanese American children. Facilitated by Brian Niiya, Content Director at Densho, Dr. Nagata and Dr. Ina will engage in rarely discussed issues of the psycho-social impact of the traumatic mass incarceration on Nikkei individuals, families, and communities shaping Japanese American identity and the intergenerational transmission of the trauma.
There will be a one hour break before the workshop resumes.
Healing Circles for Change
1pm-3pm PDT | 4pm-6pm EDT
Opportunity for participants to share in a safe and facilitated small group process, to share their responses to the workshop presented earlier on identity and intergenerational trauma.
Registration will open on Wednesday, July 15th at 12pm PDT. Registration is limited.