Description

Welcome to (TSE) Texas Singles Event 4. Join us as we celebrate our Valentine's Day Special Event. The night will feature Door Prizes, Free Food and a Raffle Drawing with $2000 in Raffle Prizes. Invite all your colleagues to come socialize and meet with Top Single Professionals, Entrepreneurs and Business Owners in the Texas area on Thursday, February 14 at Henke & Pilot from 7-9pm. Texas Singles Events are structured to help connect single professionals to their right match. We strive to give single professionals a innovative way to connect with each other by providing a relaxed atmosphere for them to engage with each other effectively. TSE events average over 100+ single professionals that travel from various cities in Texas.
Our mission is to provide a new social professional experience that single professionals of all career backgrounds can find value in. With our network reaching thousands of single professionals, this gives us the ability to match you with compatible single men or single women.
By attending our events, the first 5 women and 5 men that enter the venue will each receive free food and a special gift from one of our sponsors. Texas Singles Events offers a raffle drawing at the end of the event featuring a variety of prizes from various sponsors. Join our next event as we help connect you to your right match that shares the same interests as you.
Vip Passes:
Purchase your Vip Pass at www.TSEVipPass.Eventbrite.com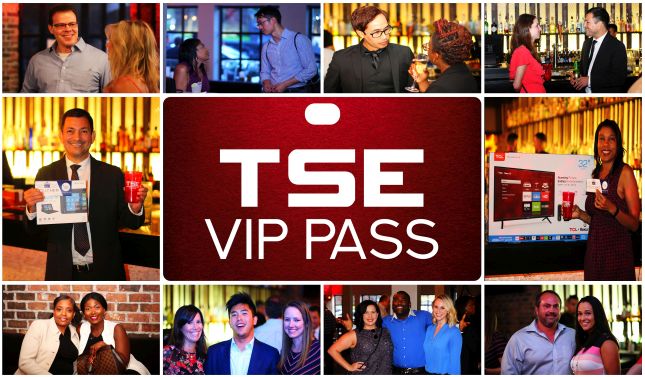 Note: TSE Vip Pass is a annual pass that grants members entrance to 6 TSE events. The benefits of this pass include: Free merchandise, Free food on special occasions, Free raffle tickets to the raffle drawing thats held at the end of the event, exclusive emails and much more.
These exclusive passes are limited in quantity. Once passes are sold out, if you do not have a pass you will not be able to attend TSE events. Attendees will have to wait 1 year to see if passes become available so we urge attendees to get your pass while supplies last.
Registration Ticket Options:
Single Male Professional Ticket $25 - Register for a "Single Male Professional" ticket. This covers admission for a single male at an event.
Single Female Professional Ticket $25 - Register for a "Single Female Professional" ticket. This covers admission for a single female at an event.
Bring A Friend Professional Tickets $50 - Register for "Bring A Friend Professional" tickets. This covers admission for you and a friend.
Group Of Five Professional Tickets $125 - Register for "Group Of Five Professional" tickets. This covers admission for you and 4 other colleagues.
At The Door Ticket $30 - "Pay at the Door" option is available. Although we prefer that registration is done online, this option is available by "Cash Only".

Note: Please print out a copy of your ticket and show us your ticket at the venue or you can show us a copy of your ticket on your phone.
Dresscode:
We ask that attendees dress in professional attire or business casual. While we welcome all single professionals from all industries at our events, please remember this is a singles event connecting Texas Top single professionals.
Schedule:
7pm - Doors Open and Conversations Begin
9pm - Raffle Drawing

Event Highlights:
1. 1st Female and Male that enters the venue will receive a Special Gift Sponsored by AirbrushKing Company
2. 1st 5 Women and 5 Men that enter the venue will receive Free Food and Gifts Sponsored by AirbrushKing Company and Henke & Pilot
3. 4 lucky winners will be announced at the end of the night and will receive a special prize. Total value of prizes is ($2000). Some of these special prizes will help start or grow your business. Every guest that purchases a ticket will receive a raffle ticket. Raffle Drawing is being sponsored by AirbrushKing Company
4. Top Single Professionals from Various Industries
5. Sponsor and Partner Placements/Promotions
Sponsors:
AirbrushKing Company I www.AirbrushKing.net

Henke & Pilot I www.HenkeHouston.com
Sponsorship Opportunities:
Do you have a product or service you would like to promote in front of professionals? We have a number of great opportunities available for any size business or budget. For more information about how to become a sponsor visit our website at www.TexasSingles.Events/sponsors

Social Media:
Facebook Like Page: www.Facebook.com/TexasSinglesEvents
Facebook Group: www.Facebook.com/groups/TexasSinglesEvents
Instagram: www.Instagram.com/TexasSinglesEvents
Website: www.TexasSingles.Events
Gallery Recap:
The images below are a recap of the special moments that happened at Texas Singles Events. All images were taken by our professional photographers.