TSBC | Wholesale Webinar Series (Spring 2015)

Tuesday, March 10, 2015 at 4:00 PM

-

Wednesday, April 22, 2015 at 7:00 PM (PDT)
Event Details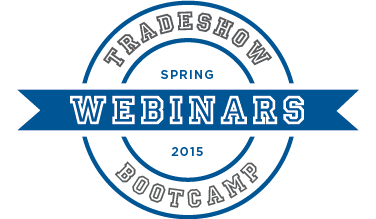 Tradeshow Webinars | Spring 2015 | Online
March - April 2015
Eight workshops over sevean weeks to teach you how to launch a wholesale program, prepare for large scale tradeshows and long term business growth. 17 industry pros, 9 hours of content + a supportive community of 375+ TSBC alums.
Where: Online. Join us from the comfort of your home, office or favorite vacation spot
When:  7 weeks: Classes are at 4pm PT / 7pm ET starting March 10th
Price: Early bird rate: $700 (register by February 23); Standard rate: $900  Payment plans available.
Seats: We like to keep workshops intimate. Space is limited to 30 students.
Webinar schedule: 
•          March 10 – Selling Wholesale: Greeting Cards + Packaged Products  (1 hour)
•          March 12 – Selling Wholesale: Wedding Albums (1 hour)
•          March 18 – Sales Tools + Sales Reps (1 hour)
•          March 25 – Booth Design + Logistics (2 hours)
•          April 1 - Marketing + Social Media (1 hours)
•          April 8 – Meet the Press Roundtable (1 hour)
•          April 15 – Retailer Roundtable (1 hour)
•          April 22 – TSBC Alumni Roundtable (1 hour)

What you'll learn:
SELLING WHOLESALE | Developing your product line; setting prices, minimums & terms; industry standards for greeting cards, boxed notes & wedding suites.
WEDDING ALBUMS | In-depth discussion includes how to design books, what to include, how to ship, how to exhibit, pricing and other logistics.
BOOTH LOGISTICS | Designing + building a booth including walls, floors, lighting, shelving + display, shipping logistics and sharing a booth.
SALES REPS | Road reps vs. showroom reps, How it works, what it costs, benefits to you and how to determine if you are ready to work with reps.
SALES TOOLS | Building out your wholesale sales tools including an easy to use order form, terms + conditions, effective catalog and a strong web presence.
RETAILER PERSPECTIVE | When do they buy, what do they buy, what do they expect of new designers, how + when do they like to be contacted.
MARKETING + MEDIA | Building a mailing list, pre-show mailers, award submissions, working with the press + social media tips.
PLANNING + PREPPING | Road map for preparing for trade shows, schedules, tips and other details to tie everything together.
Registration includes
Tuition + Materials – 9 hours of content and Q&A with 17 industry experts.
Video Playback – If you miss a session, no biggie. Recordings are sent each week.
Private Forum Access – Your new best friends. Seriously.
Alumni Perks – Freebies, discounted services + products to help your biz.
Benefits to Online TSBC classes
FLEXIBILTY – virtual classes make it easy for you to learn from your home or office + access to more speakers.
VIDEO RECORDINGS – each week you'll receive a video playback to rewatch as you'd like. Comes in handy when you want a refresher.
NO FLUFF – you'll leave each workshop with a mile long to do list, but also with the confidence, resources and know-how to tackle it all.
COMMUNITY – more than 350 creative entrepreneurs will welcome you to TSBC with open arms, cheer your successes and help you when you get stuck in a rut.
Policies:
CANCELLATION POLICY:
TSBC registration and payments are non-refundable and non-transferable.
ABOUT TRADESHOW BOOTCAMP:
Tradeshow Bootcamp was founded by Katie Hunt of Kelp Designs, but made possible by many supportive folks in the stationery industry! Tradeshow Bootcamp evolved from the fact that we are members of a very collaborative industry and the belief that the more we can share with one another, the stronger our individual businesses and our stationery community will become. Tradeshow Bootcamp has helped more than 350 stationery + gift companies successfully prepare for large tradeshows and the wholesale market. We look forward to having you join us! 

Still not sure?  Read what some of our Alumni have to say about our TSBC workshops:


"I would never have found the information I got there, even with all my googling. Wow. Thank you so much for sharing your experiences and wisdom!" - 2012 alum
"Thank you for the program. Like all of us, I'm spending a ton on this booth and am trying to save where I can, but I didn't hesitate for a moment when deciding to take the program and I wasn't in the least disappointed" - 2012 alum
"I am 110% satisfied with my decision to attend. I can't believe how much I DIDN'T know!" - 2012 alum

"11,000 buyers, 800 exhibiting companies, 300 members of the press and not a nervous bone in my body -- that's what Tradeshow Bootcamp did for The Pampered Pixel's debut at the National Stationery Show."  - Roxanne Davis, The Pampered Pixel, 2012 alum

"Taking part in Tradeshow Bootcamp was the best investment I made in preparing for the National Stationery Show. I went into my first tradeshow feeling confident and prepared directly because of the knowledge I gained in TSBC sessions. I learned everything from the nitty gritty details of booth design and the types of questions buyers will ask to how to best market yourself and ways follow-up with retailers post-show. Katie curated an excellent series of speakers who are leaders in their respective areas. I also found the Facebook group to be an invaluable resource for asking questions, learning more about the industry, and getting to know other designers. I highly recommend TSBC to anyone considering a tradeshow in their future!" - Brannon Cullum, Happy Cactus Designs, 2012 alum
When
Tuesday, March 10, 2015 at 4:00 PM

-

Wednesday, April 22, 2015 at 7:00 PM (PDT)
Add to my calendar