TSBC | Paper Camp DC

Friday, October 11, 2013 at 8:30 AM

-

Saturday, October 12, 2013 at 7:00 PM (EDT)
Event Details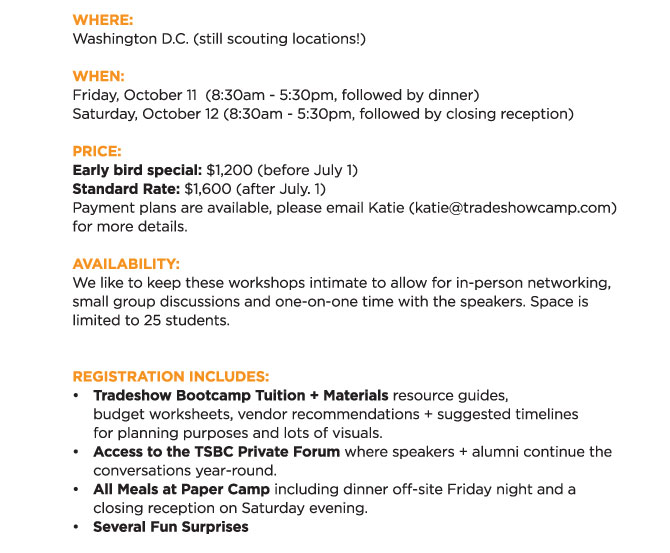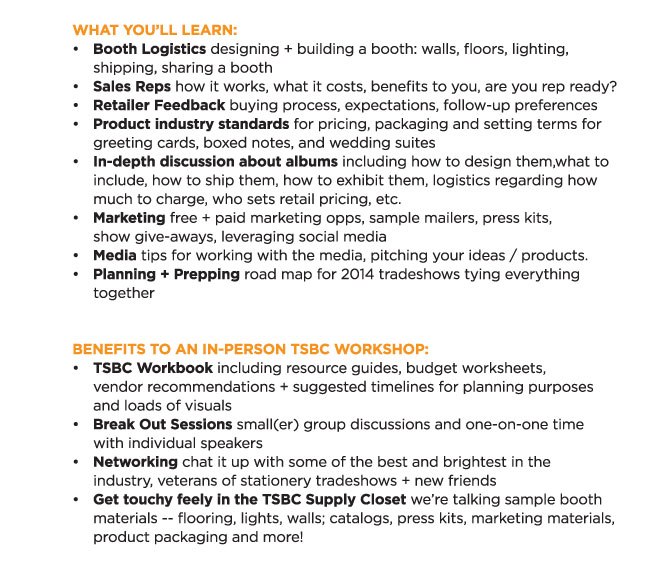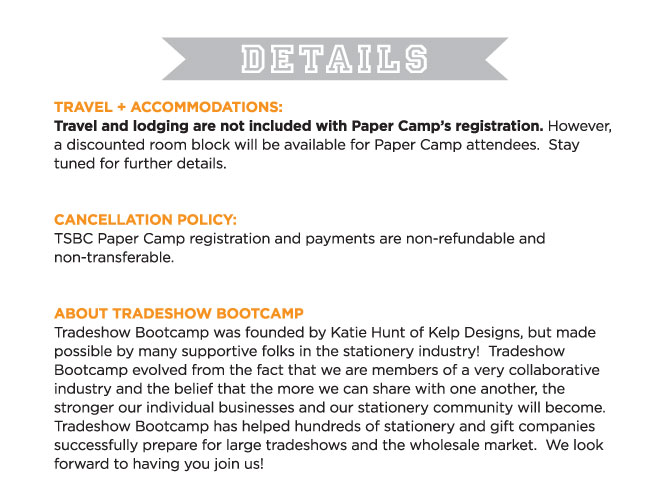 Still not sure?  Read what some of our Alumni have to say about our TSBC workshops:


"I thought I was signing up for a wonderful weekend of Paper Camp in Los Angeles. I knew I was going to learn a lot. But whoa. I had no idea what a wonderful community I was getting myself into. I haven't even attended NSS yet, but already I know that Paper Camp was the single best thing I could have done for myself, for my business in advance of the show. I am working super hard but I am not panicking - which I surely would be by now without the amazing resources of Paper Camp and the ongoing support since." - 
Rosanna Kvernmo, Iron Curtain Press, 2013 alum
"Knowing I was at least a year out from exhibiting at NSS, I went into the Paper Camp to get an idea of what to expect.  I left with so much more than that!!   I was inspired from the creative sense and motivated from the business sense by each and every person in the room.  The variety of perspectives was invaluable.  The entire workshop was organized, relevant and fun!!  I would sign up again in a heartbeat.  The network of talented people you get to be a part of as alumni is FANTASTIC - I continue to learn every day from all of them.  It is so unique to be a part of a group who genuinely care about the success of all their peers... I love it! - Melissa Copeland, Franny Bee Designs, 2013 alum
"The weekend that I spent at Tradeshow Bootcamp was amazing. Packed full of information from experienced tradeshow exhibitors, it has made exhibiting at NSS feel much less intimidating. I think one of the most valuable features is the access you get to the TSBC facebook group which has been an incredible ongoing resource of up to the minute updates, reminders and information. A great investment without question." - Sarah Hodges,Cake for Charlie, 2013 alum
"What you've created with Tradeshow Bootcamp is an amazing resource that just keeps on giving and teaching... from the original recordings and paper resources to the wealth of ongoing information in the alumni forum.   
Not only have I learned so much and made so many real-life friends from my colleagues, but I have also had the chance to share and give back.  
It's truly a special series filled with special people who are smart and kind." -Rebekah Tennis, Wild Ink Press, 2011-2012 alum
"I am very honored and proud to be a speaker on TSBC. The greatest thing about being a speaker is realizing we still learn so much every time. TSBC isn't a one time, learn it all, move on type of thing. TSBC is a fluid ever evolving resource that is truly valuable to the first time attendee and the seasoned veteran. Kuddos Katie for a job well done, and a noble desire to bring our amazing community even closer. "  - Amber Ellis-Seguine, Flywheel Press, 2011-2013 speaker
"Thank the paper gods that we found Tradeshow Bootcamp & friends! We had already exhibited in a small tradeshow, but having the resources of the TSBC webinars and the in-person Paper Camp just opened up that many more doors for our wholesale operation. It's really the best info out there and proof that good things grow into their own. It has quickly become an invaluable community of our favorite industry peers and friends. Advice, resources, support--all of it comes with being a TSBC alum. Whether you're just developing your product line or have experience with wholesale accounts already, there's always something to learn from the multiple resource channels of this awesome program." - Jen Pham-Corbett, Farewell Paperie, 2012 - 2013 alum 
When
Friday, October 11, 2013 at 8:30 AM

-

Saturday, October 12, 2013 at 7:00 PM (EDT)
Add to my calendar