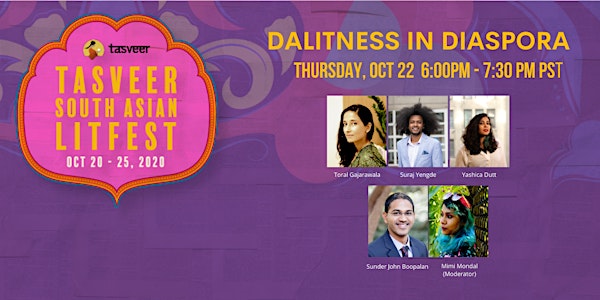 TSAL 2020: Dalitness in Diaspora
We bring together Dalit authors in a conversation about their work, perspectives, experience of being Dalit in the South Asian diaspora
Refund Policy
Contact the organizer to request a refund.
About this event
TSAL brings together four Dalit authors in a conversation about their work, perspectives, and the experience of being Dalit in the South Asian diaspora.
Until recently there were rarely any open conversations about caste within the South Asian diaspora. An age-old distinction that is often unnoticeable to non-South Asians, Dalitness in diaspora is often manifested through coded behaviors, omissions, as well as patterns of inherited tradition whose origins are nearly forgotten. What is it like to be a Dalit author in the diaspora? How is the South Asian diasporic identity complicated through the Dalit perspective? What are the different Dalit stories and journeys we should hear about? Sunder John Boopalan, Yashica Dutt, Toral Gajarawala, and Suraj Yengde bring us an overview.
To check out more events from our litfest, click here.
Note
As we move closer to the festival, we'll also keep you posted on where and how to watch the live events, how to participate in panel Q&A's, etc.
All registrants will be emailed details of the programs happening every day. Please check your emails (update, promotions tabs) for more information, streaming link, etc.