Description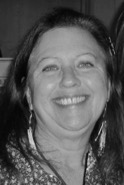 Shannon CrossBear lost her son due to overdose. She articulates her purpose as: To demonstrate and promote gentle healing. She expresses her commitment to healing through her work in the world. That work has included facilitating and consulting with the National Indian Child Welfare Association, the Federation of Families for Children's Mental Health, Georgetown University, The National Child Traumatic Stress Network and participating in the Surgeon Generals Conference on Children's Mental Health. Shannon has worked with tribal and non tribal communities in creating Systems of Care and Circles of Care utilizing traditional intervention and promotion of culturally congruent practices. She has worked with supporting organized stakeholder voice and representation at local and national levels though various behavioral health initiatives including, but not limited to; the Comprehensive Children's Mental Health Initiative, National Child Traumatic Stress Network and National Family Dialogue on Adolescent Substance Use Disorders.
WHAT IS TRY FORWARD TOGETHER?
TRY Forward Together (FT) is an initiative of Together for Resilient Youth (TRY) that was launched in April 2019 funded by Blue Cross Blue Shield of NC. The purpose is to create another safety net our friends within the recovery continuum (family member or individual) by engaging community members as Whole Health Ambassadors.
WHO IS IT FOR?
Participants are from Durham, Vance, Yadkin, Craven and Nash counties. The training is open to everyone. The target community groups are youth 15-17 (trained 4/19), young adults 18-25 (trained 4/19), adults (trained 26+) and parents/family members that have lost loved ones due to overdose or substance use.*.
PURPOSE:
This training is designed to hear from Shannon CrossBear and for her to hear from us about developing community supports (Whole Health Ambassadors) through TRY Forward Together.
AFTER TRAINING:
Participants will have the opportunity to participate in ongoing training resulting in volunteer or potentially paid part-time positions in the area of their choice through TRY Forward Together. Activities might include: Creating a Resource Manual: Social Determinants of Health, Community Awareness, Naloxone Resources, Sharing Resilience Materials and/or Direct Contact.