Try Coding Front & Back End 2 Days Plus the Learn and Earn Program
Description
Find a Career You Love - Write Code
There are thousands of open, interesting, high-paying jobs for software developers in Colorado and across the country. The myth is that every programmer starts hacking away in a basement at the age of 6. The reality is that many programmers come from various backgrounds and experiences. Our mission is to equip great people with the skills and confidence, including fostering a supportive community, to succeed in programming careers.

Me? Come Find Out!
Do you find yourself thinking about the most efficient path to get your groceries at the grocery store? Do you say your Chipotle order with the ingredients right-to-left so the server can continuously move left-to-right? You're thinking about processes and that's what programming is all about.
If you're thinking about jump starting or amplifying a viable career path in tech, consider attending Try Coding and test your logic aptitude!
Join Turing School for this 2-day workshop where you'll start to write code, work through the development process and walk away with a new skill - all while having fun.
The Opportunity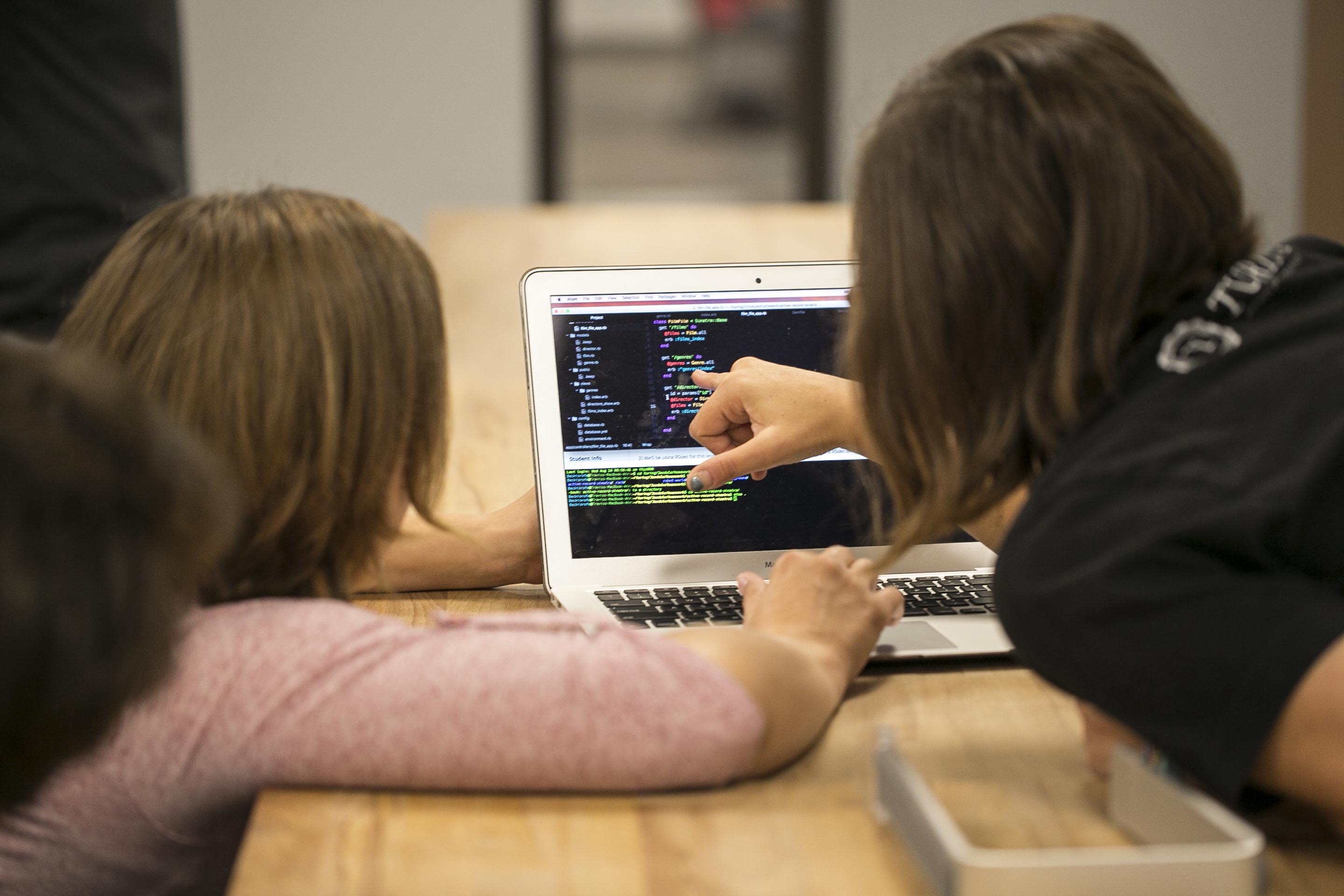 In the Try Coding workshop we're starting with the fundamentals. No previous experience or knowledge about programming is needed. We hope that you'll come, fall in love with programming, and want to come be a student at Turing. But maybe you find out it's not the thing for you. Maybe you decide to keep learning on your own. Maybe you decide to go get a Computer Science degree! All of these outcomes are worthwhile.
Our Partners
For this Try Coding workshop, we are partnering with community organizations across Denver to invite potential students to also learn about our various program financing options. Specifically, we will be highlighting the Learn and Earn program, in partnership with Opportunity@Work. For the June 25th cohort, we are offering a second pilot of "talent financing" opportunity for YOU to re-skill for a new career as web developer without bearing excessive financial risk. Our solution fundamentally re-aligns incentives for all institutional actors in the system—school, social investor, loan servicer—to drive high-quality, long-term outcomes for you and your Learn and Earn classmates. Accepted students will develop skills to become web development professionals.
Through the Learn and Earn Program, students will have 100% of their training costs financed and will receive a living stipend each month. In return students will agree to pay a portion of their income after training and landing a job. Repayment is tied your ability to succeed professionally!
Back-End? Front-End? Whatsawhat?
At Turing we offer two different programs of study and we like to run these workshops in the same way: splitting between back-end and front-end.
Think about loading the Amazon.com web page: the front-end engineers wrote the code to present products, built the interface for adding things to your cart, and make the page load quickly in your browser. The back-end engineers wrote the code to figure out which products to recommend, to charge your credit card, and to send the confirmation emails after a purchase.
Saturday is focused on Back-End. We'll use the Ruby programming language to build text-based programs. We'll manipulate some data and explore what it's like "behind the scenes." Successful back-end engineers work to build expertise in object-oriented programming, test-driven development, APIs, and other practices to build high-performance software.
Sunday we'll move to Front-End. We'll cover HTML, CSS, and JavaScript. You'll learn how to create, style, and add interactivity to web pages. By the end of the day, you'll build a game from scratch that runs in the browser.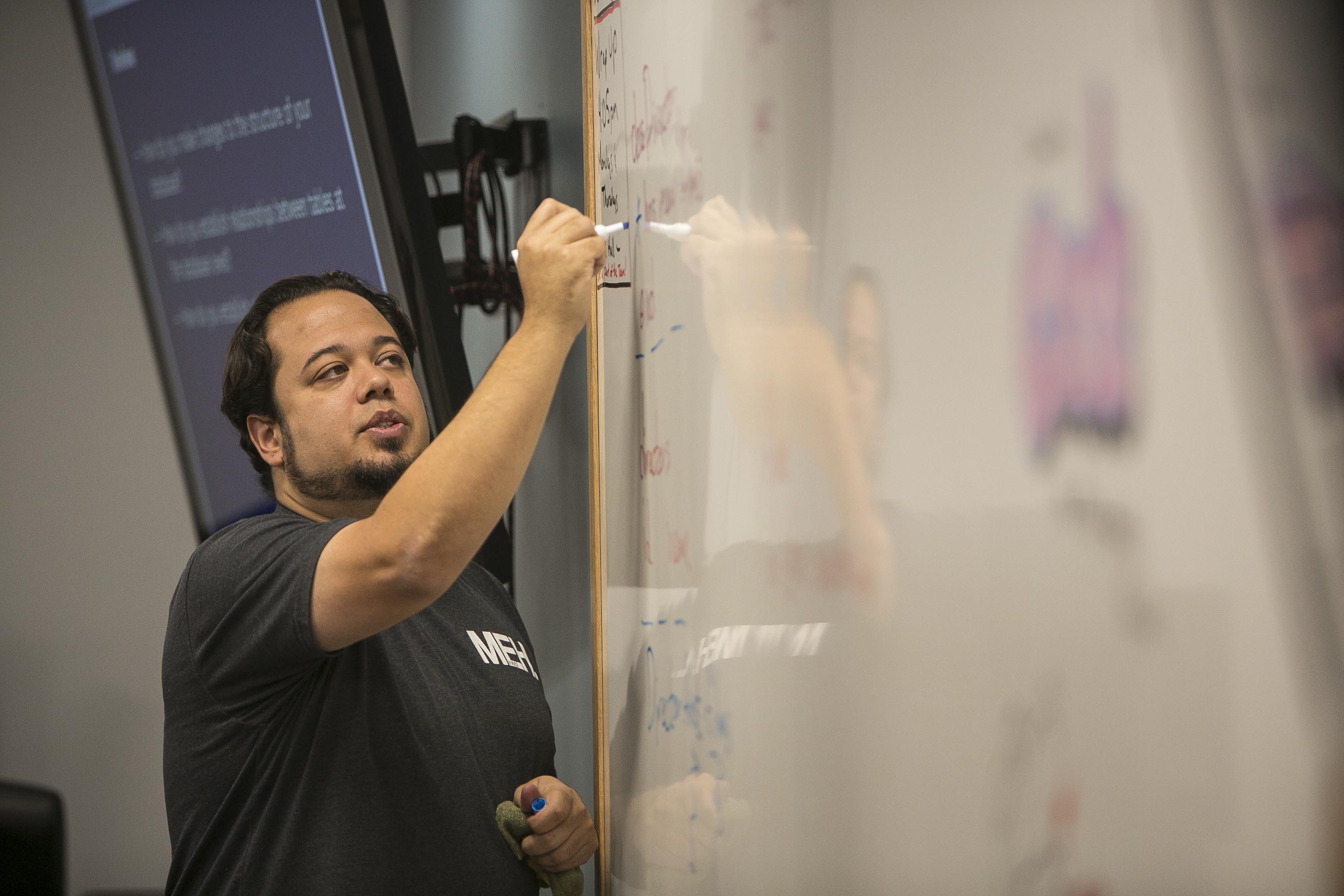 Nuts & Bolts
Doors will open at 9:45 and we'll have coffee on-hand

We'll talk and work until about 12 when we break for a catered lunch

After lunch we'll talk and work until 3:45

At 3:45 we'll talk about next steps to keep learning and look at how to become a student at Turing

At 4pm we'll be done and available for 1-on-1 questions

At 4:30 doors close
FAQ
Don't see the answer you need below? Questions? Contact Erin Williams at erin@turing.io
1. Do I need to bring a computer?
You will need a computer for this class. It does not matter what the operating system is as long as you are able to access the internet through a browser. However, if you do not have one, a limited number of loaner computers are available for the class. Contact ramiro@turing.io if you need to reserve a loaner.
2. Where do I park?
The attached garage to the building is $7 on Saturdays, and meters are free on Sundays.
3. Is the space accessible?
Yes, we have an elevator to our space and all classrooms are accessible.
4. When should I arrive for the Try Turing Saturday?
Please arrive by 9:45 on Saturday morning to register and get settled.
5. Are kids welcome?

Generally people high-school age or older can keep up with the class and are very much invited. Unfortunately the venue does not have enough space for child care, so younger ones will need to spend their Saturday somewhere else.