Truth & Trust in the 21st Century: Journalism's Role in Telling the Story o...
Event Information
Location
Thorne Auditorium, Northwestern University, School of Law
375 E. Chicago Avenue
Chicago, IL 60611
Description
Truth & Trust in the 21st Century
Journalism's role in telling the story of violence in Chicago
How can journalists most accurately document and inform citizens in communities struggling with violence?
As technology has revolutionized the way we tell stories and distribute content, the relationship between journalists and news consumers is evolving. At this event, we will explore how various media organizations are addressing stories of violence, which approaches best serve the audience and how citizens can inform their own democratic duties.
Please join The Poynter Institute for a public forum where we explore how journalism can best serve communities. Among the topics we'll focus on are:
How do you tell a comprehensive story of violence in Chicago so citizens can take action?
How do we empower communities to tell their own stories?
What is the journalistic purpose in documenting stories about violence?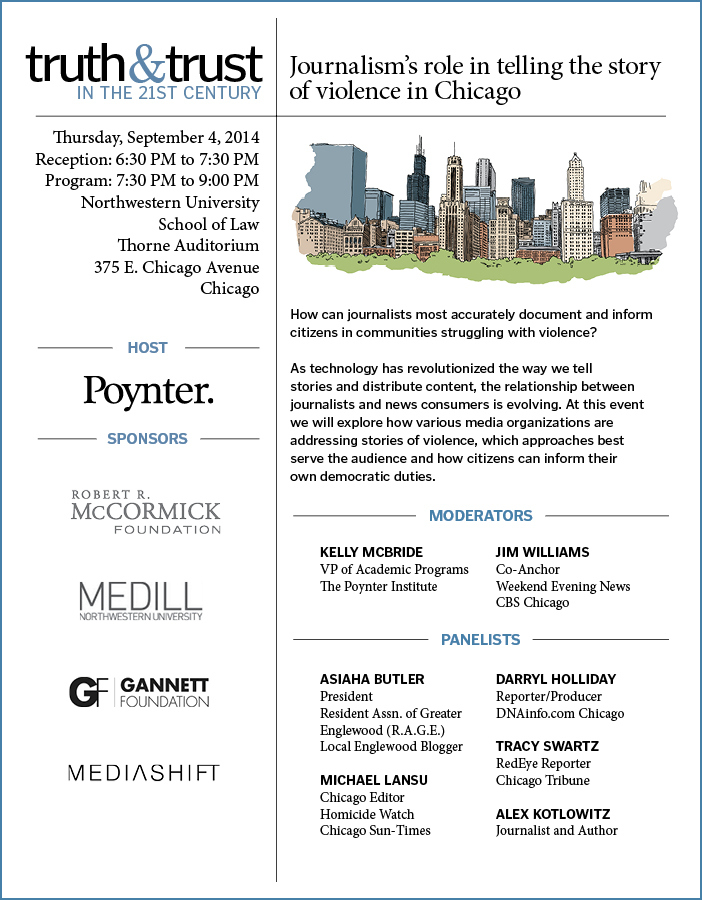 Date and time
Location
Thorne Auditorium, Northwestern University, School of Law
375 E. Chicago Avenue
Chicago, IL 60611