Description
Hello hello! You are soooo invited to Malena Amusa's >> Truth-or-Dare Mega African Dance Conference<< taking place at Central Studio - March 31 & April 1 !!!
This is for YOU - dancers and non-dancers who go gaga for lively African rhythms, African cultural expression, soulful dancing, infeeeeectios music, and African-infused social interaction!!!! It will be a spring dance conference like no other -- complete w/ Malena & co's vibrant atmosphere and innovative event hosting.
1st class kicks off FRIDAY @ 6PM w/ MALENA AMUSA & SPECIAL GUEST!
We're dedicating this event to live contemporary Afro-beat dance known for it's thrilling and life-giving movements, and dance club tracks that enliven whole cities. Plus, we're going into some soulful West African and South African Zulu dance - for a rich experience you won't forget!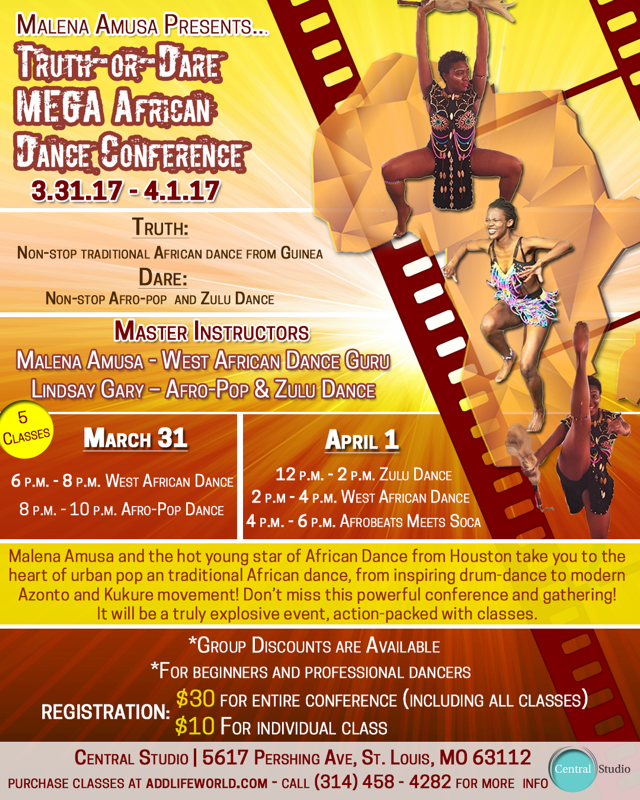 Our specialist instructors Malena Amusa, trailblazing dancer from St. Louis -- and Lindsay Gary, a masterful Afro-beat & Zulu dancer and educator from Houston. Plus some very very special guests musicians & performers!! We will have you beautifully dancing all the way into Spring! You're going to love what we have in store for you!! So get ready, get ready!
SCHEDULE
***KICK-OFF FRIDAY***
6PM - 8PM: WONDERFUL WEST AFRICAN DANCE/ MALENA & GUEST
8PM - 10PM: AFRO-POP/AFRO-BEAT DANCE W/ LINDSAY & GUEST
*** KICK-OFF SATURDAY***
12PM - 2PM: ZULU DANCE W/ LINDSAY
2PM - 4PM: WEST AFRICAN W/ MALENA & GUEST
4PM -6PM: AFROBEATS MEETS SOCA W/LINDSAY
Purchase classes today!
With love & good spirits -- see you there!