Truth Be Told: Grand Slam

Sunday, February 22, 2015 from 6:30 PM to 8:30 PM (MST)
Event Details
Truth Be Told: Grand Slam

Doors: 5:30pm
Show Start: 6:30pm
Show End: 8:30pm
VIP Post-Event Reception: 8:30pm-9:30pm
[Reception only available with purchase of VIP Tickets]


---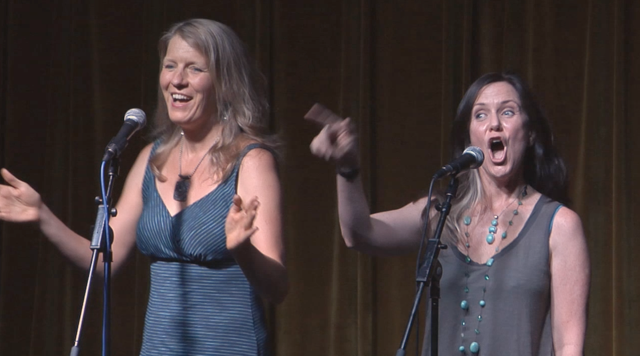 Our second year of hosting Truth Be Told story slams at Shine Restaurant was a doozy. Now we've gathered up the winners from all the slams of 2014 and have invited them to return to face off in an All-Star Grand Slam Championship at ETown Hall. The competition is gonna be stiff. It'll be a cross between open mic and cage-fighting.

Here's how it works: We give you the theme. You bring the story. Five minutes tops. Must be True. Told by Heart. Teams of judges will be selected randomly from the audience to rate the stories based on clever engagement with theme, stories well-delivered, and sheer storytelling awesomeness.

The theme for the Grand Slam is SECOND CHANCE. A do-over, a mulligan, a repeat performance.
Winners from the year featured at the Grand Slam will be Jim Walker, Morley McBride, Eryc Eyl, Michael Mathieu, Lindsey Bourgoine, Traci Brown, Ellen Nordberg, Glenna Murdock, and Ted Weaver.

Nina Rolle and Johanna Walker, the co-hosts of the evening, will offer up encores of their favorite musical interludes of the last year.  We'll have musical guest stars, a cash bar, light snacks, and as usual, a great night of storytelling.
We've had standing room only at all of our slams this year, so this event is bound to sell out. Be sure to get your tickets early.

By purchasing a ticket you'll automatically be subscribed to our Truth Be Told newsletter. You may unsubscribe at any time.
About Nina & Johanna:
Boulder performing artists Nina Rolle and Johanna Walker have teamed up to create this vibrant community arts series. Rolle is a voiceover actor, performance artist and musician known locally for her original, award-winning show, ZEN CABARET: a contemplative burlesque. Walker, solo performance artist and public speaking coach helps entrepreneurs and people with a mission tell great stories so they can have the impact they want to have and connect with the clients they're meant to serve.

Organizer
eTown
eTown's mission is to educate, entertain and inspire a diverse audience, through music and conversation, to create a socially responsible and environmentally sustainable world.
eTown Hall is in the heart of downtown Boulder. A world-class performance venue, full service recording studio and community center, eTown Hall is also home to the famous eTown radio show. True to eTown's 25-year commitment to environmental education, eTown Hall is quite possibly the greenest music and media center in Colorado!
eTown Hall Refund and Exchange Policy: eTown does not provide refunds or exchanges for any ticket purchases. If you have further questions, please call us at 303-443-8696, ext. 100.
When purchasing a ticket to an event at eTown Hall, you will be automatically signed up for the eTown newsletter mailing list. You will have the option to opt-out of this list at any time.
NOTE: If you are trying to reach us over the weekend about a weekend show or event, the best way to get in touch with us is by calling our Box Office at (303) 443-8696, ext. 117. Someone should be on-site a couple of hours before doors open the day of the show to answer your call, or return your message as soon as possible.

Truth Be Told: Grand Slam