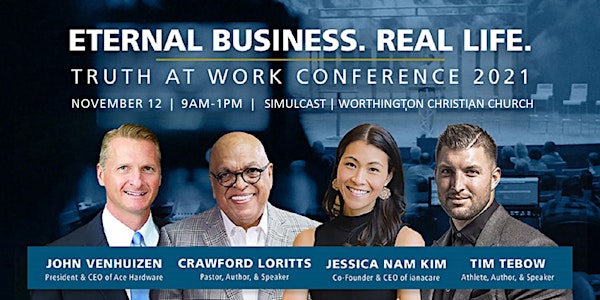 Truth At Work Conference with Tim Tebow (Columbus, OH Live Simulcast)
Event Information
Location
Worthington Christian Church
8145 North High Street
Columbus, OH 43235
Join us for our 10th Annual Truth At Work Conference: Eternal Business. Real Life.
About this event
Join us for our 10th Annual Truth At Work Conference: Eternal Business. Real Life.
Admission is participation in the Bottoms Up Diaper Drive - bring a box of diapers (any quantity) to enjoy the conference.
***BREAKFAST AND LUNCH PROVIDED***
Come ready to network with hundreds of other Christian marketplace leaders as we learn together how our work can have an eternal impact. Our phenomenal lineup of speakers will bring their unique perspectives as they challenge us on how to:
Speakers include:
LIVE AND WORK FOR THE ETERNAL NOT THE TEMPORARY
Life and business can be rigorous and exhausting and we often lose sight of what is important. It does not matter if you lead a business or are employed in one – We all need to be encouraged in finding effective ways to prioritize our time, energy, and finances according to God's value system.
USE THE TEMPORAL TO IMPACT THE ETERNAL
Any skills, talents, opportunities, relationships, and time we have has been given by God. He asks us to faithfully invest these temporary things for an eternal return. If we are faithful, God multiplies for an effect that ripples into eternity.
PURSUE ETERNAL SIGNIFICANCE
What determines value? In business or in our homes we sometimes use inferior markers of success to determine the importance of something and whether it is worth doing. Only when we start viewing our life and work with an eternal perspective do we see where true significance lies.
Join us as we are challenged to stop living for inferior things and pursue the eternal in the opportunities around us. The results may be surprising!
We hope to see you there!
Mike Diercks, Truth At Work, Central Ohio
Additional Conference Sponsors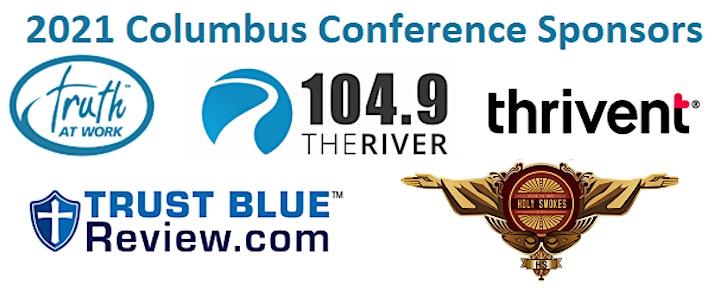 Date and time
Location
Worthington Christian Church
8145 North High Street
Columbus, OH 43235