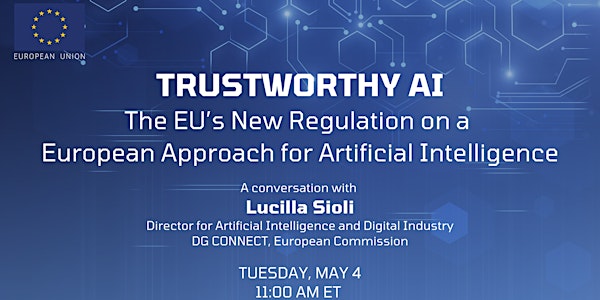 Trustworthy AI
The EU's New Regulation on a European Approach for Artificial Intelligence
About this event
On April 21, the European Commission released the EU's New Regulation on a European Approach to Artificial Intelligence (AI). Join us for a live discussion and Q&A with European Commission AI-Policy expert Lucilla Sioli, Director for Artificial Intelligence and Digital Industry, who will explain the Regulation and it's intended uses, insights about the Brussels conversation on AI, and an insider's perspective on what comes next.
In early 2020, Europe took a leadership role in the global conversation regarding how to reap the benefits of AI while minimizing negative consequences (trustworthy AI). This new Regulation intends to build on the Commission's prior efforts by outlining a comprehensive regulatory framework for trustworthy AI, further refining ideas from the 2020 White Paper to include a definition of high-risk applications, regulatory obligations for providers of AI systems, the post-market surveillance of AI, a conformity assessment of high-risk AI applications, and the possible creation of a new AI Board.
This ambitious, long-awaited proposal is the first attempt to consider regulating specific uses of AI, and is expected to have a global impact on its development and deployment.
Speakers
Lucilla Sioli is the Director for Artificial Intelligence and Digital Industry, DG CONNECT at the European Commission, where she holds the pen on the articulation of policy within CONNECT in AI, microelectronics, and robotics. Ms. Sioli was formerly Head of the Digital Economy and Skills unit, and has more than 15 years of experience working for the European Commission in Brussels.
Dr. R. David Edelman is based at MIT's Internet Policy Research Initiative, where he holds joint appointments at the Computer Science & Artificial Intelligence Lab (CSAIL) and Center for International Studies (CIS); teaches in the Department of Electrical Engineering & Computer Science; and leads research on the governance of artificial intelligence, the geopolitics of technology, and the national security dimensions of computing.  He previously worked as one of the U.S. government's pioneering officials at the intersection of technology, national security, and economic affairs, serving in various roles at the State Department, the White House National Security Council, and National Economic Council — most recently, as Special Assistant to President Obama for Economic & Technology Policy.