The TrustTemenos CAL1/CAL2 course creates a magical container that challenges you to understand what you are looking for as a leader.
About this event

We invite you to inspire changes in your relationships and contexts, to nurture growth in new ways.
In whatever ways you can learn from each other while exploring what you are doing, you can join us in a safe space.
We believe the most valuable and sustainable learning happens in human interactions, not the time you spend sitting and listening to us. Instead, we aim to maximize the depth and breadth of experience and provide mental models to make sense of what you discover.
"This course does a beautiful job of weaving the agile ethos - respect for people, dynamic, diverse teams, rapid learning - with an enlightened, broader view of leadership frameworks." It provides the right weave of those frameworks without being at all pedantic. "
(Scott Downs, London)
I want to be challenged and discover what kind of leader I am.
What does leadership mean for me?
What kind of leadership will help me achieve what I want?
This course aims at creating a container for diversity and ambiguity. How do you want to improve?
"Agile" is the stance and journey of consciously improving.
In that spirit, we believe that agile leadership is the conscious improvement of how we lead and follow, given
Clarity of intention, in the context of ...
A purpose to grow the systems we work in and the people within them, to fulfill everyone's needs and to realize our individual and collective potential.
"I learned what leadership actually means."
This course invites you to kick your personal journey. An organization changes in ways its people change.
Your take-aways
Start your journey to your next level of leadership
More clarity of who you are and what you want
More awareness of how to manage contexts and develop relationships
Clear focus on a growing challenge for the upcoming six months with a clear sense of progress
A set of principles which apply to your life, your team and your organization
Experiencing the effects of a container of trust, leading people to bring their ambiguities and diversity to create a force for change
Knowing how it feels when you co-lead as a WE
A long list of inspirations and recommendations :-)
New friends!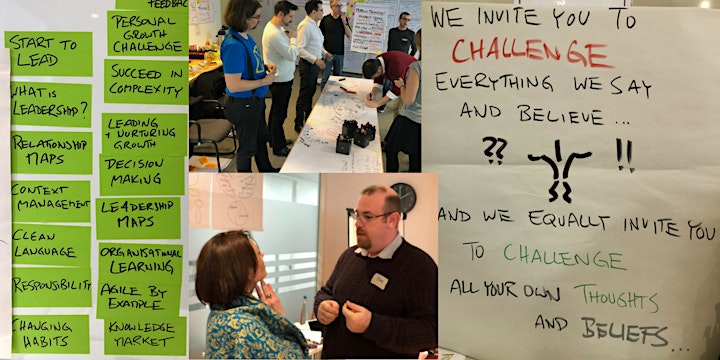 What to expect?
Growth as a person, growth in relationship. We minimize the time you spend sitting and listening to us. We maximize the depth and breadth of experience and provide mental models to make sense of what you discover.
We could ask you to take the lead on a topic in the training. We intend to challenge each other in the course, independent of how long you've been in the Agile context. We want to create the content with all of you. It is an art to know when to lead and when to follow. Graceful movement among roles and responsibilities, deciding what to do in which context and situation, add to your experience.
On the first day, the focus will be on your personal journey. On day two we will apply our learnings and principles, along with our model and other tools to the frame of agile organizations. Be prepared to be surprised and challenged. You may bring your comfort zone, but you might not spend much time in it :-)
Who is it for?
Executives, Managers and Leaders of all levels
Scrum Masters, Product Owners, Agile Coaches
Project and Team Leads
Our participants say:
"I think the main impact of this course is on my own integrity and internal priorities. I do not see how one can lead himself without fixing this first. And, of course, no way you can lead others if you cannot lead yourself. You've seen those V1 survey results over the years with culture as the main impediment, right? Who is responsible for setting culture? - leaders. So, I would say whenever I have a problem with agile adoptions, I am dealing with leadership. This course Could be the beginning of changing this for you. This way Could actually make a difference."
(Kirill Klimov, Singapore)
"Unsurprisingly, there is no official step-by-step guide to Agile Leadership". There was, however, an immaculately created 'safe' space for learning a bunch of great techniques, models and ways of thinking backed by the trainer's practical expertise and experience. The learning was enhanced by group participation, which is both a credit to the participants and a credit to the ability of the trainers to elicit the best from them. TrustTemenos CAL1 is very much a leadership course for those who need to lead and influence; it is not a summary of agile frameworks. It would be completely impractical and a detriment to the course to attempt to make it so. If you would like to know more about the specific details of any agile framework, take additional courses which are specifically designed for that purpose."
(Ray Whiting, London)
"The Trust Temenos CAL1 course is one of the rare CAL courses. There are many CAL courses, each one slightly different, with the facilitator's style imprinted on the course… Olaf & Josh are both world-class in their abilities and sensitivities. What do you want to do and what are you doing? Olaf and Christine and Their Temenos help in the process of learning how to connect to each other, learn about how we want to show up as the leaders of our journey. Olaf and Josh bring effortless facilitation and compassion. An honest, truthful and beautiful experience with an open group of fellow explorers. Highly recommended."

CAL2 - Mastering Relationships
The TrustTemenos CAL2 course provides individuals with the tools and practice to improve to improve relationships in every area of life.
Mastering Relationships is a 3-day course focused entirely on the art and science of connection with others. As a participant, you will learn how to create, maintain and repair healthy, conscious relationships in all areas of your life.
This course is taught in a manner that creates significant opportunities to learn, practice and implement tools with a team. You will leave the experience with a deep knowledge of your own unconscious drives and what to do with them, navigating conflict at every stage, mending relationships after trust has been damaged, and creating meaningful and intentional relationships with others.
Some topics we will dive into:
Understanding your relationship network: Relationships with:

Your self
Other individuals
Groups, organizations
Concepts (money, time, status, …)
And how they influence each other
Understanding myself and others: Curiosity
Setting, honoring and holding boundaries
Contexts and containers
Emotional articulation and regulation
Gratitude, acknowledgement and appreciation
Limiting beliefs
Pain and how it helps us grow
Confrontation
Forgiveness
We will move beneath the surface and look at what we rarely pay attention to, and what therefore appears mysterious to us.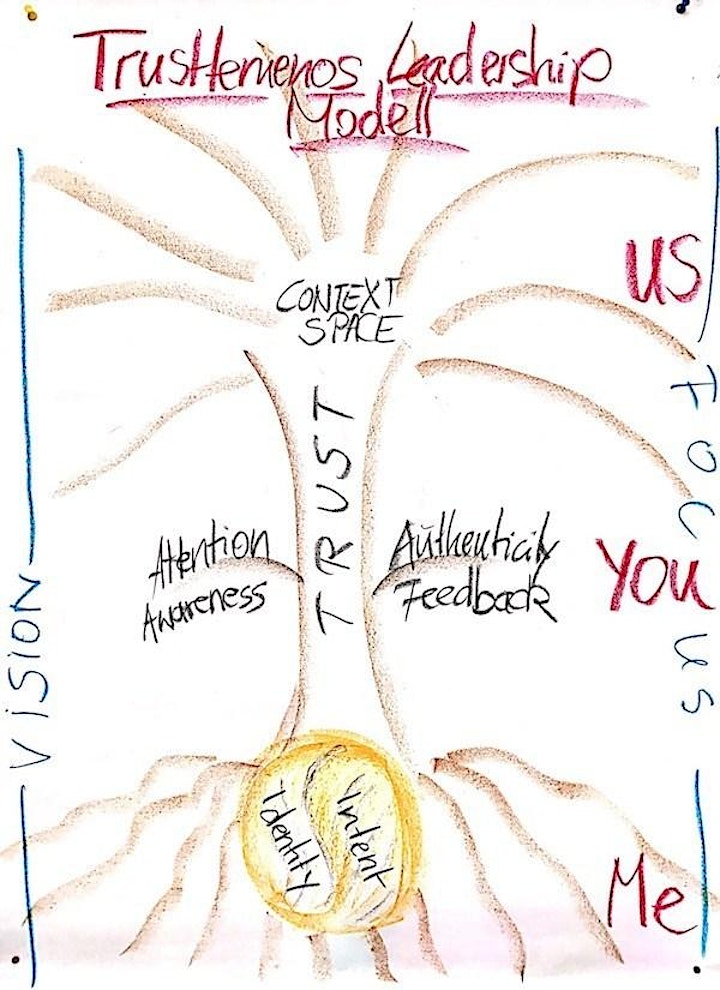 Tools and models we will use and practice:
John Gottman's Four Horsemen
Stephen Karpman's Drama Triangle
Roles of a dysfunctional family
Clean Language and Clean Feedback
Temenos Clean Slate
Christopher Avery's Responsibility Process
What you will take away
Increased confidence and a stronger sense of self
You will better know who you are and what you want
You will have increased awareness of how a relationship is working for you and increased practice in stating what you need
You will have practiced setting boundaries, saying what's ok and not ok
You will have deepened your love for yourself and your spouse
You might have decided to sever relationships that don't serve you
CAL2 Advanced Learning
In the context of Scrum Alliance Certified Agile Leadership program, this is an advanced learning module that counts towards the CAL certification. In addition to attending this course, to complete the certification, you need to complete the following:
Have attended a CAL1 course (like the one this week)
Choose a leadership challenge
Join other leaders in peer work for several months
Complete your leadership challenge