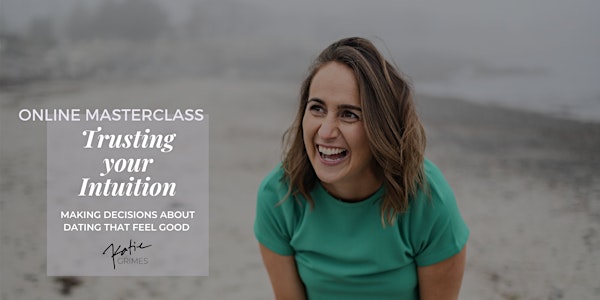 Trusting your Intuition with Katie Grimes
For women who want to feel strong, powerful and confident while creating healthy romantic relationships!
About this event
Are you ready?
To feel more secure in your connection with yourself and others?
To know your efforts are being matched by your partners?
To communicate your feelings in a direct and loving way?
Hi! I'm Katie Grimes!
Four years ago, I dove into recovery because I wanted to heal my compulsive need to be loved. During that time, I practiced avoiding situations that would leave me feeling less than and become willing to ask to help, which strengthened my trust and acceptance of others.
 I began sharing what I was learning about creating healthy relationships with countless women, who started to increase their self confidence and self-esteem with ease.
I can help you do the same.
Today, in my current relationship, I am more confident that I deserve love from my boyfriend and from others in my life. The happiness I feel with them is magnified by how I feel within myself.⁠ ⁠
Do you want to feel this kind of love, today?
Class will be recorded for those who can't attend the live event.⁠ ⁠ Grab your spot below. In this online masterclass we'll talk about 3 steps to dating with more fun and ease by trusting your intuition. These steps are EASILY able to be used in all aspects of your life.
Ever been with someone who has red flags...you picked up on them, but ignored them or reasoned why what you were thinking wasn't actually the truth...then BAM! The exact same red flag appears later (like they cheated, liked to drink too much or they were controlling) and you're like "damn, I wish I trusted my intuition!"
We all do reason or rationalize that what we're seeing isn't actually the truth, especially when we're dating someone.
If you're the kind of woman who doesn't want to repeat the past and who wants to learn how to strengthen your intuition, you won't want to miss this!
Dating can be confusing. Let's just keep it real, shall we?
What are they thinking?
Should I share that with them now or later... or ever?
Am I spending too much time with them?
Am I following in love with them?
I'm not sure I like that they do [insert a number of things]
In this virtual 60 minute masterclass, Katie's sharing 3 steps to help you strengthen your intuition when it comes to dating so you can feel more confidence, make clear decisions, and follow your head, heart, and gut when it comes to love. My intention is that you have the healthiest and happiest relationship possible with yourself and with others.
When: Wed, February 26, 2020 @ 3:30p - 4:30p EST
Where: The Heart Followers Facebook group: https://www.facebook.com/groups/theheartfollowers/
Don't have Facebook: Join here: https://zoom.us/j/258764684?pwd=MFJQRlplaTZQK0QvMUI2SHN0THJXUT09
Can't join, share this with someone who you'd think would benefit and stay in the loop with Katie, her courses, and podcast: Anything for Love? Click here: https://www.katiegrimes.com/