Trust x Calligrafy: Tasting and Art Presentation

Friday, February 6, 2015 at 6:00 PM

-

Saturday, February 7, 2015 at 12:00 AM (EST)
Event Details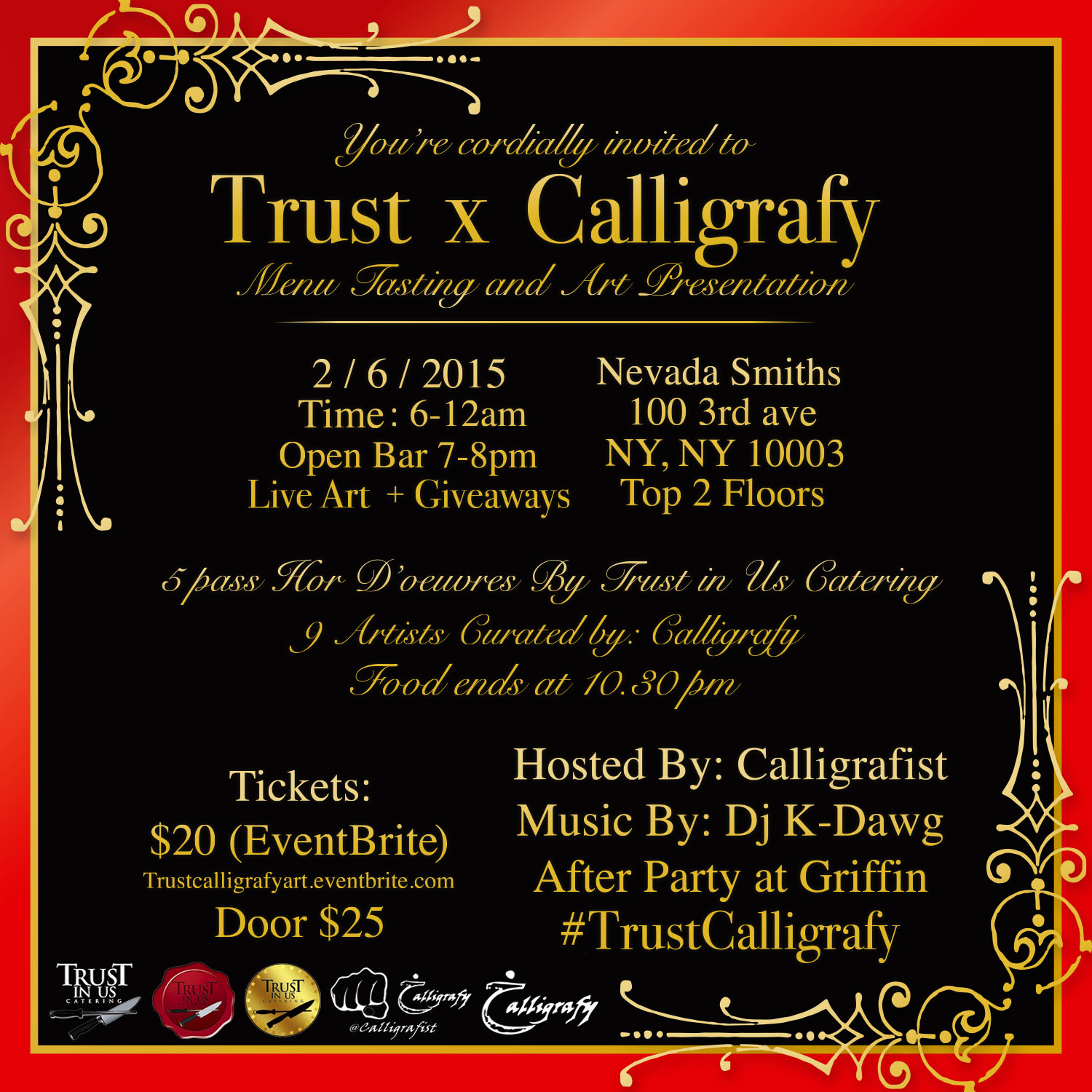 Trust in Us Catering and Calligrafy are Back With Their First Event of The Year "Trust x Calligrafy: Tasting and Art Presentation", We Will be Giving You a Taste of One of Our Menus for 2015 and Featuring Some Amazing Canvas Art From Around The Tri State Area...
If You Have Ever Tasted Our Food and Been to The Events We Curate, You Do Not Wanna Miss This. This is a Small Intro to What The rest of The Year Will be Geared Towards. Come Out and Support Us, There Will be Gift Bags, Live Art Performances, and Much More.
Pass Hor'douvere Menu:
Golden Four Cheese Fried Mac and Cheese.
Savory Aranchini 
Mango 3 ways 

Herb and Mango Beef Satay

Tomato Mango Ricotta Citrus Moose,

Spiced Cheese Cake Tart with a Mango Gela
Artist That Will be Presenting:
www.Instagram.com/Ultamiciti

www.Instagram.com/Can7.23

www.Instagram.com/WhatsInYourFridge

www.Instagram.com/QFrom_Juice

www.Instagram.com/StephanieKiah

www.Instagram.com/SheenaLoveArt_

www.Instagram.com/AdriCakes

www.Instagram.com/LightWeightNYC

www.Instagram.com/Calligrafy
Open Bar 7-8pm
Music by: DJ K-Dawg
Any Questions Email: Calligrafist@gmail.com