TRUMP vs. BERNIE: The Debate! with James Adomian & Anthony Atamanuik

Sunday, May 22, 2016 from 7:00 PM to 9:00 PM (EDT)
Event Details
TRUMP vs. BERNIE: The Debate! with James Adomian & Anthony Atamanuik
Presented by Sea Tea Improv and Infinity Hall
Featured on @midnight on Comedy Central, CNN, and in specials on Fusion!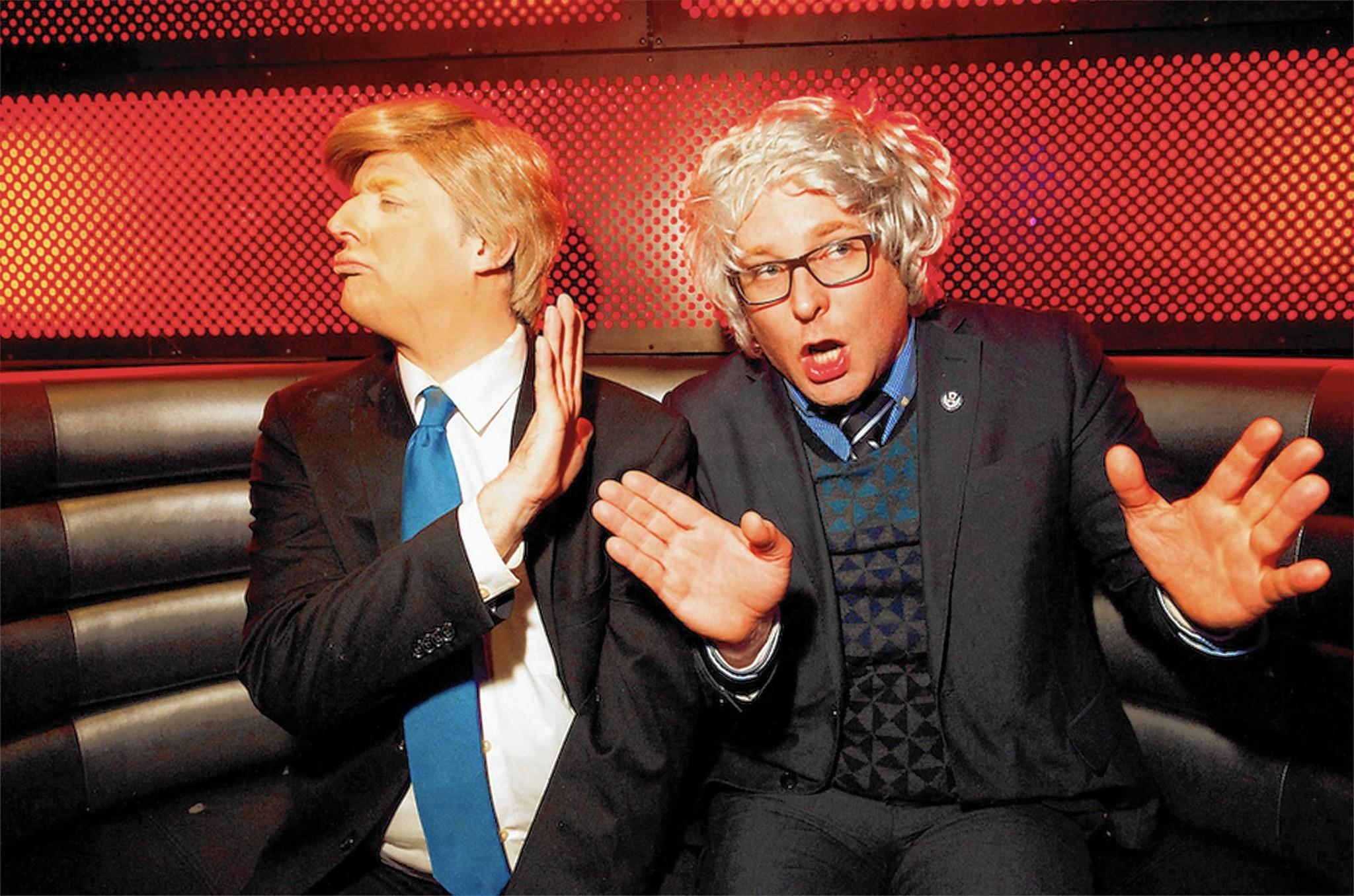 "THE BEST COMEDY SKETCH ABOUT A CURRENT POLITICAL CAMPAIGN THAT I'VE SEEN" – The New York Times
"A hilarious, and discomfortingly accurate, portrayal of a Donald Trump" – Esquire
"ADOMIAN'S SANDERS IS TRULY GREAT" – Washington Post
"The two are constantly perusing the latest election news and adding material to keep the show fresh and push the absurdity into uncharted territory" – Los Angeles Times
"LARRY DAVID WAS PRETTY, PRETTY GOOD AS BERNIE SANDERS, BUT [ADOMIAN] IS EVEN BETTER" – The Huffington Post
"It's like when Nero played violin while Rome burned, but funnier and with better wigs!" – Vulture
"GET JAMES ADOMIAN ON SNL" – Decider
"It will make you laugh a lot, it's political satire that's more biting and passionate than anything on late night or SNL right now, and Atamanuik and Adomian want their audiences to leave the debate with more than just the experience of a great comedy show" – Splitsider
FEATURING
ANTHONY ATAMANUIK is a comedian and actor in New York City. He is a member of the legendary improv team DEATH BY ROO ROO and is the co-host of ASSSSCAT3000 at UCB New York. Anthony has appeared on 30 ROCK, BROAD CITY, HULU's DIFFICULT PEOPLE, DINNER WITH BRETT GELMAN specials on Adult Swim, MTV's TEACHERS LOUNGE and as himself, bar tending on Bravo's WATCH WHAT HAPPENS LIVE.
You can see him on a variety of platforms, College Humor, Funny Or Die, Comedy Central Digital and even a ViewMaster photo series by Colbert Show writer Erik Drysdale.
Anthony will be appearing in upcoming episodes of USED PEOPLE and the feature film THE OUTSKIRTS.
JAMES ADOMIAN is a comedian and actor who is well known for his standup, characters and impressions. He can be seen in David Cross' feature directorial debut HITS, and in forthcoming feature films LOVE AFTER LOVE and ADVENTURES OF DRUNKY. He has guest starred on Comedy Central's @MIDNIGHT, THE MELTDOWN and DRUNK HISTORY, on Adult Swim's CHILDREN'S HOSPITAL and on IFC's COMEDY BANG! BANG! as a variety of guest characters. As Bernie Sanders, James is one-half of TRUMP VS. BERNIE, a comedy debate act that includes a memorable guest appearance on Comedy Central and two TV specials for Fusion, along with a live international tour in 2016.
James performed standup on JOHN OLIVER'S NEW YORK STAND UP SHOW on Comedy Central, and on NBC's LAST COMIC STANDING where he was a Top 10 finalist. James has also performed to much acclaim over the years at the JUST FOR LAUGHS Festival in Montreal and many other top comedy festivals. He works as a voiceover artist on numerous animated shows including Disney's FUTURE WORM and Nickelodeon's PIG GOAT BANANA CRICKET. He is also a beloved regular guest on the Earwolf podcast network, where his debut standup comedy album LOW HANGIN FRUIT was released in 2012.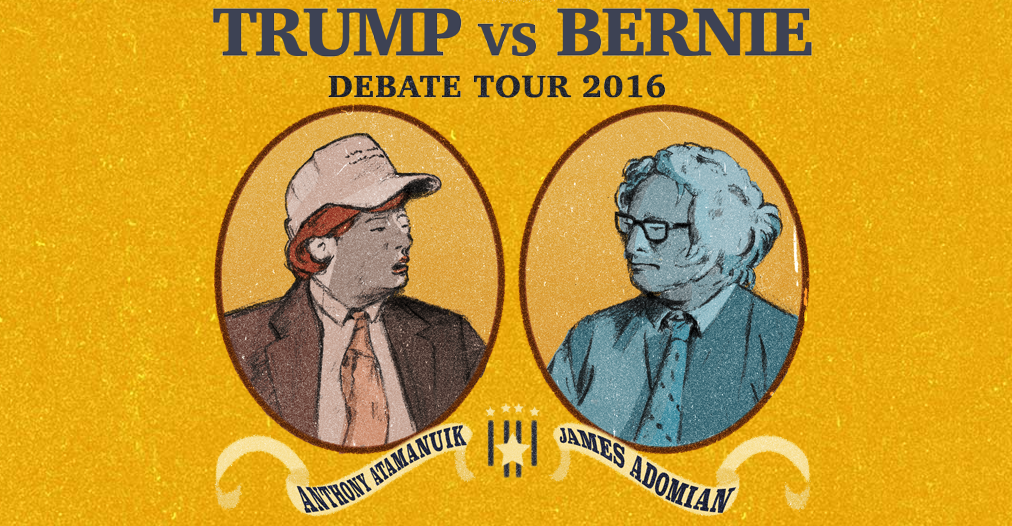 When & Where

Infinity Hall Hartford
32 Front Street
Hartford, CT 06103


Sunday, May 22, 2016 from 7:00 PM to 9:00 PM (EDT)
Add to my calendar
Organizer
Sea Tea Touring Compay is Sea Tea Improv's group of award-winning company of improv comedy professionals whose members have trained at the country's premier comedy schools, including the Upright Citizens Brigade Theater, Second City, ImprovBoston, and more.  The Touring Company performs improv comedy shows and teaches improv comedy workshops at public and private events. We're for hire! Contact us at comedy@seateaimprov.com.
Since 2009, Sea Tea Improv has been bringing big laughs to Connecticut and beyond with its interactive shows, customized comedy, and on-the-spot interpretations of audience suggestions. 
Comedy Shows in the Sea Tea Comedy Theater!
15 Asylum St, Hartford, CT 06103
Take a Comedy Class or Workshop at Sea Tea Improv Studios
75 Pratt St, 5th Floor, Hartford, CT 06103
See shows & take a workshop at the annual Hartford Improv Festival!
TRUMP vs. BERNIE: The Debate! with James Adomian & Anthony Atamanuik