Description
Come and Join Gene Ho, Donald Trump's Personal Campaign Photographer and Alex Meluskey, Host of the Alex Meluskey Radio Show for an afternoon of insights and anecdotes from Gene's time with now President Donald Trump as Gene dispels popular myths about the President, shares stories about the attacks on the President and his campaign and sets the record straight!
Gene will inspire you, speak to trends that affect the American culture and
explain why it is important to stand up against the kind of censorship he
only knows too well.
After Gene speaks, Alex will question him about Trump's character, the
importance of the Asian community in helping to determine election outcomes and his vision for the future of the country.
Live Audience participation follows with continued questions and answers from you!
Books will be available for purchase.
Gene will also be available to sign & opportunities for photos.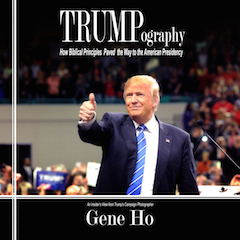 ---
Alex Meluskey
Host of the syndicated Alex Meluskey Show on 960 The Patriot & 1100 KFNX, and former Candidate for US Senate, Arizona Alex covers local, national, and world news on his show. A political activist, Alex is the State Director of FAIRtax, Chairman of Contract with American Veterans, and a publicly traded blockchain company officer

Gene Ho
Gene Ho is an American Photographic Artist and the author of the new book TRUMP-ography which is an Amazon #1 Political Best Seller and he is
currently the personal photographer for Diamond and Silk.
His client list reads like a "who¹s who" in the world of politics, sports,
and the arts. He is best known as being personal photographer to Donald
Trump during all two years of his historic 2016 Political Campaign.
Gene's company, "Gene Ho Photography, Inc." has photographed some of the top sports celebrities in the NFL, NBA, and NASCAR. He has photographed some of the Nation¹s top celebrities and he was personal friends with "The Artist Formerly Known as Prince."
Let's Keep Arizona Red!
Register for this MAGA Event Today!! Limited Seating. Must bring or show ticket at the door.