Join us as we launch into high gear for the upcoming 2020 general election! Hear from great conservative speakers & Republican candidates!
About this event
Hear from talented conservative speakers including:
Scott Presler - Nationally Recognized Conservative Activist (Over 700K Followers!)
Sid Miller - Texas Agriculture Commissioner
Dr. Michael Burgess - U.S. Congressman R-TX 26th District
George Seay - Chairman of Annandale Capital and the Texas-Israel Alliance
You'll also have a chance to meet, take pictures and hear from several leading Republican candidates including:
Beth Van Duyne, Dr. Tre Pennie, Karyn Brownlee, Fabien Vasquez, Jessica Lewis, Jordan Lewis, Patrick Harden, Chad Prda, Jerry Fortenberry, and Gerson Hernandez!
Don't miss an action-packed night of conservative politics, conservative action, networking and great Republicans!
Event Schedule:
8:30 PM - 9:00 PM -Guest Check-In and (Candidate Meet & Greet and Photo Opportunity for VIP & Preferred Guests only)
9:00 PM - 9:15 PM - Pledge of Allegiance, National Anthem, and GOP Candidate Intro's
9:15 PM - 9:45 PM - Dr. Michael Burgess Speaks
9:45 PM - 10:00 PM - Sid Miller Speaks
10:00 PM - 10:30 PM - George Seay Talk & Q&A
10:30 PM - 10:45 PM - Scott Presler Speaks
10:45 PM - Thank You's and Announcements!
**COVID-19 Guidelines**
COVID guidelines are in accordance with SMG and the City of Dallas:
1. Masks: All guests are REQUIRED to wear a mask before entering the theater. Once seated inside the theater auditorium masks may be removed so that guests can enjoy food/drink before and during the program.
2. Social Distancing: Each party MUST be seated together, and a minimum of one seat will be left open between each party in every row of the theater auditorium. This is in accordance with SMG and the latest social distancing guidelines.
3. Temperature Checks: We plan on having a trained medical volunteer conduct a quick, non-contact temperature check on guests before entering the theater auditorium as an additional safety measure.
4. Sanitizer: There will be sanitizer available throughout the venue.
We want EVERYONE to feel safe and welcome at our in-person events! We look forward to seeing you there! Register Today! Seating is Limited!
**Event Security will be provided by Texas Liberty Coalition**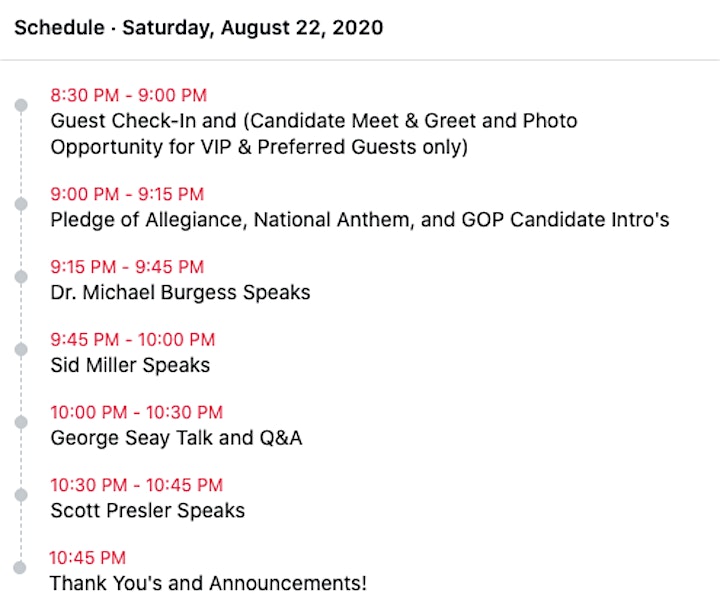 Organizer of Trump 2020 Push and Republican Candidate Meet & Greet!