IS ARTHRITIS OR JOINT PAIN SLOWING YOU DOWN? Trumbull Regional Medical Center's Award Winning Center for Joint Replacement can help.
About this event
If hip or knee pain is keeping you from enjoying life to the fullest, join orthopedic surgeons Ken Jones, MD, and Anthony Berdis, DO, for a socially distanced discussion about solutions- from non-surgical treatment options to minimally invasive joint replacement surgery and innovative Mako Technology.
Free Orthopedic Seminar
Wednesday, May 19 at 5 p.m.
at Steward Health Center, Elm Road, Center for Surgery
2580 State Route 5, Building A, Cortland, OH 44410
Refreshments will be served.
We are committed to providing a safe and health environment and social distancing guidelines will be observed. Attendees must wear a mask at all times.
To register for this free event, call 330-841-9155.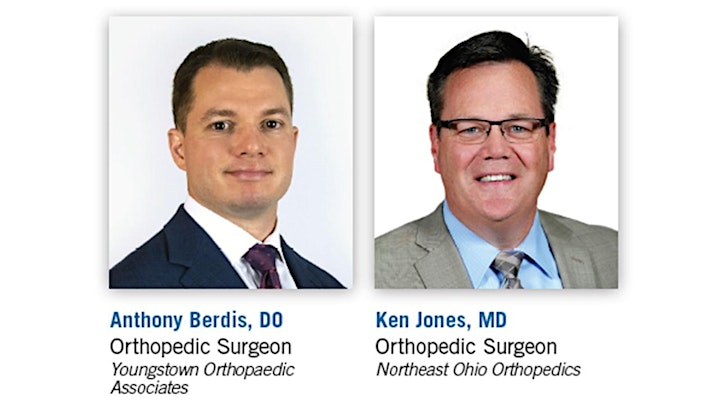 Anthony Berdis, DO
Anthony Berdis, DO, specializes in sports medicine and arthroscopic surgery, focusing on the shoulder, hip and knee. Dr. Berdis earned his medical degree from Ohio University Heritage College of Osteopathic Medicine in Athens, Ohio. He completed a residency in Orthopedic Surgery at Aultman Hospital in Canton and a fellowship in Sports Medicine at Beacon Orthopaedic Research & Education Foundation, Inc. in Cincinnati.
During his residency and fellowship, Dr. Berdis gained extensive sports medicine experience working as head or assistant team physician for high school, college and professional sports teams, including the Canton Charge, Cincinnati Reds and PGA Tour, providing on-site sports medicine coverage.
Ken Jones, MD
Ken Jones, MD, specializes in the treatment of a variety of orthopedic conditions. Dr. Jones earned his medical degree from Ohio State University College of Medicine in Columbus. He completed both a residency in General Surgery and Orthopedic Surgery at the University of Cincinnati. His clinical interests include minimally invasive surgery, computer-assisted surgery, general orthopedics, hip and knee replacement, shoulder replacement and sports medicine.
Organizer of Trumbull Regional Medical Center Orthopedic Seminar
Trumbull Regional Medical Center offers a vast scope of inpatient and outpatient medical and surgical services from emergency, cardiac and critical care to orthopedic, childbirth, and other diagnostic and therapeutic services. A designated Level III Trauma Center, Trumbull Regional is Trumbull County's first and only accredited Chest Pain Center with angioplasty and has the only interventional cardiology and open heart surgery programs in the area. The hospital has an accredited Cancer Care program and a certified Cardiac Rehabilitation program.