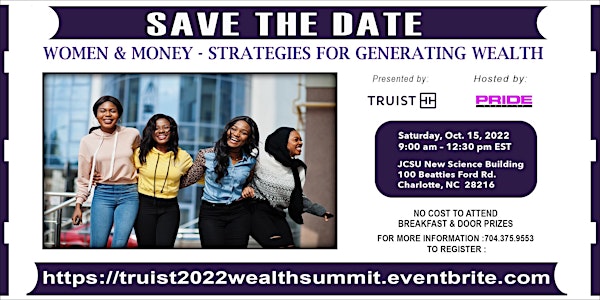 Truist Presents: Women & Money-Strategies for Generating Wealth
Ladies, Here is Your Chance to Learn Tips and Tools to Generate Wealth!
When and where
Location
Johnson C. Smith University-New Science Building 100 Beatties Ford Road Charlotte, NC 28216
About this event
It is imperative for Black Women of Charlotte to re-focus on their finances in order to begin building wealth for themselves and their families. According to a Goldman Sachs 2021 study, Black women remain heavily disadvantaged across a broad range of economic measures, including wealth, earnings, and health. In addition, a single Black woman owns 92% less net wealth than the median single white man while 55% of Black women in renting households are also rent burdened, spending 30% more of income on rent.
This year's "Women & Money: Strategies for Building Wealth" Summit will provide women with the tools and resources needed to assist them as they begin to think about generating wealth rather than just living paycheck to paycheck. An all-female panel of experts from Truist will share invaluable information and resources on topics such as leveraging home ownership to generate wealth, better budgeting habits, stock market basics, debt elimination and so much more.
Ladies, know this: "Income allows you to get by; wealth allows you to get ahead." We need to get ahead. Register now!
Breakfast will be served!
Door prizes and Drawings!