Description
True North Strong for Life National Pro-Life Conference
---
LifeCanada is sponsoring, along with our host group, Action Life Ottawa, the 2017 National Pro-Life Conference in Ottawa, Ontario. This year marks the 150th anniversary of Canada as a nation, and what better way to honour that date than to have a celebration of the value of human life in our Nation's Capital. Join us for this 2 day conference on November 3-4 in Canada's beautiful, historic capital city to be inspired and enlightened and to stand TRUE NORTH STRONG FOR LIFE.

Early Bird Registration is closed.
CONTACT: info@actionlife.org 613-798-4494
---

Hotel Reservations: Hilton Garden Inn Ottawa Airport
Conference delegates are responsible for their own hotel bookings and payment. For reservations, contact the Hilton Garden Inn Ottawa Airport; 2400 Alert Rd at 613-288-9001 or online at http://hiltongardeninn3.hilton.com/en/hotels/ontario/hilton-garden-inn-ottawa-airport-YOWAPGI/index.html.

A guaranteed rate of $139/night (double queen standard) applies to conference guests who book prior to October 2, 2017 using the promo code "LIFE". Rates after October 2 may increase or decrease at the hotel's discretion.
---
Speakers: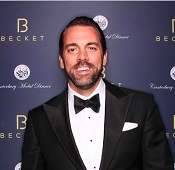 Sean O'Hare: Chairman of the Board for Students for Life of America
Sean O'Hare is a young, dynamic and influential speaker on the topics of pro-life, Christian apologetics, business and philanthropy. He has been founder and operator of multiple business ventures. He is proud to serve as Chairman of the Board for Students for Life of America, the largest pro-life organization dedicated to youth and students.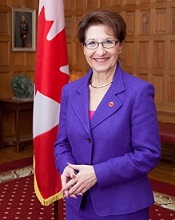 Senator Betty E. Unger: Senate of Canada
A former registered nurse and business owner, Betty Unger was the first woman in Canadian history to be elected as a Senate Nominee and then appointed as a Senator by Prime Minister Stephen Harper in 2012. In 2016, Senator Unger spoke out strongly against Bill C-14, the Bill which has since legalized euthanasia and assisted suicide in Canada.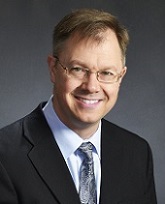 John Carpay: President of the Justice Centre for Constitutional Reforms

John Carpay is the founder and president of the Justice Centre for Constitutional Freedoms. His clients include university students across Canada who are defending their campus free speech rights in the face of censorship from university. John co-authored the Campus Freedom Index, the first study of its kind in Canada, ranking universities and student unions on how well they carry out their mission of serving as a forum for free speech and frank debate. www.johncarpay.ca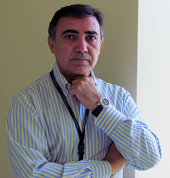 Dr. Jose Pereira: Palliative Care Physician, Professor, Director of Research, Academic Family Medicine
Dr. Pereira is currently a Professor with the Division of Palliative Care at the University of Ottawa, and Medical Chief, Department of Palliative Medicine with Bruyère Continuing Care in Ottawa. His work has been acknowledged with several awards. His expertise and leadership in research and academic portfolios have made significant contributions to palliative care, education and innovation across Canada and internationally.
and many more...
---
YOUTH WORKSHOP
Featuring Sean O'Hare of Students for Life of America and Johnathon Van Maren of Canadian Centre for Bio-Ethical Reform.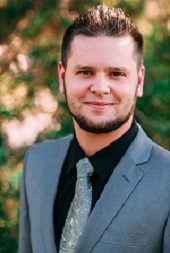 Jonathon Van Maren: Canadian Centre for Bio-Ethical Reform
In addition to our full line-up of speakers, we have recently added a "youth workshop" specifically geared to senior high and university students, featuring two young and dynamic speakers: Sean O'Hare and Jonathon Van Maren. Both have had extensive experience engaging young audiences around the world.
The youth workshop will be on Friday, November 3, 2017 from 3:00-4:00 pm.
Limited sponsorships are available for students (or religious) to attend the full conference for FREE including our youth workshop and Saturday evening banquet. Please contact us immediately to secure your space.
Conference Schedule: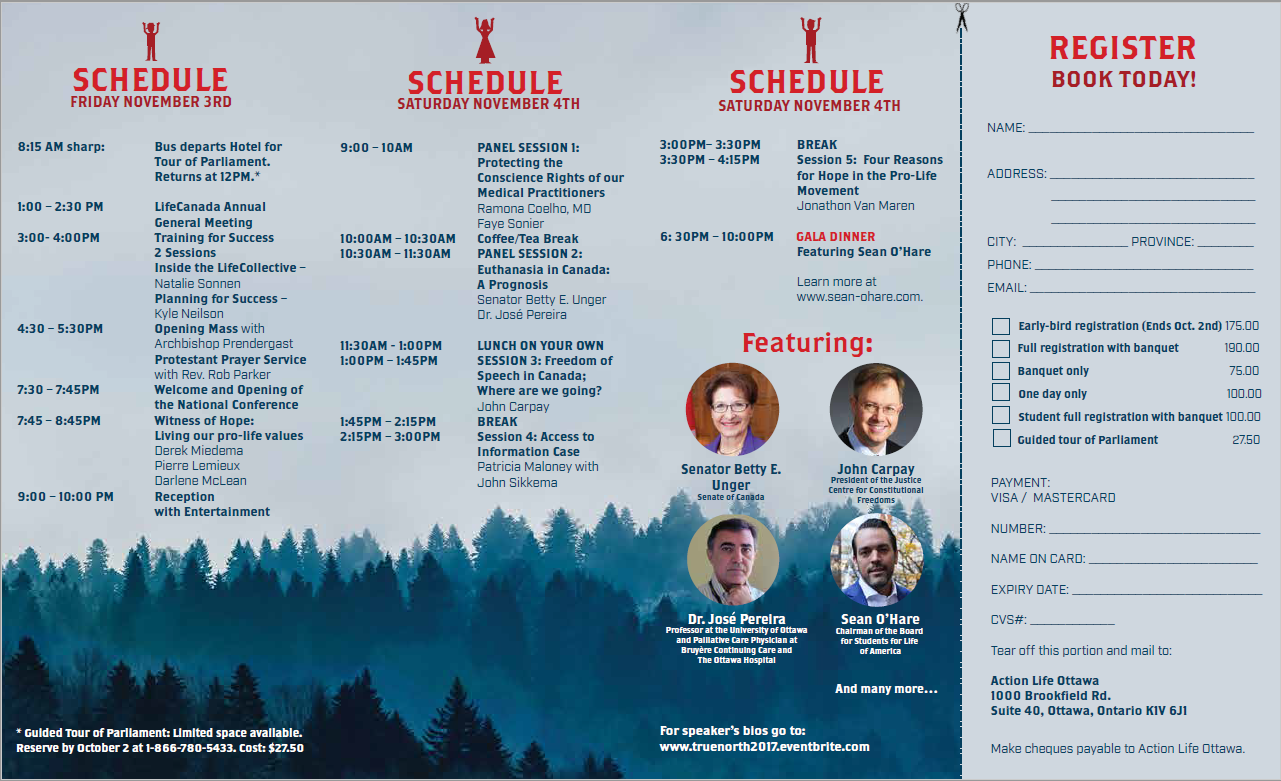 To download a copy of the conference brochure, visit: https://lifecollective.io/lifecanada/events/true-north-strong-for-life-2017-national-conference
---
Guided Tour of Parliament Hill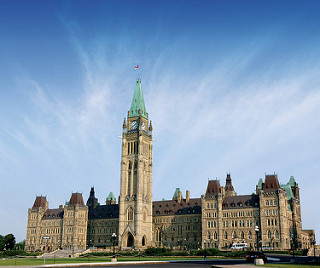 Limited space available. Reserve by October 2 at 1-866-780-5433. Cost: $27.50
The Guided Tour: Morning of Friday, November 3
Discover the history, functions and art of Canada's Parliament with a guided tour of Parliament Hill's Centre Block. This iconic building is home to the Senate, House of Commons and Library of Parliament. Time permitting, the tour will also include a bird's eye view of the National Capital Region from the Peace Tower and a visit to the Memorial Chamber, which commemorates Canadians who have lost their lives in military service.
While on a guided tour, visitors may see an exhibit in the Library, entitled Foundations: The Words that Shaped Canada. This new exhibit, completed in partnership with Library and Archives Canada, celebrates 150 years of Confederation and showcases some of the most important documents in Canadian parliamentary history.
Time permitting, our guests will have opportunities to photograph the Parliament Buildings' exterior and to browse the Parliamentary Boutique.
A bus departs the hotel for the tour at 8:15 am sharp and returns with ample time for lunch prior to the conference start.
Tickets are NON-REFUNDABLE except if organizers cancel due to insufficient numbers, in which case all fees will be fully refunded.
Organizer of TrueNorth2017
LifeCanada was established in 2000 to operate as a national association of local and provincial educational pro-life groups across Canada in order to promote the value of human life, to serve our members, and to advocate for the most vulnerable members of society.
To that end, we work in collaboration with our Member groups, to bring the pro-life message to Canadians through our innovative use of multi-media campaigns, national polling, educational resources, and through the training and programs we provide to our national network of Members.