True Vine Brewing Company - HOPTOBER FEST '17

Friday, October 27, 2017 at 5:00 PM

-

Saturday, October 28, 2017 at 11:00 PM (CDT)
Event Details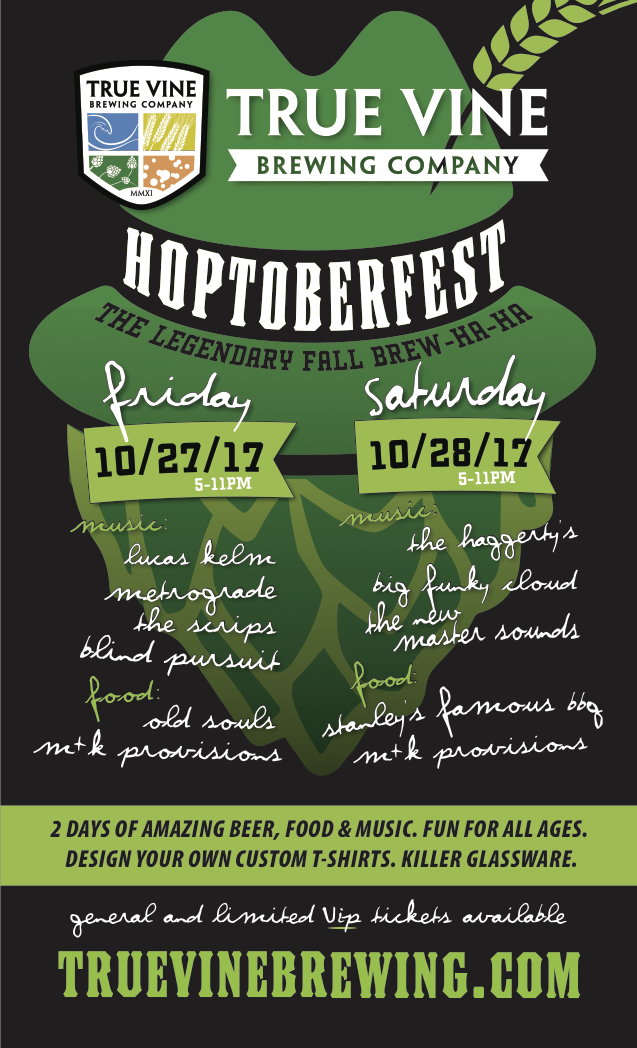 ABOUT THE EVENT:
True Vine Brewing Company in Tyler, Texas is hosting our famous annual Hoptober Fest! Our biggest event each year but this year is extra special! BIGGER. BETTER. TRUE VINE! This Friday or Saturday event will be one for the history books. New glass mug glassware, amazing food lineup and the biggest music sets we've ever had! Oh, of of course ALL THE HOPS (and other not so hoppy beers for those who aren't into hops :) Plus an exclusive VIP option with fabulous perks! Come expecting AWESOME! Hoptober Fest '17 will be legendary!
VIP, General Admission, Non-Drinker tickets outlined below.
Bring your own chair and join us in community! Hoptober Fest is family friendly, pet friendly and an exclusively outdoor event. In the case of ugly weather, this event will be canceled. Please stay tuned to our Facebook, Twitter and Instagram accounts for all day-of-event details. At all True Vine events, great live local music will be featured and delicious food will be available for purchase from a local food truck/vendor. True Vine Root Beer and filtered water is available for all!
Advanced, Eventbrite tickets are capped and only available until midnight the day prior to the event. "At-the-door-tickets" are always available on the day of the event at the check-in/registration table. Children 11 and under get in free with adult ticket. Tickets are not required for children. Entry for non-drinker adults and humans 12 years and over is a $5 in advance or $10 at the door. A portion of all proceeds will go to a local non-profit. We love our community!
----
CONCERT LINEUP:
Food by: Old Souls Food Truck, M+K Provisions
Food by: Stanley's Famous, M+K Provisions
TICKET OPTIONS:
$50 Advanced Only VIP Hoptober Fest Tickets: (LIMIT 100 per day)
Experience the "The Royal Treatment" with less than 100 other VIPs and your BIG boss 40 ounce True Vine VIP glass mug! Special VIP tent with free snack bar, private draft station and exclusive VIP only beer! Be first to get the first pours of many very limited True Vine ales including our famous Rose From The Dead Black IPA and Kip's Pumpkin Ale. Hear all about the beers available from founder/owner/brewer Ryan Dixon with a private VIP beer tour while enjoying 1 additional True Vine beer!  
Entry to Hoptober Fest 

Very Limited 40 oz True Vine Hoptober Fest VIP glass mug!

4 BEER tokens!

Entry to VIP tent with private draft station and exclusive VIP only special beer!

Beer tour at 7pm from founder/owner/brewer Ryan Dixon!
$25 Advance General Admission (GA) Hoptober Fest Tickets: (LIMIT 400 per day)
Entry to Hoptober Fest 

Guaranteed a Limited 20 oz True Vine Hoptober Fest glass mug!

3 BEER tokens!
----
DAY OF EVENT REMINDERS: 
A few reminders for our events:
1. True Vine is an outdoor venue. Bring a chair, some bug spray and weather appropriate attire for chill'n in the great outdoors.
2. True Vine is a family friendly, pet friendly event. Please keep pets and wild kids on a leash. Entry for kiddos under 11 is free.
3. At-the-door tickets are $25 but glassware is guaranteed for advanced ticket buyers only. No VIP entry tickets are available at the door. Entry for non-drinkers over 12 years of age is $10. Water and True Vine root beer is available for all. 
4. Food will be for sale from one of our amazing food vendors. Come thirsty and and hungry! Good grub and beer are an epic combination.
5. No Parking in front of the Money Tree Pawn shop on Glenwood Blvd. They will tow your vehicle. Parking is available at the Cotton Belt building on Front Street and Glenwood Blvd. Park it, lock it and walk it safely.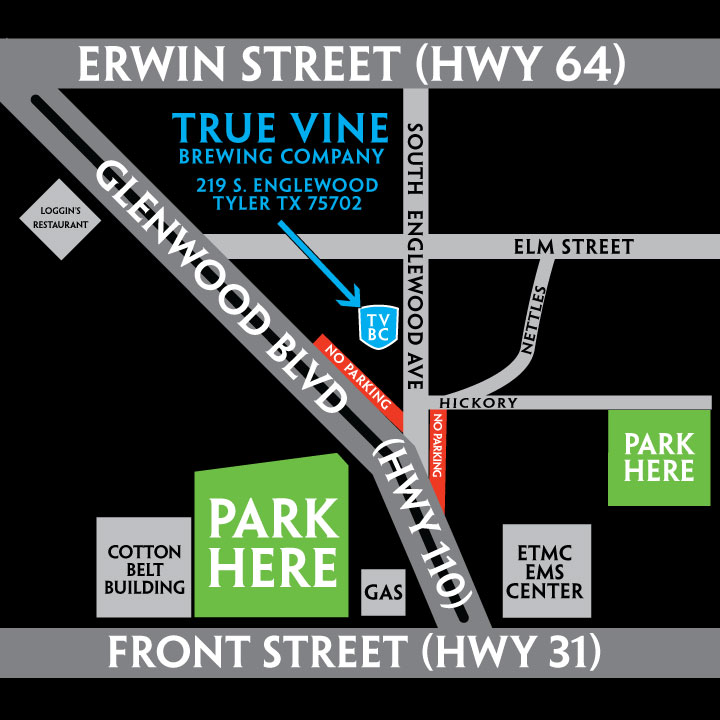 Attendee List
Sort by:
Date
When & Where

True Vine Brewing Company
219 South Englewood Avenue
Tyler, TX 75702


Friday, October 27, 2017 at 5:00 PM

-

Saturday, October 28, 2017 at 11:00 PM (CDT)
Add to my calendar