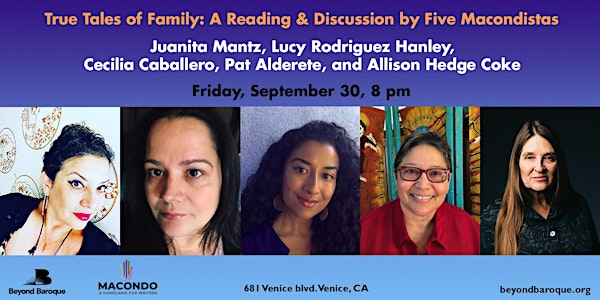 True Tales of Family: A Reading by Five Macondistas
A reading with Macondo Writers Workshop alum Pat Alderete, Lucy Rodriguez-Hanley, Cecilia Caballero, Juanita E. Mantz, & Allison Hedge Coke
When and where
Location
Beyond Baroque Literary Arts Center 681 Venice Blvd Venice Beach Los Angeles, CA 90291
About this event
Join these five writers and alumni of the Macondo Writers Workshop for True Tales of Family, a reading that explores family history, conflict, and relations through memoir.
Authors Pat Alderete, Lucy Rodriguez-Hanley, Cecilia Caballero, Juanita E. Mantz, and Allison Hedge Coke will read excerpts of literary works about family issues which include trauma, dysfunction, chaos and coping. The readers will illustrate how writing about family can be transformative, both in the process of writing the story and in the process of publication. The reading will include a Q&A following the readings.
This event is Free & In-Person at Beyond Baroque. Masks are required while inside our center.
Reservation Policy: Please RSVP if you are planning to attend this event. We accept walk-ins, but priority will be given to people that have registered. In the case of a full program, your free ticket may not guarantee admission. We recommend arriving early.
About the Authors
Born and raised in East Los Angeles, Pat Alderete writes about the beauty and brutality of varrio life, rendering the complex inner worlds and strict social hierarchies of a community seldom observed in literature. Her short stories are published in Joteria and PEN Center Journal, and have been anthologized in Hers 2 and 3; Los Angeles Gay and Lesbian Latino Arts Anthology 1988-2000; A Geography of Rage; Afro-Hispanic Review; and Love West Hollywood. She has written two one-act plays, Ghost and the Spirit and Love and Fire. Pat was an inaugural member of PEN Emerging Voices. She is also a member of Macondo, a writers homeland founded by author Sandra Cisneros. Alderete is a member of Writers At Work, led by Terry Wolverton. Alderete is currently working on her memoir about Chicana life in East L.A.
Lucy Rodriguez-Hanley is a Dominican American creative non-fiction writer, filmmaker and mother of two. Her memoir in progress, Late Bloomer, explores the themes of migration, assimilation and maternal rage. Her work is featured in The Latinx Project at NYU, Gathering: A Women Who Submit Anthology, Made in LA Volume 4: Beyond the Precipice and HarperVia's Somewhere We Are Human edited by Reyna Grande and Sonia Guiñansaca. Lucy advocates for representation of BIPOC women and non-binary writers. She is the Chapters Liaison for Women Who Submit, and has a Leadership role with the Long Beach Literary Arts Center. www.lucyrodriguezhanley.com/ Instagram: @lucyrodriguezhanley, Twitter: @lucyrodriguez, Facebook: Lucy Rodriguez-Hanley
Based in Los Angeles, Cecilia Caballero is a poet, creative nonfiction writer, adjunct professor of Ethnic Studies, and co-editor of the bestselling book The Chicana Motherwork Anthology. Cecilia's prose and poetry has been published in Dryland, Epiphany, The Acentos Review, Raising Mothers, Gathering: A Women Who Submit Anthology, and elsewhere. Her poetry has been nominated for a Pushcart and a Rhysling and she is an alum of workshops and fellowships with Tin House, Macondo, VONA, and the Women's National Book Association. She is currently a Visiting Teaching Artist with the Poetry Foundation and her goal is to cultivate more communal spaces of storytelling and social justice for BIPOC folks. Cecilia is currently at work on a memoir and two book-length poetry collections. Twitter: la_sangre_llama, Instagram: @bookworm_por_vida
Juanita E. Mantz (JEM) is a USC Law educated lawyer/deputy public defender, writer, performer, and podcaster. She has 2 books, a memoir titled Tales of an Inland Empire Girl (Los Nietos Press, Jan 2022) and a hybrid chapbook titled Portrait of a Deputy Public Defender, or how I became a punk rock lawyer (Bamboo Dart Press, Aug 2021) which just won a gold medal at the 2022 International Latino Book Awards, for best first book nonfiction in English. Her stories have been published in literary journals, newspapers & anthologies and she is an alumni of the VONA and Macondo workshops. She also serves as VP on the board of directors of the Inlandia Institute. Juanita has presented at UCR Writers' Week, the UCR Punk Conference, Pasadena LitFest, AWP and Beyond Baroque. She produced and taught the ASA 2020 Freedom Course on Combatting Mass Incarceration. She is in the low residency MFA creative writing program at Univ. of New Orleans where she is working on adapting her YA memoir into a stage play. She is the writer in residence this October at PCC. Find everything on her author website: https://juanitaemantz.com
Allison Adelle Hedge Coke's recent honors include a 2022-2023 UC Mellon Dean's Professorship, the 2021-2022 California Arts Council Legacy Artist Fellowship, 2021 AWP George Garrett Award, 2021 induction into the Texas Institute of Letters, 2020 Daniel & Maggie Inouye Distinguished Chair in Democratic Ideals at the University of Hawai'i, 2019 Fulbright in Montenegro, 2018 First Jade Female Poetry Festival Sihui China Excellent Foreign Poet, 2016 US Library of Congress Witter Bynner Fellow. Her latest release is Look at This Blue, from Coffee House Press, 2022.