Description
The True Speaking Success Boot camp teaches you everything you need from start to finish to run and grow a successful speaking business.
This event is zero fluff. Zero hype and all actionable content.
You will learn the exact strategies to build and steadily maintain a 6-figure speaking business while learning how to make a huge difference in the lives of others.
Most trainings are really only helpful for celebrities who want to speak more.
But if you're someone with a good heart and a good message, and have a burning desire to make an impact in the world that's greater than yourself... This event is for you!
We are not looking for people who just want to make a quick buck, or are Divas who just want to fufill their own ego by speaking.
The live event is the only event you'll ever need to launch a successful speaking career, guaranteed.
Most speaking trainings are really just sales events looking to give you morsels of content that don't connect. This event is different. It's about giving you the content you need in a way you can take action on right now.
At this event you will learn how to truly share your message and passion with the world. If your brain doesn't work in the abstract but works better with step by step implementable ideas, this is for you.
Think about it, do you really want to pay someone to just hear them tell you "the key to running a successful business is to work really hard and never give up!"
Though the above idea is true, it doesn't help you take action right now. If you prefer to learn exactly how to get in front of the people who can book you to speak, exactly how to best position yourself to encourage them to choose you as your speaker, if you want to learn exactly how to structure your message for maximum impact, if you want to learn how to maximize your reach and build long term partnerships with clients, if you want the exact play book to make sure you are serving at the highest level of your clients' needs, THEN this is the live event for you.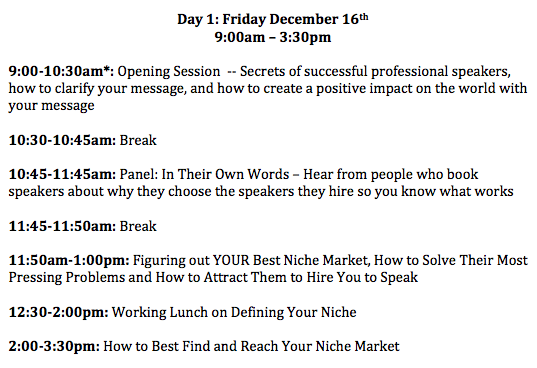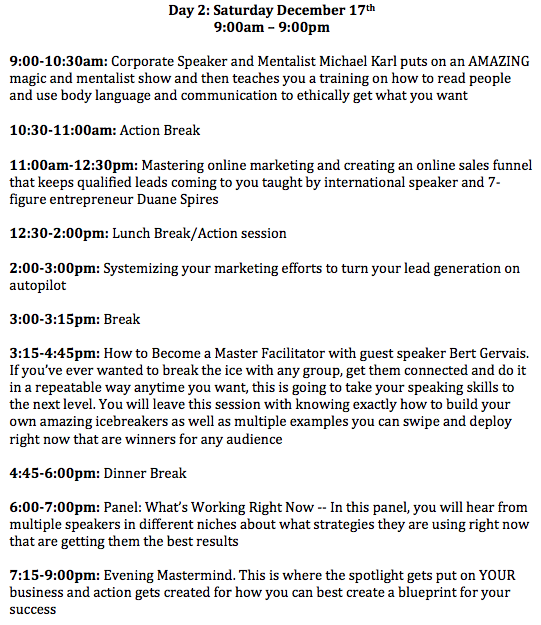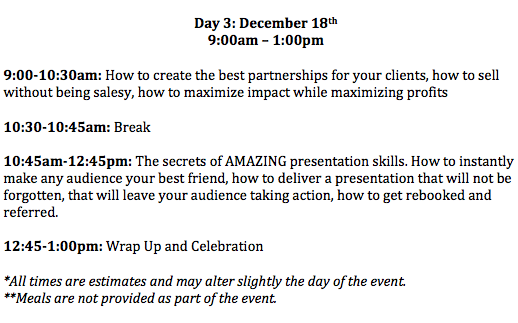 This event is going to be extremely exclusive by design. This is the first training of its kind and Arel Moodie wants to make sure he can give everyone there individualized attention. This isn't a training where you are in a stadium and you feel like a insignificant speck amongst a sea of people. It's a small group of highly dedicated, highly focused, good-hearted people who have a genuine passion to make a difference.
If you never want to feel stuck in your speaking business again, if you don't want to feel like not knowing what steps to take. If you want to make 2017 a year of great service and impact and grow a successful business as a by-product of how much you are giving to the world. This event is it.