Join True Colors for our "Joy and Pain" End of Season Jubilee
About this event
Performances to include upcoming season previews featuring Chandra Currelley with S. Renee Clark , Adrienne Reynolds , India Tyree, Brenda Nicole Moorer, & various artists from the Joy and Pain Season. DJ Do Wit will play into the evening.
Details:
This event only features distanced seating ("squares") and each square will accommodate up to 4 people. As only 50 squares are available, registrants are encouraged to bring up to 3 guests with them who feel comfortable and safe sharing a square.
All participants must be registered through Eventbrite for admittance.
Check-in will begin at 6:30pm. There is a COVID-19 screening process at check-in, so please be prepared to answer a few screening questions and to have your temperature checked.
All attendees must be registered (exceptions for children 2 and younger), and all attendees must check in. If you have already registered and are needing to add additional attendees, please contact Rebekah Wortman at rwortman@truecolorstheatre.org.
Participants will receive square designations at check-in, and participants must remain in designated squares during the event, except when visiting the indoor restrooms.
If sharing a square, registrants are encouraged to arrive with their guests to check-in.
Children must remain in their designated square with a parent during the event.
Masks are required.
This is an outdoor event. The temperature is expected to be hot, so please bring something cool to drink and possibly an umbrella for shade.
This is a "picnic-style" event, so all attendees will need to bring their seating and any refreshments for their enjoyment.
Big Mike's Tacos: Taco Truck and Mexican Bowls will be on-site for purchase!
Please do not hesitate to contact us directly if you have any questions or concerns at info@truecolorstheatre.org.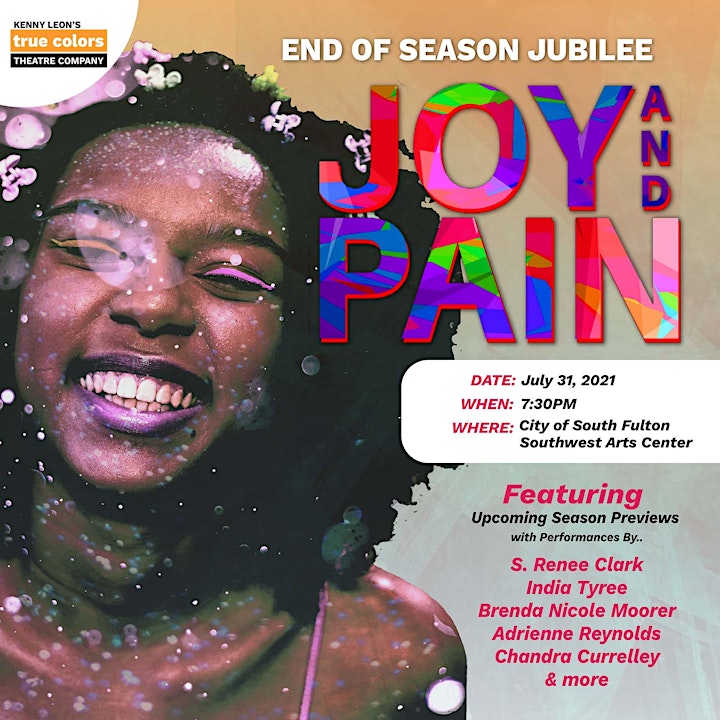 Organizer of True Colors Theatre Company End of Season Jubilee
True Colors Theatre Company is a nonprofit regional theater company based in Atlanta, GA. True Colors Theatre Company's mission is to celebrate the rich tradition of Black storytelling while giving voice to bold artists from all cultures. We add dimension and relevance to our work on the stage through active community events and 3rd – 12th grade education programming. The vision of Artistic Director Jamil Jude is for the company to "thrive at the intersection of artistic excellence and civic engagement." Learn more at our website.