True Athlete Games | June Series

Saturday, June 21, 2014 from 9:00 AM to 12:00 PM (PDT)
Event Details
6.21.14 - 8am-12pm
$100 to the strongest male and female competitors, County Line BBQ, Prizes from Rogue Running, Jack & Adams Bicycles, Fringe Sports, and Dynamax Medicine Ball Company!
*Athletes may bring their own jump rope and weight belt if needed.
7 FITNESS TESTS
 Visit this link for more test details: http://outrightfitness.com/true-athlete-games-june-edition-test-standards/
Strength #1; Squat (3 continuous reps of a max weight, 3 attempts)

Strength #2; Flexed Arm-Hang for time | Bringing back that elementary school fitness test! | 2 attempts

Power & flexibility; Max-height Box Jump (using a soft box) | 3 attempts

Agility; Agility pattern for fastest time | 3 Attempts

Aceleration; 15yd Dash | 3 Attempts

Stamina; 

(Jump Rope/Weighted lateral weave) see video

Endurance (Sponsored by Crossfit South Lamar); Bike/Run (max work output on bike measured in (kilojoules) after 10mins)
Hosted by: Sharp End Athletics
The True Athlete Games is an athletic competition created by Speed & Conditioning Coach David Braswell that seeks to test your strength, power, speed, acceleration, agility, stamina, and endurance through a combination of traditional as well as "new school" testing formats in a way that's founded on basic physiological principles, competitive, fun, and balanced.
What's new school about our competition format is the implementation of weight classes to balance the competition field.  We're excited and proud to be one of the firsts to highlight athletes of various sizes and abilities in a non-sport competition!
OUR FOUNDATION
Physiology experts and native Austinites, Jim Cawley and Bruce Evans developed a definition of fitness that has been adopted by many mainstream sports and fitness arenas.  The definition of fitness is founded on the following diagram;
10 General Physical Skills:  "If your goal is optimum physical competence then all ten general physical skills must be considered."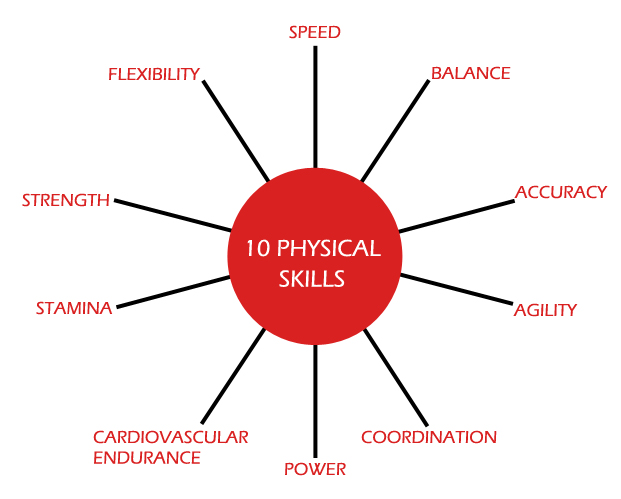 Training the skills on the left yield more measurable changes, practicing the skills on the right involve more neural adaptations, and the middle two skills are developed through a summation of forces created by a combination of the two sides.
WEIGHT CLASSES & DIVISIONS
Weigh-in will take place the day prior and the day of the event.  Attire for weigh-in is simply t-shirt, shorts, no shoes.
If you don't meet the weight requirements for the weight class you registered for, you will be placed in the appropriate division.
Youth (15-17yrs old)

Featherweight up to 120lbs (

new weight division!)

Super Lightweight Women: up to 140lbs

Lightweight Men: up to 160lbs

Lightweight Women: up to 160lbs

Middleweight Men: up to 180lbs

Middleweight Women: up to 180lbs

Light Heavyweight Men: up to 200lbs

Cruiserweight Men: up to 220lbs

Heavyweight Men: up to 240lbs+

Masters women 40yr+

Masters men 40yr+
COMPETITION SCHEDULE
CASH PRIZES & AWARDS
 $100 cash will be given to the strongest male and female athlete based on a body weight to weight lifted ratio.

Prizes will be given to the winner of each weight division

Everyone will recieve some swag and prizes
LIVE SCORING
A link to our live scoring will be posted to our Facebook page the day of the event.  There will be a section scoring the strongest man, strongest woman, as well as sections for each weight class.
Lots of good data here from the previous event for you numbers nerds.  
Attendee List
Sort by:

Date

|

First Name

|

Last Name
When & Where

Sharp End Athletics
10508 Boyer Blvd
Austin, Texas 78758


Saturday, June 21, 2014 from 9:00 AM to 12:00 PM (PDT)
Add to my calendar
True Athlete Games | June Series