"Truckin' for Naz" Brotherhood Outing
Description
Note: If you plan to attend as a golfer, register now. Do not delay. The cutoff for setting the final number of golfers is Tuesday, Sept. 10.
A celebration of old and new friendships in a great event that our founder and ringleader, Tom Purpura, had organized many times for us. This 9-hole golf outing is open to the Brotherhood and Sisterhood including friends and family. If you choose not to golf, no problem -- just show up. You are more than welcome. The idea is to get together again, honor Tom, and raise awareness of the Thomas Purpura Brotherhood Scholarship fund, which enables a worthy young athlete to attend Nazareth Academy in LaGrange Park, IL, and play baseball on the "Naz" team. Toward this goal, we encourage everyone to make a separate, tax deductible donation directly to the fund (details below in Q and A).
Where?
The Rolling Hills 9-hole course at Silver Lake Country Club, 14700 S. 82nd Ave., Orland Park, IL 60462. (708) 349-6940.
When?
Saturday, Sept. 14, 2019.
Golfers – 12.30 p.m. First group tees off at 12:44.
Other folks – Anytime, but golfers should begin finishing around 2:45 – 3:00 p.m., which might be a good time for everyone else to arrive. You may come earlier and get the party started. Plenty of room to socialize.
Why "Keep on Truckin'"?
Keep on Truckin' is a popular saying and cartoon illustration that Tom recreated, with his own witty captions, in many choice locations. This time we are using his inspiration to go Truckin' for Naz to help his scholarship fund.
Cost?
$50 for golfers, includes 9 holes, cart, hat, and goodie bag. Prizes for best drive and longest putt. Please register to golf and pay through Eventbrite. You may cancel and obtain a refund up to 7 days before event. Please note: the golfing fee does not include donation to the scholarship fund (keep scrolling to donate separately to the fund).
Other folks -- no fee.
Cash bar and cash food for all. The club has a spacious bar area, dining room, and an outside patio at our disposal.
Plenty of room to socialize.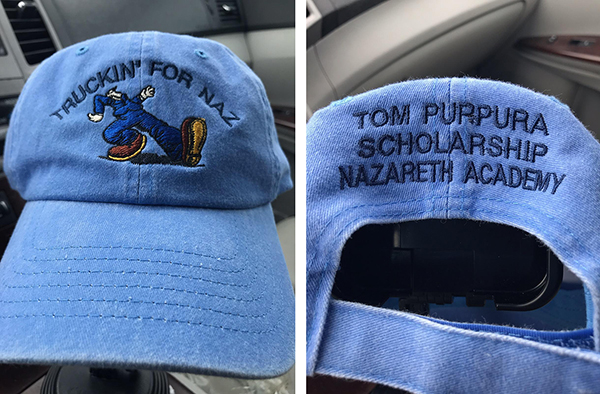 Hats
All golfers will receive a hat as part of their fee. This is a terrific looking item, thanks to the work of Paul Kane. The hat will be available for sale to others at $40. Twenty dollars of this charge will be donated to the Naz Fund. If you are interested in purchasing a hat, please let me know at glennrichards@rcn.com. The color is distinctive. You will surely wear the hat with pride.
How do I donate to the scholarship fund?
Please donate ($50, $100, $200, whatever), either by check to "Naz Fund" or online through the Naz Fund website. IMPORTANT: Put Thomas Purpura Brotherhood Scholarship on the Notes line of your check or in the Gift Notes section of the online form. The note will direct Naz to earmark your donation to Tom's scholarship fund.
Mail checks to:
Deborah Tracy, President
Nazareth Academy
1209 W. Ogden Avenue
LaGrange Park, IL 60526
For online donations, copy this URL:
https://securelb.imodules.com/s/157/new/index.aspx?sid=157&gid=1&pgid=1887&cid=3849&paymenttype=scheduled
Questions?
glennrichards@rcn.com
(773) 507-9216
See you there,
Glenn