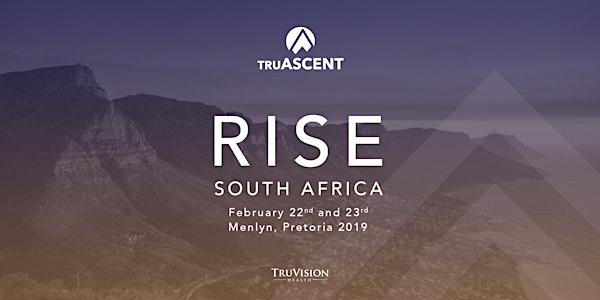 truASCENT South Africa
When and where
Location
Protea Hotel Fire & Ice! Pretoria Menlyn Summit Place Precinct 221 Garsfontein Road Menlyn, Pretoria 0181 South Africa
Description
Join us for the first truASCENT South Africa, this Summer in Menlyn, Pretoria. This is TruVision Health's event that focus' on Associate training, business tips, and the up and coming future of TruVision Health. Launch your business into overdrive by attending truASCENT in Menlyn, Pretoria!

Agenda

Thursday Evening and Friday Morning - Registration
Friday - Meetings from 9:00-15:00, Welcome Party at 19:00 (Wear White!)
Saturday - 10K Pledge walk 8:00, Meetings from 13:00-15:00, Recognition Awards 15:00, Back Office Training 17:00-19:00

More details will be added to the agenda as the planning begins, but be prepared to hear speakers from all around the world, success stories, and business tips.
10K Pledge Walk

Join us for a 10K Pledge walk Saturday morning at the beautiful Botanical Garden Parkrun.
If you would like to participate, use the link below to register.
https://www.parkrun.co.za/register/form/
*After filling in your first and last name, select "Botanical Garden Parkrun" as the Home Run.

Please remember to bring a printed copy of the barcode sent to you! This will guarantee a free entry into the event. Without the printed copy, there is an entrance fee.
TruVision Health will be providing the transportation to the event.
Speakers
Alyssa Cowart
Laci Meacher
Benita Phillips
Molly Roets
Leonie Theron
Debbie Hedenskog
Retah McPherson
Lizana Thomas
Yolandie Terblanche
Cindy Steyn
Marilee Kenny
Tishka Laughton
Gert Roets